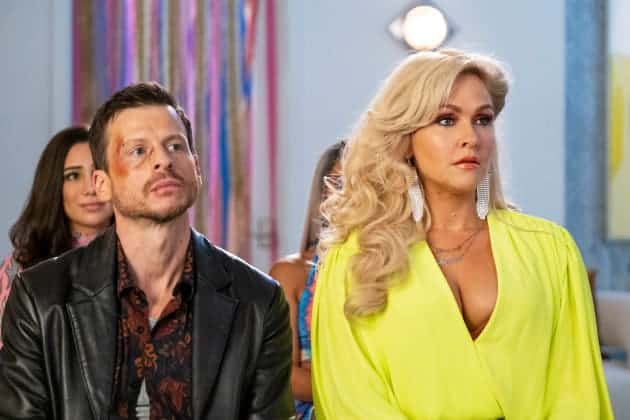 If it's one thing we realize in Claws Season 4, Episode 7 is that Uncle Daddy is no longer the power player that he used to be. After Quiet Ann scared off Desna's drug dealers, Desna got him back big time. The chances of him recovering are slim to none. Desna uses her powers of persuasion to pick off all of Clay's allies one by one. She finally gets Bryce to jump ship and finally gets Ken to agree to cut off Uncle Daddy and supply her. No one feels bad for Uncle Daddy. Over the years he has made more enemies than we can possibly count. He's constantly pissing off people in this new altered state he's in. But these days Desna isn't any more likable than Uncle Daddy. She's just playing the game better than he is. Desna's victory is short-lived because Polly discovers that someone has been stealing Oxy from their supply. There are a lot of pills missing. There is a traitor in her crew and we all know how dangerous a traitor can be. Unbeknownst to Desna and the crew, Jenn is back off the wagon and she's been stealing pills from the supply. Virginia grows suspicious of Georgia when she notices that her friend has been sporting a new bag. Georgia gives all the credit to the new sugar daddy in her life that has been keeping her laced. Virginia and Georgia are roommates and this is the first time she's mentioned anything about a sugar daddy. Desperate to prove her loyalty, Virginia mistakenly brings her suspicions to Desna. Desna makes Virginia promise to "take care" of it. We all know what that means.
This should have been a happier episode. After all, Alex proposed to Polly and they're getting married ASAP. To put the cherry on top, Dr. Ken offers to officiate Polly's wedding. At the time, he was still delusional about his relationship with Selena. He actually believed they would somehow work things out even though she was thousands of miles away distracted by her new life as a famous model. It took for Polly and Axel to exchange vow for Dr. Ken to finally see the light about his relationship with Selena. Ken sat in the pouring rain which likely symbolized his emotions at the moment and ended his relationship with Selena. She was young, beautiful and she deserved to live her life to the fullest without worrying about some old guy back home. So how did Desna convince Bryce to switch sides? On Claws Season 4 Episode 6, Bryce was fiercely loyal to Uncle Daddy believing that he was going to be his rightful heir. It turns out that Uncle Daddy has his heart set on Quiet Ann's baby inheriting his legacy. Bryce feels betrayed when he finds out that he has been rejected by Uncle Daddy yet again. After Desna pumped up Bryce's head, he agreed to come work for her. Now, all Desna had to do was turn Quiet Ann which was going to be a challenge since her former best friend hated her guts. Bryce tows Quiet Ann trailer to Desna so they can talk.
Desna offers a Quiet Ann equal partnership in her business, but she turns it down. Desna informs Quiet Ann of Uncle Daddy's plans for her baby who he believes will be the heir to his legacy. Desna offers Quiet Ann $100,000 to leave Palmetto for good. Quiet Ann reluctantly agrees to take her up on the offer. Uncle Daddy is upset when he finds out that Quiet Ann is leaving town with "his baby" but surprisingly he doesn't completely lose his cool. He vows to get vengeance. Virginia's been on edge ever since she was tasked with killing Georgia. After failing to shoot her the first time, she bombs again on the second attempt. Virginia ends up drowning Georgia in the river after they get into a fight. Desna starts to become suspicious of Tony when she overhears Jenn talking to him on the phone. It's obvious that they have become extremely close. Jenn claims that they are just friends, but the "I love you" at the end of the phone conversation suggests otherwise. But Desna has way too much plate to worry about what Tony and Jenn have going on. Perhaps the most shocking moment throughout this episode is when Desna discovers that Tony is a DEA agent on her way to recruit Sheray. Desna pulls up just as Tony and his crew are arresting Sheray. Tony is indeed the mole in her crew and Desna is responsible for bringing him in.
Tell us what's wrong with this post? How could we improve it? :)
Let us improve this post!