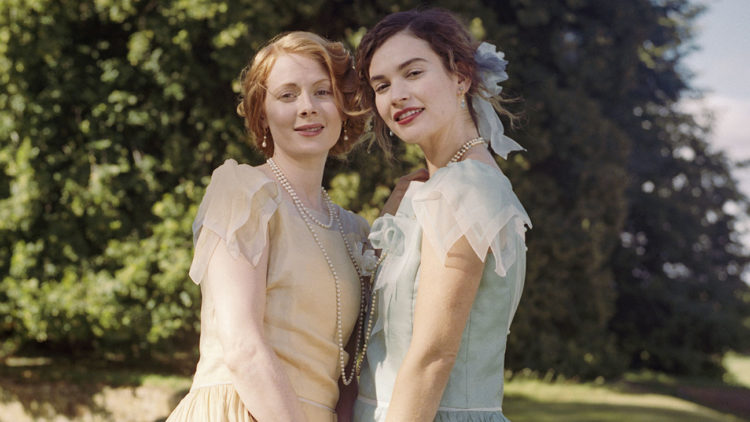 Watching a period drama feels somewhat like a free pass to travel back in time. It evokes a sense of nostalgia that is almost otherworldly. It must be the combination of posh accents paired with the most intricate and sophisticated of outfits, all tied together in a traditional backdrop. A feast for the eyes and certainly a treat for old school souls. Viewers looking for their next wistful binge watch are in luck. The BBC mini-series, The Pursuit of Love, has finally arrived on Amazon Prime. Get ready to satisfy all those period drama cravings.
What is the Storyline About
The British romantic comedy-drama is adapted from the famed 1945 coming-of-age novel of the same name by Nancy Mitford that talks about a lasting romance during a time of uncertainty and war. It's a rare gem of classic storytelling that is charming enough to thaw even the most hardened of hearts. The mini-series is written, starred and directed by Emily Mortimer (The Newsroom), which also explores the same narrative that celebrates love, friendship, and finding one's way as a woman living in a man's world. It follows the adventures (and misadventures) of well-to-do cousins, Linda Radlett, played by Lily James (Mamma Mia: Here We Go Again), and Fanny Logan, played by Emily Beecham (Into the Badlands), who are living in the upper class of British society. Even though the two cousins' attitudes are polar opposites, they are each other's closest confidants and best friends. Linda is described as a hopeless romantic with a knack for adventure and a mercurial attitude on the side, while Fanny is said to be more sensible and reserved in nature. A yin and yang of personalities that end up complementing one another. Even though the show's storyline is set between World War I and World War II, it still feels very much relatable to modern-day viewers. This is because the problems that are tackled, and the issues raised are those not typically seen in period dramas. The women in the series are also not portrayed to be damsels in distress, but are instead shown to be proactive in learning how to be strong and independent. It's a refreshing take on a genre that can oftentimes be stuffy and uptight.
What to Anticipate from the Series
For the most part, Mortimer doesn't shy away from the original premise of the novel. The episodes are also narrated by Fanny, who is found directly quoting passages from the book most of the time. The storyline also transcends the different time periods in the girls' lives, beginning from adolescence until they reach adulthood. Viewers are taken on a whirlwind journey together with Linda and Fanny, whose lives are determined by the choices they make. The two heroines may have chosen different paths, with Linda choosing to follow her heart and Fanny deciding to choose the route to a steady life, but at the end of the day their special bond still remains unbreakable. It's just one of those special relationships from childhood that simply cannot be replaced.
The show's rich ensemble is also completed by other colorful characters. Dominic West (The Wire) plays Linda's Father, Uncle Matthew aka "Lord Alconleigh", who is known to be boisterous, foreigner-hating war hero who also believes that girls should not be educated. Andrew Scott (Fleabag) plays Lord Merlin, a wealthy libertine neighbor of the Radletts who does not get along with Uncle Matthew. Emily Mortimer plays Fanny's infamous mother who is widely known as "The Bolter", because of her commitment issues and abandonment tendencies. Dolly Wells (Dracula) plays Linda's Mother, Aunt Sadie, who gets overpowered by Uncle Matthew when it comes to making parenting decisions. Annabel Mullion (Women on the Verge) plays Aunt Emily, Fanny's other mother figure who stepped in and raised her when "The Bolter" couldn't be relied on. John Heffernan (The Crown) plays Davey, Aunt Emily's new significant other and Fanny's half-baked stepfather. Shazad Latif (Toast of London) plays Alfred Winchman, Fanny's husband, who is a young Don at Oxford, and described to be kind but quite petty at times. Assaad Bouab (Call My Agent!) plays Fabrice De Sauveterre, a wealthy French Duke who Linda encounters at a Paris train station. Freddie Fox (White House Farm) plays Tony Kroesig, Linda's first husband, a wealthy scion whom she first met when he was a still a student at Oxford.
The Pursuit of Love was first released in BBC One in May 2021, and has been available for streaming on Amazon Prime since July 29. The three-episode limited series may just be a quick watch, but like the novel, the story it tells is classic, sentimental, and timeless.