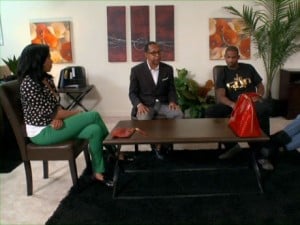 Monday night, the inaugural season to VH1's smash hit, Love & Hip Hop: Atlanta came to a smoldering end with just about all the couples, side couples, and jump offs splitting up to be just friends. All except Rasheeda and Kirk, who renewed their vows on the show after 12 years. But just as the previous episodes, not all the scenes made it to the final cut. However, while a lot went down on the finale, the bonus clips don't really add much to the overall picture except for an extra headache or two.
The first clip features Rasheeda and Kirk's vows being performed again in front of family and friends. If you had of watched this scene without seeing any of the arguments and tears the two shared from past episodes, you wouldn't have had any inkling that these two had issues prior to their renewal ceremony. In other words, renewing their vows was the best thing Rasheeda and Kirk did for each other. Now if they can stay happy once the cameras leave the premises, then things will be A-O.K. for the two. Here is the clip:
Hopefully, Kirk will talk Rasheeda into staying out of the K. Michelle/Memphitz mess, because it's getting uglier by the minute…
Now on to Sir Ratchet and his Paramours, who really showed their asses on the finale in every scene they were in. While this particular clip is the extension to Stevie J., Mimi, and Joseline's therapy session, the only thing you can gain from it is what you already know: Stevie J is an ass, Mimi is a fool, and Joseline is taking it all in stride. Love that chick. Here's what you didn't see…
And both of these chicks are still with this fool.. Le sigh. Just bring on the reunion already, which I heard will bring the house down! Your thoughts on Love & Hip Hop: Atlanta ?
Photo Credit: VH1
Tell us what's wrong with this post? How could we improve it? :)
Let us improve this post!