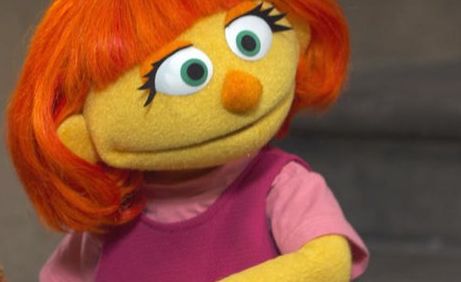 There are numerous milestones and firsts in television throughout its history. Some milestones could be something as small as a show airing its 100th episode, whereas a first could be the introduction of a gay character on a prime time sitcom. People may hardly remember it now, but the day Ellen Degeneres came out as gay right on television in front of the entire world was a humongous leap forward for the LGBT community. Television and other media forms will continue trying to break down the political and social walls that divide us. It looks like Sesame Street is the latest show that will be introducing an important "first." If you ever had or need another reason to want to keep funding for public broadcasting, here's a big one. According to DW
The creators of "Sesame Street" announced Sunday that the popular show would introduce a muppet named Julia who has autism. The green-eyed, red-haired character was developed during years of consultation with families, organizations and experts within the autism community, Jeanette Betancourt, Sesame Workshop's senior vice president of US Social Impact said. Betancourt said one in 68 children in the US had been diagnosed with autism spectrum disorder.
"We wanted to promote a better understanding and reduce the stigma often found around these children. We're modeling the way both children and adults can look at autism from a strength-based perspective: finding things that all children share," she said.
In a few weeks, a new Muppet will come to Sesame Street. Her name is Julia, and she has autism. Meet her next on #60Minutes pic.twitter.com/DvjDfSB0xI

— 60 Minutes (@60Minutes) March 19, 2017
An example is in the first episode featuring Julia. She is having fun with her friends Abby and Elmo when Big Bird walks in. He wants to be Julia's new friend, but she ignores him. He thinks she doesn't like him, until Abby informs him "she does things just a little differently, in a Julia sort of way."
Sesame Street producers hope Julia's first episode will help the audience understand when a child with autism doesn't react as they expect. pic.twitter.com/DJCFdksPIk

— 60 Minutes (@60Minutes) March 20, 2017
Later, the children are playing a game of tag and Julia becomes distressed when a siren wails, covering her ears. "She needs to take a break," explains Big Bird's human friend Alan calmly. Soon all is well and the group starts playing again.
The puppeteer who plays Julia, Stacey Gordon, has a son with autism and had worked as a therapist to children on the autism spectrum. I personally couldn't be any more excited about this new development in television. To get children educated at such a young age about autism is a fantastic leap forward. While there's certainly been progression in the last decade, considering just how prevalent this condition is in our country, more obviously needs to be done. I can personally attest to having experience with autism in my extended family and I can almost guarantee that everyone reading this has had the same in one way, shape, or form in theirs.