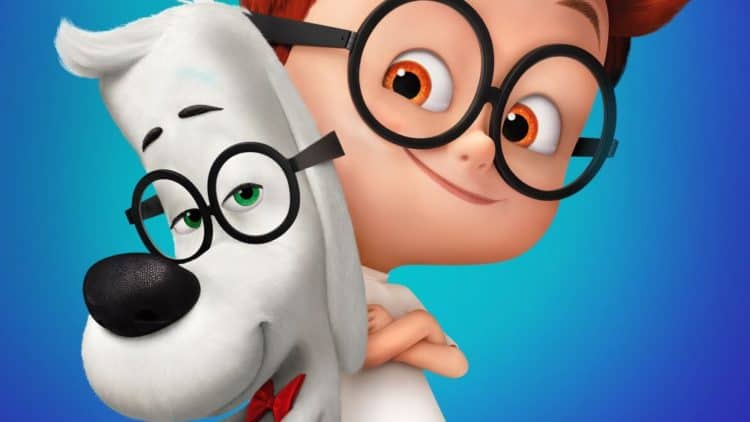 If that title is tripping you out a bit don't worry too much since it's about as literal as it gets. Mr. Peabody & Sherman do have a connection, and it does have something to do with Modern Family since Ty Burell, who plays father Phil Dunphy on the show, and Ariel Winter, who plays Alex, both contributed to the movie featuring the brainy beagle and his adopted son. As stories go, that of Mr. Peabody and Sherman is perhaps one of the odder bits to ever come out of Rocky and Bullwinkle fame, but it does have the type of connections that many people have taken as coincidental and kind of interesting when in truth things do tend to happen and attributing meaning to every one of them is an attempt to stretch the truth in a manner that fits the narrative of those telling the tale. In other words, people see what they want and then use it to try and drum up interest for one reason or another. There's no harm in it to be certain, but sometimes stretching the facts, without making more of them than is really necessary, can produce results that might appear, to others at least, as a serious case of overthinking something.
As far as Mr. Peabody and Sherman go the movie is pretty entertaining for kids and adults since it goes through a great deal of history and a tale of what might happen if someone were to mess with it in any way. Reading too much into the Modern Family connections though is all well and good for those that want to take the time to map out how far the connections go, from the strongest to the most tedious, just enjoying the movie is probably a better option, as is moving on when the credits start to roll. The duo has been around for a while now and they've even been parodied a few different ways in a few different shows and comic strips. At one point Gary Larson even managed to parody Mr. Peabody while making it appear that the beagle had inadvertently run over his young human companion. While some folks might read too much into this, especially considering that it was meant to be humor, there are plenty of us that might have raised our eyebrows for a split second before laughing. The duo has been used in a mocking way through the years to great effect since they're loved by many and fairly unknown to many others.
But the idea that certain actors get to meet up again in other projects isn't a new development, which is why it's kind of confusing as to why some people need to point this out so often. Hollywood is a big place to be certain, but those that have a reputation for working on various projects are bound to run into each other eventually, and this is obviously what happened here. It is kind of fun to see people that have worked together in the past interact since there's usually some type of chemistry that makes it all come together in a way that might not work the same with other individuals. This kind of development has been seen in many movies that feature individuals that are used to working with one another since they've come to know each other's timing, movements, cues, and many other tics and quirks that identify them to each other. One can only think that when it comes to working on the same TV show together for so long that those such as Ty Burell and Ariel Winter would know each other quite well. Some folks that work together for so long don't tend to get to know each other that well, which is odd to think of, but there are many that happen to know each other very well since they've been around one another for so long.
Mr. Peabody and Sherman have been a loved cartoon duo for quite a while, but it does feel accurate to state that they haven't enjoyed the same level of fame as other famous cartoon duos for a number of reasons, one of those being that they aren't an outwardly violent cartoon and they don't tend to have a lot of issues with each other. Instead, they've been a very wholesome and somewhat reasonable pair for a long time that has done more to educate kids than to simply entertain them, but they've had their share of laughs as well. But given the chance, a lot of people would likely remember a cartoon such as Tom and Jerry over Mr. Peabody and Sherman since it tends to appeal to a lot more people given that there's more action that kids want to watch. To be certain though, the pair are still a lot of fun.