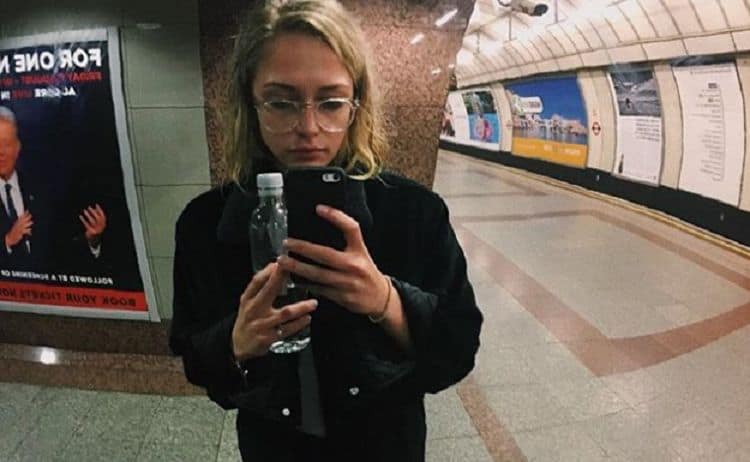 Sophie Simnett may only be 21 years old, but she's already well on her way to becoming a big-name star. Since starting her career in 2014, she's appeared on various TV shows and films, with her latest, Netflix's Daybreak, set to elevate her to new levels of fame. The series premiered in October and has already won approval from critics and viewers for its inspired combination of soapy teen drama and post-apocalyptic horror. Sophie takes the role of Samaira "Sam" Dean, the popular girlfriend of 17-year-old high school student, Josh Wheeler (played by Colin Ford). Joining Ford and Simnett on the cast are Austin Crute, Alyvia Alyn Lind, Cody Kearsley, and the Ferris Bueller's Day Off award-winning actor, Matthew Broderick. Despite some stiff competition from her co-stars, Simnett is more than holding her own in the series and has already become something of a fan favorite. Find out more about the rising star with these 10 fast facts.
1. She's always dreamed of being an actress
Simnett's love affair with acting started at a young age, as she revealed during an interview with Euphoria. Desperate to appear in a stage production like Chitty Chitty Bang Bang or Oliver, she tried to convince her parents to allow her to go to acting school, which they eventually agreed to (if for no other reason than a bit of peace and quiet). A short time after joining the school, she signed up to a talent agency and began to actively audition for parts.
2. She funded her first production by selling candy
Simnett's first taste at producing came while she was still at acting school. After raising enough funds through an illicit little candy-selling operation, she staged and starred in a play at the Lyric in Hammersmith. As luck would have it, amongst the audience members was a talent agent, who, after recognizing the young actress's potential, immediately signed her onto his books. After that, the work started lining up; despite most of the roles being small, she's since credited the experience with helping her learn her craft and prepare for the bigger roles that were to come.
3. Olivia Coleman is her inspiration
Of all the actors and actresses that have inspired her, Simnett ranks Olivia Coleman as the most influential, citing her ability to provide a fresh take on characters as something she herself would love to emulate. Other key influences include the writer and star of Fleabag, Phoebe Waller-Bridge, who the young actress has described as a "trailblazer', along with Viola Davis, Laura Linney, Andrew Scott, Sophie Okonedo & Maggie Smith, who have all managed to successfully combine careers on stage with ones on TV- something Simnett herself hope to do.
4. Her film debut was on Footsteps of Angels
In 2014, Simnett landed her first professional film role in the 2014 short film, Footsteps of Angels. Her next appearance on the big screen came in 2016's Mum's List, in which she played the character of Teen Kate. Other film credits including Surviving Christmas with the Relatives (2018) and Twist, an upcoming Sky film starring Michael Caine, Lena Headey, David Walliams, and pop star Rita Ora.
5. The Lodge was her breakthrough
In 2015, Simnett made her TV debut in an episode of Dickensian. She then went on to appear in two episodes of The Five before landing her breakthrough role in The Lodge in 2016. The musical TV series premiered on the Disney Channel in the UK on 23 September 2016, and in the US on 17 October 2016. Starring alongside Simnett (who played the lead role of Skye) were Luke Newton, Thomas Doherty, Bethan Wright, Jayden Revri, Jade Alleyne, Joshua Sinclair-Evans, and Mia Jenkins. The series, which ran for two seasons between 2016 and 2017, elevated Simnett to leading lady status, paving the way for her future appearances on Endeavour (2017), Ransom (2017), Poldark (2018) and Daybreak.
6. Her family keep her grounded
Despite her rising fame, Simnett has kept herself grounded thanks to her family and friends. "Surrounding yourself with authentic people is a great rule for keeping grounded in life," she shared with Euphoria. "As soon as you care more about image and lifestyle is where I think you start to struggle."
7. She auditioned for The Lodge 13 times
As an as- then untested actress, landing her breakthrough role in The Lodge was no walk in the park for Simnett, who was forced to audition 13 times for the role of Skye before finally receiving an offer. Fortunately, her experience on Daybreak was much easier, and she was offered the part off the back of a self-tape… although she did have to wait five days to find out if she'd been accepted, which she's since described as the longest five days of her life.
8. She's a huge fan of her Daybreak character
Not all actors like the people they play, but Simnett is more than happy with her character, Samaira "Sam" Dean, on Daybreak. "She is a badass. She holds her own and wants everyone to be happy. It is really nice to see that in a female lead rather than just pitting females against each other," she explained during an interview with A Book Of.
9. She's described Daybreak as genre-bending
Despite admitting she was initially a little worried Daybreak wasn't her "kind of thing" (i.e. a Zombie filled gore fest), Simnett has since done a complete 180, and has even gone so far as to describe it as "genre-bending". "It is a drama, a comedy, an apocalypse, samurai-saga, coming-of-age story, a love story; it fits into all of these categories and that's why it's exciting and original," she's said.
10. She toured with The Lodge
In 2017, Simnett took her talents to the road on a UK tour of "The Lodge". The tour formed part of "The Big Ticket", an experience which aims to bring together various stars from TV's biggest shows for the ultimate fan experience. Joining Simnett on the tour were a number of stars from CBBC's 'The Next Step' and Disney Channel's 'Backstage'.
Tell us what's wrong with this post? How could we improve it? :)
Let us improve this post!