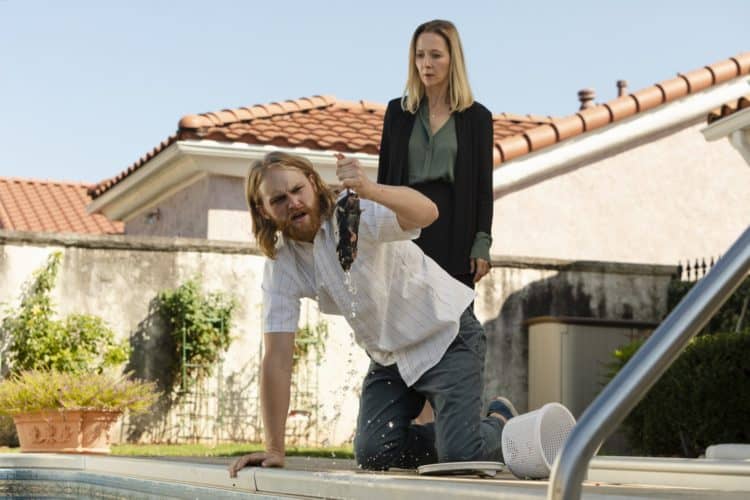 AMC's "Lodge 49" is a dramady series that recently began its second season. It was created by Jim Gavin and premiered in October 2016. The title alludes to a 1966 novella by Thomas Pynchen, "The Crying of Lot 49". That book was about a woman's search for a secret postal delivery service and the eccentric characters she meets along the way. "Lodge 49" is about an ex-surfer who has had a terrible year including the death of his dad and loss of the family business. Wyatt Russell is in despair but optimistic and determined to find his way back to his happy and simpler life. He finds hope with a group of eccentric characters going through existential crises he meets when he finds a secret fraternal order, Lodge 49. "Lodge 49" is set as a modern day fable. Meet the cast of AMC's "Lodge 49".
Sean "Dud" Dudley played by Wyatt Russell
The main character of "Lodge 49" is Sean "Dud" Dudley. Dud's dad dies and the family business is lost. Dud was once a happy go lucky surfer and wants to find something to bring him back to that. He accidently finds a secret fraternal order, Lodge 49. He's entranced by the society's secrets and history. He believes he can find peace again by joining the lodge. Dud is played by actor Wyatt Russell. Russell is the son of Goldie Hawn and Kurt Russell. He played pro hockey for several years but was sidelined by an injury. He has acted since he was 10 years old. Russell appeared in films including "Escape From LA", "We Are What We Told", "Cowboys and Aliens" and "22 Jump Street" for which he was a Teen Choice Award nominee. He will appear in next years "The Woman In the Window". He's also appeared in several television series including "Law & Order: LA", "Arrested Development", "Black Mirror" and in next years "The Falocon and the Winter" series. Russell is currently dating actress Meredity Hagner.
Ernie Fontaine played by Brent Jennings
Ernie Fontaine is a lodge member who found the lodge when he was breaking into a car in front of it. He's also Dud's mentor. He decided to turn his life around by joining the lodge and finds the sense of brotherhood and belonging in the lodge. The plumbing salesman still has some of his prior bad habits and once dated member Connie in High School. Brent Jennings plays Ernie in "Loge 49." Jennings is a well known character actor who has been acting in television and film since 1980. He's appeared in television shows including "Miami Vice", "Hill Street Blues", "ER", "Grey's Anatomy" and "Shameless". He's appeared in films including "Witness", "Another 48 Hours" and "Moneyball". Brent Jennings is married to actress Juanita Mahone and they have three grown children.
Liz Dudley played by Sonya Cassidy
Liz Dudley is Dud's twin sister. She was a former Hooter's who was greatly in debt and had to join the corporate world. She quickly became disillusioned and in season 2 has no job. She's independent and cynical. She has to take care of her brother and is going on an emotional journey. Liz Dudley is played by actress Sonya Cassidy in Lodge 49. She's a British actress who has appeared in theater, television and film. Dudley's television shows include the British period drama "The Paradise", "Vera", "The Great Fire" and "The Woman In White". She's starred in films including "Inherit the Wind", "The Fifth Estate", "Survivor" and "Breaking the Bank". Dudley is single.
Connie Wright played by Linda Emond
Connie Wright is a member of Lodge 49 as well as fellow member Scott Wright's wife. She's also the former girlfriend of member Ernie Fontaine. They dated in high school but Connie's parents broke them up because of their interracial relationship. Connie is a journalist and dealing with the changing world around her. Linda Emond plays the role of Connie Wright. Emond has had a prolific career as an actress. She's been nominated for a Tony Award for 2003's "Life (x) 3", "2012's "Death of a Salesman" and 2014's Caberet". She's appeared in television series since 1992 including "LA Law", "Law & Order: SVU", "Gossip Girl", "The Good Wife" and "The Black List". She's appeared in films since 1989 including "Pollock", "Julie & Julia", "The Big Sick" and this year's "Gemini Man". Linda Edmond is in a relationship with actor Matte Osian.
Blaise St. John played by David Pasquesi
Blaise St. John is a member of Lodge 49. He's one of the most eccentric of the members too. He believes in holistic medicine and runs an apothecary. He calls himself a philosopher of alchemy and teaches Dud how one must be in the real and the mystical worlds. Blaise is the Merlin character in the fabled world of "Lodge 49". David Pasqesi is a comedian and actor who got his start at Chicago's Second City. He plays the part of eccentric Blaise St. John perfectly. Pasquesi has starred in films since 1997. Movies include "Father of the Bride", "Groundhog Day", "Employee of the Month", "Angels and Demons" and "Isn't It Funny". He's appeared in several television series since 1991 including "The Untouchables", "Curb Your Enthusiasm", "Veep" and "Madame Secretary. Pasquesi is married and has two children.
Scott Miller played by Eric Allan Kramer
While Scott Miller has an imposing presence, he's vulnerable underneath. He works as a patrolman for the Long Beach Harbor Patrol. He enjoys his boat and playing drums in a surf rock cover band. He's also the husband of Connie Wright. Eric Allan Kramer plays Scott Miller. Kramer has had a long career as an actor in films and television. He's also a fight choreographer. He began his acting career in television in 1987. He's appeared on many television series, mostly comedies, since including "Roseanne", "Cheers", "Seinfeld", "My Name is Earl" and "Mom". From 2010 to 2014 Kramer played dad Bob Duncan on the Disney Channel series "Good Luck Charlie". He's appeared in films since 1990 including "Robin Hood: Men In Tights", "American Wedding" and "LA Apocalypse". He is married to James Bonci.
Tell us what's wrong with this post? How could we improve it? :)
Let us improve this post!