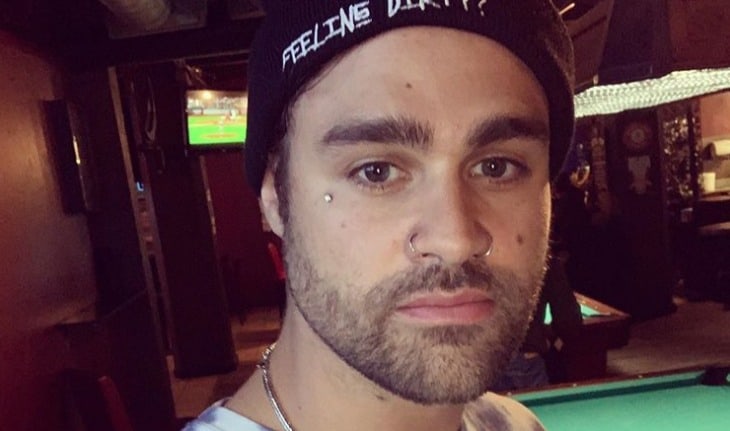 If you're not a Cody Kearsley fan already, you will be. We keep an eye on a whole lot of young stars as they work their way up through the Hollywood rank and file, but none has quite gotten our attention over the last three years the way Cody has. Lately, we've been bingeing him on Daybreak. Though his career has just begun, this is one actor with an eye for a good part and a genuinely fearless desire to pursue his career. We'd bet that the talented and (so far) underappreciated Kearsley is on his way to the top. Here are ten things you don't know about Cody Kearsley.
1. Writing Too
Cody's first role was in a film called Borealis. The movie is about a young man who returns home five years after graduating to convince a couple of friends they need to take a cross country trip with him through Northern British Columbia. Kearsley not only stared in the film, but he also wrote it too. We respect anyone who's multi-talented like that, though we weren't able to turn up much other information about the film.
2. Cody & Justin
Everyone needs a companion. While Cody is focused on his career, he doesn't seem to be dating anyone. Rumors that he's gay are unconfirmed, but he's not afraid to play openly gay characters, so we think he's just a private person. However, there is one important 'guy' in his life. Cody owns an adorable french bulldog named Justin. According to Justin's Instagram account, he likes peanut butter, stealing and eating things he shouldn't, and cuddles. That sounds like the perfect relationship for a busy actor who's career-minded. We're Jealous, Justin is adorable. There are plenty of pictures of other people who love Justin, including a couple of beautiful women and the late great Luke Perry.
3. The Birthday Announcement (Riverdale)
Cody grew up reading Archie comics. Naturally, like so many other hopeful actors, he had to try out for a part. It was a strange coincidence, but he learned that he'd landed the role of Moose Mason in the darkly reimagined CW series on his birthday. What a great way to celebrate!
4. For the Love of Daybreak
After filming Riverdale, Cody went out for another surprising and ambitious animation-based role. Daybreak, in case you aren't already bingeing the show, is about teenagers in a post-apocalyptic California semi-wasteland. The premise is basic, biological weapons turned all the adults, and some older teens into monsters, leaving only the young to survive. The delightful Kearsley plays a very different sort of teen athlete in Daybreak. Turbo Pokaski, aka Turbo Bro Jock, is scarred horribly over part of his face and neck. He doesn't speak but nevertheless manages to hold court over a considerable collection of athletes and other teen cliques. We won't spoil the action in case you missed the show. Now's the perfect time to catch up.
5. He's Not a Teenager, but He Plays One on TV
Born March 10, 1991, this twenty-eight-year-old actor is not quite as young as the characters he portrays. His early march birthday makes Cody a Pisces. If you believe in the zodiac, then his characters are just about perfect for him, magnetic, energetic, slightly detached from the people around them, and mildly indecisive about the best path to take. Regardless of whether the stars have anything to do with Kearsley's rise to stardom, he certainly knows how to pick and portray dynamic and enjoyable characters.
6. Canadian
It seems that lately we've been seeing a whole lot of fantastic Canadian actors and Kearsley is no exception. In this case, Cody is from British Columbia, which is the westernmost province of Canada, located above Washington State and beside Alaska. BC has outstanding skiing, gorgeous forested areas, and, of course, all the nightlife in Vancouver. Oddly, real-life Cody might have more in common with fictional Josh Wheeler, the Canadian transfer student who is the star of the Daybreak series, than he does with his own role as Turbo Bro Jock. It's hard to tell, though, since Cody is a relatively private person. He doesn't do a whole lot of interviews, nor does he end up in the tabloids.
7. In Georgia With Bruce Willis
Cody's latest movie, Anti Life, just wrapped shooting. He plays a young stowaway in the futuristic tale alongside Bruce Willis. Willis takes the role of a seasoned crew member on an intergalactic ship, and the pair face off against an alien menace bent on using their spaceship as a weapon. There are plenty of actors who go their entire career, hoping to co-star with an action hero like Bruce, but Cody's talent and drive speak for themselves. We can't wait to see them both in the new movie, which was filmed, at least in part, in Georgia.
8. Being Bad
Kearsley, like most actors, takes the roles he's offered, but his real love is playing the villain. He told Netflixlife that the challenge of portraying someone who has to justify their actions when they include making monstrous choices is really interesting. He seems to have enjoyed the challenge of playing the mostly silent Turbo. Hopefully, we'll be seeing him in a lot more evil parts in the future.
9. Very Random (Mostly) Unrelated Facts
Though Hawkeye wasn't a huge part, Cody was in the Power Rangers movie. He's also got a history as a dancer. Before moving from Canada, he was involved with the Okanagan Dance Studio for years. The athletic experience may have helped him out when it came to auditioning for the intensely physical Power Rangers franchise, but that's just speculation on our part.
10. Zombie Survival Plan
After filming Daybreak, Cody knows precisely what he'd do if the Zombie Apocalypse hit. He says he'd hole up inside a Costco with a dedicated group of survivors. Kearsley thinks that people would need to focus on setting traps and barricading as well as making small excursions out to find whatever supplies weren't available in the megastore.
Tell us what's wrong with this post? How could we improve it? :)
Let us improve this post!