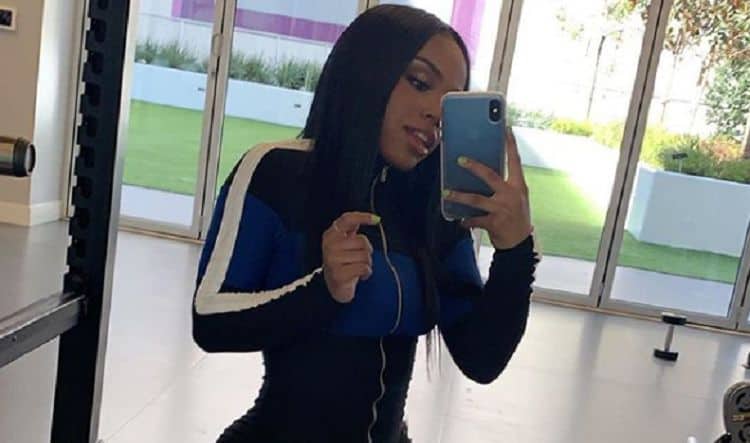 Even if you're not a huge sports fan, you're probably very familiar with the name Floyd Mayweather. But Floyd isn't the only well-known Mayweather in the family anymore. His daughter, Iyanna, is quickly making a name for herself among the younger crowd and her social media presence has gotten her in the headlines more than once. Between relationship issues and clever clapbacks, she has become a favorite for the gossip blogs. Although Iyanna Mayweather's name hasn't always been connected to positive news, there's much more to the 19-year-old than most people think. Keep reading for 10 things you didn't know about Iyanna Mayweather.
1. She Got An Expensive Car For Christmas
Being Floyd 'Money' Mayweather's daughter has it's perks, and one of them is obviously money. Floyd spares no expense when it comes to his children and he recently gifted 19-year-old Iyanna with a Mercedes-Benz G Wagon for Christmas. The car is worth over $150,000 and is full of fancy upgrades. Her father proudly posted the gift on his Instagram account a few days before Christmas. Of course, this isn't the first expensive car Iyanna has been given from her father. She also received a Mercedes for her 16th birthday.
2. Her Ex Boyfriend Made A Diss Track About Her
Anyone who keeps up with celebrity gossip probably knows that Iyanna had a relationship with rapper, NBA YoungBoy. Although the couple's time together was relatively short, they had a bad breakup which has since led to lots of drama. After several subliminal shots were sent back and forth via social media, NBA YoungBoy decided to release a diss track aimed at Iyanna titled "Dirty Iyanna". The song, which was inspired by Michael Jackson's classic, "Dirty Diana," goes on to detail some of Iyanna's alleged less than desirable behavior.
3. She Was Taught To Be An Independent Woman
Iyanna may have a wealthy father, but that doesn't mean she hasn't learned how to do things for herself. Her mother, Melissia Brim, is a successful entrepreneur who owns her own boutique in Las Vegas. Her mother has taught her how to be an independent women who is able to do things for herself.
4. Had A Star Studded 16th Birthday Party
I don't know about you, but my 16th birthday party wasn't really anything to write home about. Iyanna Mayweather's on the other hand? Her 16th birthday party was definitely one for the books. Not only were no expenses spared on the venue, but there was clearly no budget for the entertainment either. Iyanna's party doubled as a concert. She had not one, but two super star performers. Drake and Future both took the stage at the party and performed some of their biggest hits.
5. She Has 4 Siblings
Iyanna is definitely the most well-known of Floyd Mayweather's children, but she certainly isn't the only one. Iyanna has three half siblings on her father's side: Devion, Koraun, Jirah all of whom have the same mother. She also has a half brother from her mother's side named Devion. Iyanna is Floyd and Melissia's only child together.
6. Graduated High School At 15
There's more to Iyanna than relationship and social media drama. She was actually a good student who excelled in school. She finished high school when she was just 15-years-old. However, she didn't actually walk at graduation until three years later so she could enjoy the moment with the rest of her classmates. Both of her parents attended the ceremony and were very proud of their daughter's accomplishment.
7. She's A Rapper
Some people with famous parents tend to shy away from the spotlight, but Iyanna Mayweather isn't doing any such thing. Iyanna seems to be love the attention that comes with being Floyd's daughter and she wants to make a career path of her own. In 2018, Iyanna released a song (and video) under her nickname, Money Yaya. The song didn't create much of a buzz outside of a few social media posts, but that doesn't mean we won't here more music from Money Yaya in the future. Maybe she'll even get in the booth to respond to NBA YoungBoy's song about her.
8. Partnership With FashionNova
Iyanna has 1 million followers on Instagram, and she's definitely using them to her advantage. She has a partnership with the popular clothing company, FashionNova, and she frequently posts ads of herself wearing the brand's clothing. Iyanna's FashionNova posts usually get well over 100,000 likes.
9. She Comes From A Long Line Of Professional Boxers
Iyanna's father will likely go down in history as one of the greatest boxers of all-time. With an undefeated record, Mayweather's career has certainly been the most memorable of his generation. However, he isn't the only boxer in the Mayweather family. Iyanna's grandfather (Floyd's father) was also a professional boxer who fought — and lost — to the legendary Sugar Ray Leonard. Iyanna's great uncles were also professional boxers who eventually went on to train her father.
10. She Inspired The Name For Her Mother's Boutique
Floyd Mayweather isn't Iyanna's only successful parent. Her mother, Melissia, is an entrepreneur who owns a clothing boutique in Las Vegas. The boutique, which is named Devanna Love Boutique, was inspired by a combination of Iyanna's and her brother, Devion's, names. Melissia is very proud of both of her children and has said that everything she does is for them. She hopes that one day Iyanna will eventually take over the boutique and run it on her own.