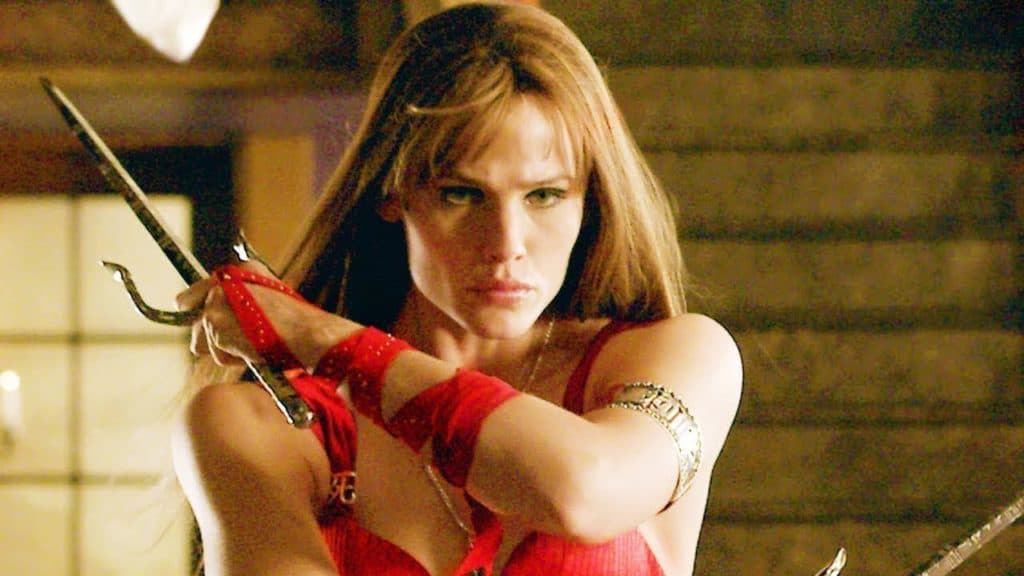 This character is one of the fiercest and deadliest in the Marvel universe, and yet her movie debut in Daredevil was a little bit ridiculous, though it did build a great deal of interest at one time since Elektra turned out to be a fan favorite, at least for a little while. It's amazing what bad writing can do to ruin a character, especially given the fact that Elektra is one of the toughest street-level characters in Marvel and can take on quite a few individuals before she reaches her upper limits. She's been seen to take on the likes of Daredevil, Wolverine, Iron Fist, and many others, but when it comes to tangling with those that have a power set that would allow them to mop the floor with her, this where Elektra tends to fall short. But the fact that her solo movie bombed wasn't due to a lack of her character or the impressive stunts that were pulled, it had more to do with the lackluster writing that crafted the story. That's something that a lot of people might argue about, but the fact is that while Jennifer Garner came out swinging, she was bound up by a very disappointing writing style that hampered the entire movie.
So, should this story get a reboot/remake? The immediate, knee-jerk answer is yes, it should definitely be given another chance to do something great since the movie wasn't given a fair shot to start with. But after slowing down just a bit and making sure to cover as many angles as possible, the answer would still be yes, since Elektra is a deadly and very enticing character in the Marvel universe and has already been introduced once again thanks to Netflix. As to who should play the role, it's fair to say that some would elect Jennifer Garner to the spot once again, while some might want to see Elodie Yung take up the mantle once more. But whoever took it on would need to hope and pray that the next writer to get their hands on the script would be someone that might have an actual clue of how to write a story for Elektra that makes sense and plays out in a manner that fans can enjoy.
The actual thrust of the story wasn't all that bad, but it went off course so many times that one might have felt as though the movie was made from several episodes of a show all smushed together to create one cohesive tale. The drawn-out war between Elektra and The Hand and their specialized assassins felt a little too muted for the liking of many fans since the special abilities that each assassin possessed should have been enough to give Elektra pause on their own. Plus, when combined they should have been a very serious threat that might have come close to ending her, which they kind of did really, but in a manner that was more for the pleasure of adolescent boys and men watching the movie than anyone. A good deal of blame for how things turned out has to be placed on the director as well since much of the movie felt disjointed and many scenes didn't feel as though they belonged in the same sequence. Then there was the fact that Elektra appeared superhuman in some shots, which, without offense to the character, simply isn't true.
Keeping this character grounded and allowing her to display the skills and tactical knowledge of how to control a battle would have been far better than the strange and sometimes less than stellar effects that helped her defy the laws of physics throughout the movie. If the MCU ever brings her back it would be great to see Elektra at her best even if it means she can't throw one of her weapons through a tightly-woven bush to bury it in the face of an enemy, especially when the actual throwing range of the weapon was exceeded by a ridiculous length. Lowering the power levels of some heroes and ramping up others doesn't do much except irritate the fans since more often than not, the power levels of any hero and villain should remain constant from the comic books to the movies and TV shows, no matter how insane or unimpressive they might be.
Elektra is a skilled assassin that knows how to work her way around a fight and how to manipulate her opponent, which is a part of why she's such a great character. But if this movie ever gets made again, which it should, one can almost bet that the MCU will find a way to make her appear far tougher and more skilled than she already is. Just to see the movie get made again would be a lot of fun though.