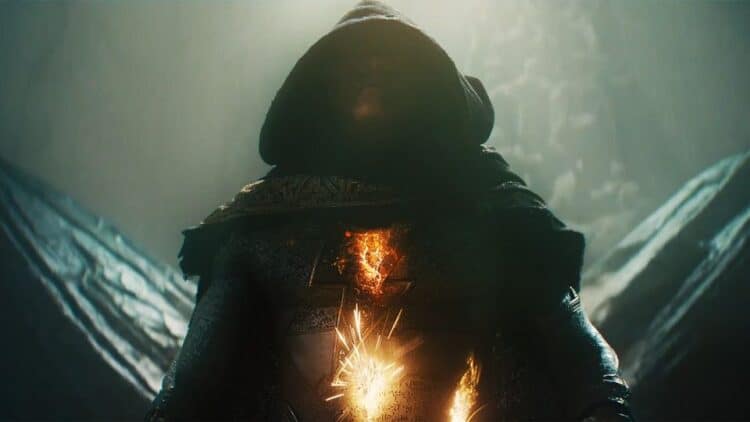 There wasn't much doubt that bringing Dwayne Johnson into the superhero world would be a good idea, and granting him the role of one of the more powerful individuals in the DC universe was one of the only ways it could have worked. Whatever doubts people might still harbor about his role as Black Adam will hopefully be tossed aside when folks get a look at the teaser trailer that's out there now, since a mere glimpse at what's coming should be enough to get people ready to buy their tickets and save their seats to see what's going to happen with this insanely powerful antihero. The look that people have been given already makes it clear that Black Adam isn't going to be that patient with those that he appears to think are crossing him, or trying to cause him harm. But seriously, it's kind of amusing that the trope of firing at something that looks harmful and keeps firing once the bullets have no effect is still something that directors manage to keep alive. Oh well, it's an interesting effect.
The DC universe is growing again as the emergence of Hawkman and Doctor Fate will be nice, and it does appear that Doctor Fate will be doing his best to talk to Black Adam to get him to rejoin the world instead of trying to destroy it. How long it will be into the movie before such a thing happens though is hard to say. What is easy to predict is that there will be plenty of action in this movie and Black Adam's power is going to be devastating since unlike Shazam he knows very well what he can do and is bound to have far less hesitation when it comes time to do it.
The overall look of the movie, so far, would indicate that it appears to enjoy plenty of contrasts in color which gives the movie the feel of a comic book but also something a little edgier than what's come before. In a way, it almost reminds one of the Man of Steel movie in a few ways thanks to the coloring and the shots that are being used. If there's any plan to bring the DC universe back to a central theme once again it would be kind of nice since much like the MCU, the DCEU has a lot of material to pull from if there's a plan to do something comprehensive that needs to be built one movie at a time. This is one reason why the MCU pulled forward so quickly, as they ended up creating movies with open endings that came in the form of post-credit scenes that introduced an aspect of another character. The DC universe has been building over the past couple of years and has managed to remain stoic enough to keep releasing one movie after another to keep things as stable as they needed to be. It didn't always feel that way of course since some were likely wondering if the DC universe could mount a comeback that would be impressive enough to keep things moving along.
There's no doubt of that any longer, at least not when it comes to the look of the movies that are coming up soon enough. There was a bit of uncertainty when Ezra Miller decided to get in trouble once again in Hawaii, but despite the controversy, other movies aren't being affected that much, and Black Adam is still moving forward in a big way. From the look of the teaser, it does appear that it's going to be a bit dark but also energized in a way that will keep a lot of people watching. Dwayne Johnson has become a proven action star over the years and even though a few of his earlier movies were kind of 'meh' in terms of dialogue and acting, he's grown in such a way that at some point he became a legitimate actor. At one time in his career, it didn't appear that he would be able to escape his WWE persona, but once he turned the corner and mastered the idea of mixing action and drama in a convincing way, there was no stopping him.
At this time it does feel as though it's a bit too early to call Black Adam a smashing hit, but to be fair, it does feel as though this movie will be something to talk about throughout the summer. The DC universe is coming up in a big way once again and has been gaining a serious foothold over the last several years as one movie after another has graced the big screen. Hopefully, this will be another great chapter in the overall DC universe that will make it clear that DC is still going strong and isn't going anywhere.
Tell us what's wrong with this post? How could we improve it? :)
Let us improve this post!