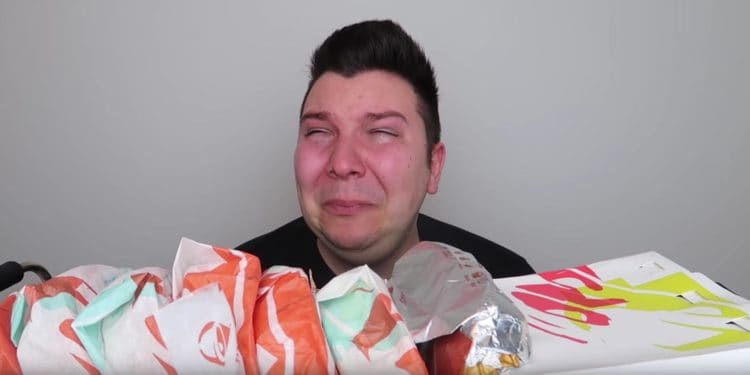 Over the years, YouTube has provided a platform for people to create content in multiple fields, including beauty, DIYs, and, more recently, Mukbangs. Mukbang videos usually Involve the YouTubers binging on large servings of food. The trend was popularized in South Korea in 2010 and has seemingly caught on in the US. Mukbang is a South Korean word that is a combination of the words 'eating' and 'broadcasting'. Nikocado Avocado was among the first men in America to partake in the Mukbang trend. At the time, female YouTubers had primarily taken on the extreme-eating trend. Nikocado has enjoyed a substantial following on his channel, but he has seemingly found himself in some murky situations. This article details some ten things you didn't know about Mukbanger Nikocado Avocado.
Nikocado Avocado is a Mukbang YouTuber who gained fame through his extreme-eating videos. He has made notable collaborations with fellow Mukbangers, such as Stephanie Soo, Jessica Vasquez, Zach Choi, and Trisha Paytas, just to mention a few. He was recently caught in a tough situation as his fellow YouTubers accused him of being a bully. Currently, there is a petition to cancel the YouTuber's channel and pull it down. Here Are Some 10 Lesser-Known Facts About Nikocado Avocado
1. Real Name
His 3 million subscribers might know him as Nikocado Avocado, but his real name is Nicholas Perry.
2. He Is Adopted
According to Insider, Nikocado Avocado gave out details of his early life while talking to fellow YouTuber Trisha Paytas. The two were recording for Paytas' podcast called 'The Dish With Trish' when Nikocado let out that he is an adopted child. He shared that he was born in Ukraine on May 19, 1992. He added that his adoption happened shortly after, and he grew up in Harrisburg, Pennsylvania.
3. He Has Had Mental Health Issues Since He Was Little
While still talking to Trisha Paytas, Nikocado shared that he has always had mental health issues since he was 5. He shared that his first visit to a therapist happened when he was five and he has since been in and out of therapy. He further added that knowledge of his adoption is what triggered the mental issues as he couldn't fully understand his biological parents' decision to put him up for adoption. As a result, he acted out by always seeking attention and wanted to be in the spotlight constantly. Nikocado told Paytas that he got his first prescription for antidepressants when he was 7. He added that in his preteens, he was diagnosed with OCD (Obsessive Compulsive Disorder) and ADD (Attention Deficit Disorder).
4. He Can Play The Violin
While still recording the podcast, Nikocado shared his aspirations with Paytas. He said that if he hadn't made it in the YouTube scene, he would have pursued a career in music. He stated that he had been a freelance violinist when he was 21.
5. He Met His Husband In Facebook Group
Nikocado posted a video in 2016 detailing how he and his husband, Orlin Home, met. The two were in a Facebook group exclusively for vegan men. They became friends, and on the day of the meetup, Nikocado joked, that he showed up in a tuxedo to serenade Orlin.
6. He Is Ex-Vegan
When Nikocado Avocado began his YouTube channel, he only consumed vegan meals and followed the pro-vegan lifestyle. However, in 2016, he posted a video stating that he was denouncing veganism. He cited that he had changed views and beliefs about animal product consumption. Among his reasons for not being vegan anymore was that the lifestyle was affecting his health. He told Paytas that he had a rotted tooth, developed hypoglycemia, and had Vitamin B12 deficiency. He also said that, this switch had been because he felt like he was not vegan enough for other vegans, including his subscribers.
7. His Popularity Soared Afterwards
While he had gathered a decent amount of followers and subscribers in his vegan days, he sure did do well as a Mukbanger. As aforementioned, he was among the first male YouTubers in America to take part in the extreme-eating trend. His subscriber following on the platform grew not only because viewers wanted to watch him eat large servings of food but because drama is always guaranteed. Over the years that he has been on YouTube, Nikocado has also gained a significant amount of enemies on the platform.
8. He Has 3 YouTube Channels
Nikocado Avocado has 3 YouTube channels named Nikocado Avocado, Nikocado Avocado 2, and Nikocado Avocado 3. He posts on these channels quite regularly, sometimes even daily. Combined, they boast of 3 million subscribers. His videos usually get over 10 million views.
9. He 'Clickbaits' Viewers
Nikocado frequently posts videos with thumbnails of himself sobbing hysterically into a large tray of food. He stated that since he is a dramatic person, he takes full advantage of his lowest moments for success on the platform. He acknowledged that his emotional videos get a lot of views, and that was the reason why he makes the titles of his videos 'clickbaity'.
10. His Recent Controversies
Nikocado has found himself amid a lot of heat arising from a video done by fellow Mukbanger Stephanie Soo titled 'Why I'm Scared of Nikocado Avocado'. In the video, she described Nikocado as a very abusive person and added that she felt unsafe. Zach Choi, who collaborated with the two, didn't weigh in entirely on the situation but got a lawyer involved. Other notable YouTubers Nikocado has had issues with include Trisha Paytas, who called him out, and Veronica Wang. According to Cheat Sheet, other social media users and fellow vloggers agreed that Nikocado is a manipulative, toxic, and deceitful person.
Summary
Nikocado Avocado has had his fair share of success, but he is not in an amicable place with fellow YouTubers. The success could be getting to his head, and his dramatic videos have fans worrying that he might indeed have a serious mental problem. Either way, fans can only wait to see what more theatrics Nikocado comes up with next.