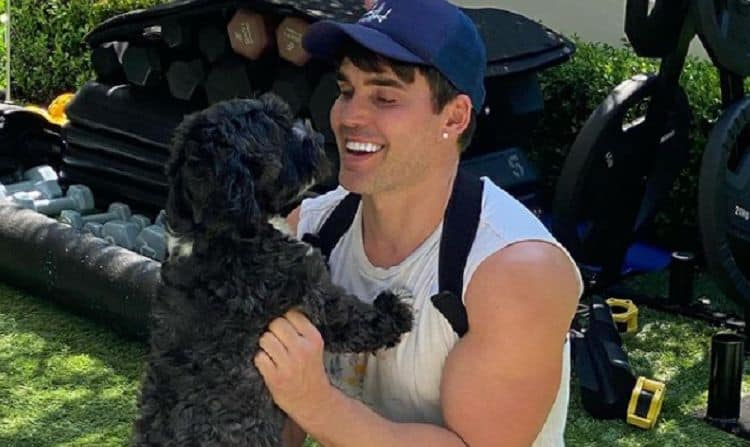 When it comes to workouts and fitness routines, it seems like everyone is an expert. Of course, at the end of the day, we don't think any form of working out and eating well, and living a healthy lifestyle is a bad thing – good health is the key to longevity and the prevention of more serious health issues such as heart disease, certain forms of cancer, and so much more – but it is people like Nick Hounslow who make people want to work out more. The English model and fitness expert knows a thing or two about living a healthy lifestyle, and we thought we'd learn a little more about who he is.
1. He's From England
Nick Hounslow is a man from England. He spent the first 18 years of his life there, and then he took off. He left his home in London when he was 18 to spend time working on his modeling career. He had to walk some runways, and he had to do some print ads for some major designers, and he wasn't doing all of that in London.
2. He Worked Internationally
Where did Hounslow go after he left London? Everywhere, honestly. His modeling work kept him busy, and it kept him on the road. He was in places such as California and New York. He did some work in Paris, France. He also worked in Italy. More specifically, he did work in Milan – the fashion capital of the world.
3. He is a Music Video Star
Who didn't imagine being a music video star at some point? Growing up in the days of "TRL" and Pop Up Video and so many other fun music shows had us all wishing that a major star would come calling and cast us as their love interest in a music video. For Hounslow, it was his reality. He was a vid star for major performers such as Britney Spears. He even starred in a Hilary Duff music video when her music career was taking off.
4. He's a Spin Class Instructor
When he's got a little free time, he is typically on a spin bike training the best of the best. He's an instructor for Cycle House, and most of his clients are the most famous people in the world. In fact, rumor has it that no one can get into his classes – and he teaches more than 50 people at a time.
5. He's a Trainer
When he's not modeling, dancing in videos, or teaching his spin classes, he's also a celebrity trainer. While he's very discreet and exceptionally professional about his training job, he is rumored to train some of the most amazing bodies in Hollywood. He's known as a celebrity trainer, and he's rumored to be among the best of the best.
6. He's a Movie Star
Something else he's good at (perhaps the list of talents he does not have would be shorter?) is acting. Back in 2018, he was the prince and the lead character in the hit Christmas film, "Christmas with a Prince," and he was stellar in the role. He loves what he does, and he's always open to doing more.
7. He Was Bullied
We know the dangers of being overweight and of not being healthy. We know that it takes only an additional 25 pounds of weight to make it more difficult for a woman to become pregnant. We know it takes very little additional weight to increase our risk of heart disease, heart attack, strokes, certain types of cancers, diabetes, and so many additional health issues. Unhealthy people do not live as long, they do not live a high quality of life, and it's the unhealthy who are the most susceptible to illness and disease. However, we often forget the other issues that come along with being overweight – and that issue is that kids are mean and they don't have much of a filter. Hounslow was overweight as a teen, and he was bullied. He decided to educate himself, to learn what he could, and to figure out how to improve his life from the inside out – and he was a certified trainer at the tender age of 17.
8. Health is Mental for Him
It's primarily mental for him – and probably most people. Once you decide you're doing it to get healthy and to be your best self, it's not difficult to get in the workouts and the healthy meals. He loves the decompression of working out and being active. It's good for him, and for everyone, from the inside out.
9. He's Kind of Private
If you'd like to know more about Nick Hounslow's love life, get in line. He values his own privacy, and he's not one to kiss and tell. He speaks very little about his personal life, and that's a great thing to keep private. No one is entitled to have access to the most important relationships in a person's life.
10. He's Got a Dream Roel
Less a role and more a dream situation; he'd like to work for Ryan Murphy. If Murphy creates it, Hounslow would like an opportunity to play the role. It's something he wants to take on in his life, and we get it. Murphy is a genius.model and fitness expert