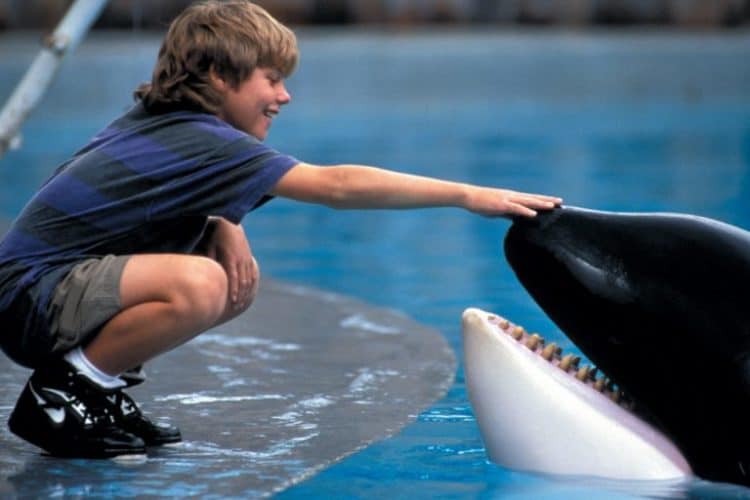 Have you ever thought about how our lives would be if we did not have animals, and pets around us? The world would truly be a dreary place indeed! And since it's the same with the movie industry, which would surely be a rather boring place if it didn't have a lineup of great animal movies, here we are with a list of Movies That Reveal the Awesomeness of Animals and Will Touch Your Heart that has a heartwarming mix of animal movies that make you laugh and cry, but more importantly, make you think about all that these beautiful creatures give us in ways we cannot even begin to fathom. And while we cannot help but begin our list with a steady string of movies that revolve around a human's best friend, there are others further down the list that explore some other pets too!
The Belle & Sebastian Trilogy
The Belle and Sebastian trilogy, consisting of three films — Belle and Sebastian, Belle and Sebastian: The Adventure Continues, and Belle and Sebastian: Friends for Life — is the telling of a beautiful tale of friendship between a dog and his little human, and at the end of it all, we really don't know who saves who! Set in the French Alps during the 1940s, a time when the Germans were taking over every town and village they could get their hands on, the movie begins with folks worried about a beast that's been killing their sheep. And while little Sebastian the young orphan child who lives with his grandfather is on one of his adventures frolicking along the mountainsides, he finds out that the beast everyone's worried about is actually a cute furry dog they've wrongly taken to be a killer canine. From a chance meeting that transforms into a beautiful relationship that plays alongside the drama of wartime, the movie reveals so much more than just another pet drama. While this was all about the first movie in the trilogy, the other two movies in the Belle and Sebastian series prove to be just as heart-touching.
The Beethoven Franchise
Beethoven, Beethoven's 2nd, Beethoven's 3rd, Beethoven's 4th, Beethoven's 5th, Beethoven's Big Break, Beethoven's Christmas Adventure, and Beethoven's Treasure Trail — you can pick out any of these movies to experience what it is like to have an adventure with a St. Bernard in your lives and you won't go wrong with any of them! And yet, it was the first one that really got the audience hooked! A family comedy that revolves around the Newton family and their love for a dog that ventures into their lives out of nowhere, even the sinister plot that part of the storyline revolves around doesn't dampen the abundant love and compassion that exists between the giant-sized but loving dog and its humans. And of course, the rest of the movies in the series, even though not all of them had the Newton family in them, are just as fun! A hit with audiences, the first movie in the franchise made a whopping $147 million against the $18 million it took to make it.
My Dog Skip
Yet another movie that was a huge hit at the box office and won the hearts of audiences was My Dog Skip. Made on a budget of only $4.5 million, the movie made several times the amount in profits, raking in a cool $35 million and more at the box office. And that's not the most impactful element of the movie either! Revolving around the storyline of how a Jack Russell Terrier enters the life of a young boy and changes just about everything for the better, the movie has an adult Willie Morris looking back on his childhood years and discovering just how much of it was made beautiful and meaningful by the presence of Skip the dog. As the movie takes us on small adventures, we realize just how much a dog gives us in terms of loyalty and love, and how little of all this we manage to give in return. Although the film has a few sad turns and a sad ending — why do they have to show us the death of these lovely creatures when their love has us crying already is beyond us — there are so many beautiful scenes throughout the story that tug at your heart in the most beautiful of ways. If you don't mind shedding more than just a tear and having your heart broken just a little bit, My Dog Skip is just what you need on your must-watch list.
101 Dalmatians
If movies with one pet or cute animal are winners, you can only imagine how great they'd be if they had a mind-boggling 101 in them! And although 101 Dalmatians doesn't really have all those dalmatians running around through the entire film — although we wouldn't be complaining if that were indeed the case — it does eventually have that many cute little puppies adding to the drama surrounding the climax. A film that is funny and romantic and a little bit scary at times, thanks to the unbeatable act put on by Glenn Close, this one shows us how a single pet in the household isn't just capable of giving us some puppy love but helps us find human love too! Oh, and that they find love with the other human's pet dog and even start a family together is another story in itself! Beautifully woven around the lives of a quirky yet lovable Roger Dearly, played by Jeff Daniels, and his love interest Anita Campbell-Green-Dearly, played by Joely Richardson, and of course, their two pet dalmatians who fall for each other even before their humans do, there are certainly more than 101 reasons to watch the 101 Dalmatians! And if you want more, there's always 102 Dalmatians and Cruella to catch up with!
Turner and Hooch
Usually, when Tom Hanks delivers yet another one of his outstanding performances in a film, no other character in it even comes close in terms of impact. There was this one time though when one particular character came pretty close to beating Tom to the winning post in terms of love from the audiences. And this character didn't have a single line to utter throughout the movie either! Alright, enough of the suspense now! It's Beasley the Dog we are talking about, the one who clearly gave Tom a run for his money in the film Turner and Hooch! And gave him quite a few chases in the movie too. A plot that begins with a bored Detective Scott Turner transferring out of the boring town of Cypress Beach, California only to be held back by a murder of an acquaintance, this one quickly turns into a beautiful story of how no matter how much you try, you just cannot ignore the love that you can get from an animal. Tackling loads of fun troubles brought on by the naughty yet extremely lovable Hooch and real ones brought on by the murder investigation, you see Tom's character making his way in and out of interesting sequences, and even finding time to fall in love with the new vet in town, Dr. Emily Carson, played by the cute Mare Winningham. And although the film does end in heartbreak, with Hooch giving up his life to save his new human friend, there is a silver lining in the end with one of Hooch's love puppies turning out to be just like him! For more slobbery reasons than you can think of, Turner and Hooch is a must-watch!
Marley & Me: Life and Love with the World's Worst Dog
It is indeed a well-known theory that pet movies are mostly about fun and frolic and passing adventures that don't really hold a candle to the real challenges of life. Well, the reason we have Marley & Me: Life and Love with the World's Worst Dog at the start of this list is to prove this theory wrong! A movie that is as deep and heartfelt as is the next human love story, this one is all about the intricacies that a pet can add to one's life if you should open up your heart to it, and in more ways than one, this movie indeed tells you why it always helps to have a beautiful animal friend by your side. And please don't go by the words "worst dog" in the title! Lil Marley, the cute and loving, and at times naughty labrador retriever is just the opposite! Led by a cast comprising of Owen Wilson and Jennifer Aniston, the movie is based on the John Grogan memoir that goes by the same name and has every emotional element in it — from happiness and sadness to anger and guilt. Taking you through a rollercoaster of life's everyday adventures and heartbreaks, Marley & Me: Life and Love with the World's Worst Dog is a movie that has love and life's lessons written all over it.
Mia and the White Lion
A white lion for a pet? Well, it may sound dangerous but hey, it does sound mighty adventurous too! And that's what little Mia gets in the movie Mia and the White Lion. When little Mia is shunted off to Africa from her comfortable life in London only because her parents want to manage a lion farm there. But soon enough, her life turns upside down again, but this time in a good way, when a beautiful white lion Charlie makes his way into her life. However, as the lion grows older and is deemed dangerous, Mia's parents decide to give him away to another lion farm. But when Mia discovered that this farm is only a way for trophy hunters to hunt down the lions there, she decides to save her best friend's life by taking on the arduous task of driving all the way to the Timbavati Game Reserve where Charlie will be protected from hunters. What ensues is a game of cat and mouse with Mia's family, the police, and the trophy hunters all trying to trace Mia and Charlie for their own reasons. Thankfully, all that drama has a happy ending with Charlie not just reaching the reserve safely but even finding love and family among his own kind. A movie that shows how love can surpass any amount of challenges, Mia and the White Lion is a beautiful tale of courage and friendship.
Fly Away Home
Yet another film that touches your heart and leaves you wanting more, Fly Away Home — also known as Flying Wild or Father Goose — is a family drama that unravels just how humans can not only find happiness in the way they treat the animals and birds around them but also enhance the lives of these beautiful and innocent creatures with their own innovative ways. Revolving around a young girl Amy Alden, who after losing her mom in a car crash is struggling to adjust to her new life in another country with a father she has never known. And thanks to a bunch of goose eggs she happens to find, this loving young girl not only finds something to lean on but also explores her relationship with her dad so that she begins to feel at home. And the true adventure begins when this new family takes on the task of helping the geese migrate! Dramatic and adventurous in so many ways, the pure love portrayed in this movie that leads to actions humans are seldom famous for makes Fly Away Home a must-watch on our list! And to think that although dramatized for audiences up to a great extent, the part where the geese follow the ultralight aircraft and find help in migration is actually true! Thanks to the efforts of Bill Lishman and Dr. William J. L. Sladen, a gaggle of Canadian geese was able to migrate successfully through a special program called "Operation Migration". Now that's a story worth telling the ages!
Mighty Joe Young
We've all had dogs and cats and even birds as pets, but how about a mountain gorilla that weighs 2000 pounds and reaches a height of 15 feet! Well, Mighty Joe Young is the story of one such odd family that comprises of Joe, an infant mountain gorilla who finds love and lifelong friendship in Jill Young — played by Charlize Theron — with both losing their mothers early in life and finding solace in each other. However, what was a beautiful life in the United States with the mighty Joe in a conservancy in Los Angeles and Jill playing the role of his caretaker soon pivots into a story of revenge and jealousy as the fraudulent Andrei Strasser, a poacher, and seller of animals organs weaves a web of lies to lure the gorilla and his caretaker to his fake zoo in Botswana. What unravels is a deadly fight where the villains of the story instigate Joe into wreaking havoc so that they can label him dangerous and kill him. High drama ensues but eventually, all ends well with Joe not only saving a young child's life but also making his way back to Uganda where he lives a peaceful life in the jungle on the Joe Young Reserve. A movie that touches your heart while showing you the two sides of human nature and how we can always choose the one that helps us love our planet and its creatures instead of giving in to greed and putting them in danger, Mighty Joe Young shows you just how even the most strong and powerful beings are capable of love and compassion if only they make the right choice.
Free Willy
Who hasn't heard of Free Willy! A film that awakened us to the adventure of having an orca whale as a best friend! One of the most popular animal movies of all time, this one's easily a winner on any list, not just for the massive hit it turned out to be at the box office but also because it is one of the most endearing tales ever told on the big screen. It all begins when an orphan boy named Jesse is pulled up by cops for vandalizing the Northwest Adventure Park, a theme park that has all kinds of sea creatures to entertain crowds. But what ensues is a tale of greed that won't stop even if it means killing Willy the popular orca and to prevent this from happening are a bunch of good souls in the form of Jesse and his good-hearted foster parents, who decide that they would free Willy the whale before the villains kill it in order to rake in the insurance money. A desperate adventure later, Willy finally makes it into the ocean but has to make the biggest jump of his life to clear the breakwater and make it into the big wide ocean. And yes, Willy does make the jump and swims away to find his own family! Easily one of the most touching movies that portray the unique bond of love that can exist between humans and animals, Free Willy is worth all the attention it received, and still receives as a tale of enduring friendship.
There's So Much We Can Learn From The Animals on This List!
We know you enjoyed our list of Movies That Reveal the Awesomeness of Animals and Will Touch Your Heart but did you know there is so much we can learn from these beautiful creatures too? Loving without expecting the same amount of love in return, giving without expecting something in return, and the ability to care for the humans they've chosen to love even when humankind hasn't really been kind to them — there is so much that the animals on this list teach us. And truly, all we have to do is look around us to see the beautiful and selfless lives that animals lead to know just how important it is to live simple and humble lives that aren't just about satisfying one's own needs but passing on our compassion to others too. It is indeed true that one needs to have a pet at least once in their lifetime to learn new ways to spread love and happiness.
Tell us what's wrong with this post? How could we improve it? :)
Let us improve this post!