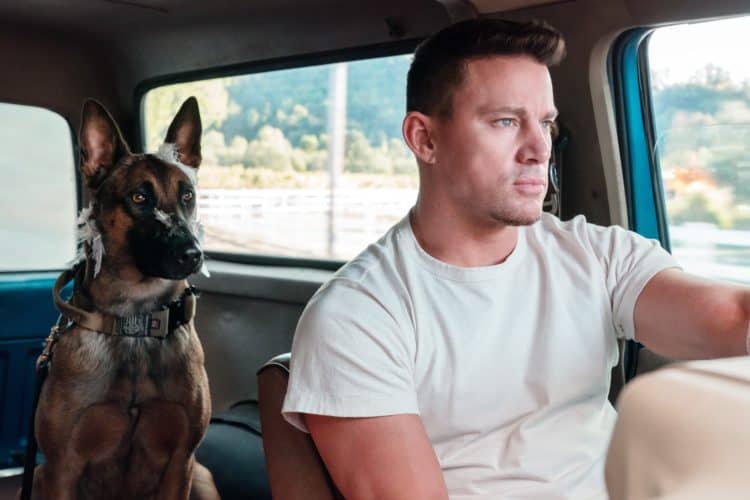 The comedy-drama film Dog hit theaters last week. Starring Channing Tatum, the film also marks Tatum's directorial debut alongside Reid Carolin. The film also stars Jane Adams, Kevin Nash, Q'orianka Kilcher, Ethan Suplee, Emmy Raver-Lampman, and Nicole LaLiberte. The movie follows Army Ranger Briggs (Channing Tatum) and a Belgian Malinois dog named Lulu, his fallen commander's beloved dog. The two go on a road trip to the Pacific Coast for the commander's funeral but it doesn't go smoothly as the two drive each other crazy and go through several hiccups along the way. Variety published a review of the film and wrote, "What could have been a basic man-and-dog road movie goes deeper than expected, exploring the damage military service does to two ex-Rangers — one a Purple Heart, the other a Belgian Malinois." If you enjoyed the movie Dog and would like to watch similar movies here are five of our movie recommendations that feature a special bond between man and their beloved pets.
As Good As It Gets
The 1997 romantic comedy-drama film As Good as It Gets, directed by James L. Brooks with a screenplay he co-wrote with Mark Andrus, stars Jack Nicholson as a grumpy and obsessive-compulsive novelist who finds himself babysitting the dog of his neighbor Simon (Greg Kinnear) who has been hospitalized. The dog surprisingly softens his heart and helps him find confidence in winning the heart of the waitress at the local diner played by Helen Hunt. Nicholson and Hunt won the Academy Award for Best Actor and Best Actress, respectively, and the film was also nominated for Best Picture. In The Hollywood Reporter's review they described the film as saying, "A bittersweet modern love story, Good starts out bitter and becomes sweet, though it's a sweetness not hyped by artificial story stimulants."
Hachi: A Dog's Tale
Another heart-warming story about dog and man is the 2009 American film Hachi: A Dog's Tale which is a drama film adaptation of the 1987 Japanese film Hachikō Monogatari, which itself is based on the true story of the loyal Akita dog named Hachikō who lived in Japan in the 1920s. After his master passed, Hachiko continued to wait for him each day at a Tokyo train station for nine years. A bronze statue of Hachiko has been placed at the spot where he patiently waited for years. Hachiko: A Dog's Tale was directed by Lasse Hallström, written by Stephen P. Lindsey and Kaneto Shindo, and produced by Richard Gere, Bill Johnson, and Vicki Shigekuni Wong. The film stars Gere, Joan Allen, Sarah Roemer, Jason Alexander, and Cary-Hiroyuki Tagawa. Empire reviewed the said film and wrote, "A remake of a 1987 Japanese film, based on a true story, this tear-jerker is all the more effective for underplaying its surefire man-and-dog romance and keeping Beethovenian hijinx to a minimum."
Alpha
Like the film Dog, the 2018 American prehistorical adventure film Alpha, directed by Albert Hughes and written by Daniele Sebastian Wiedenhaupt, features how a bond between man and dog blossoms. The film is said to depict the origins of the man's best friend. The film stars Kodi Smit-McPhee as Keda, a young hunter who gets separated from his tribe during his first hunt. He is left alone to survive the wilderness and encounters an injured wolf abandoned by its pack. The two take their journey home and must survive the harsh terrains and weather conditions together. The Guardian praised the film's cinematography in their review and wrote, "The story is simple: subtitled dialogue, in an unspecified ancient language, is basic; the tale is one of subsistence rather than spiritual insight. But this Albert Hughes-directed adventure is visually stunning."
Togo
Similar to the film Dog, the film Togo features a man and his dog getting off to a rough start but changes as the story progresses. Togo is a 2019 American historical adventure drama film directed by Ericson Core and produced by Walt Disney Pictures. The film is based on a true story set in 1925 during an epidemic of diphtheria. The story centers on champion dogsled trainer Leonhard Seppala and his lead sled dog, Togo, and their mission to transport diphtheria antitoxin serum to a small town in harsh weather conditions and across treacherous terrains of Alaska. The film stars Willem Dafoe, Julianne Nicholson, Christopher Heyerdahl, Michael Gaston, Michael McElhatton, Jamie McShane, Michael Greyeyes, Thorbjørn Harr, Shaun Benson, and Nikolai Nikolaeff. IndieWire praised the film in their review and wrote, "Impressive special effects, a warm performance by Dafoe, and an ungodly amount of cute pups raise the film a cut above Disney+'s other recent offerings, and Core's drama seems poised to break out as the streaming service's first true crowd-pleasing hit."
Pig
The film Pig does not involve a dog and has a more serious tone than Dog, with the film even being compared to the John Wick series and film Mandy, but it does share similar themes with Tatum's Dog. Pig is a 2021 American drama film written and directed by Michael Sarnoski in his directorial debut and stars Nicolas Cage, Alex Wolff, and Adam Arkin. The film follows Rob, a truffle hunter played by Nicolas Cage, who lives alone in the Oregon wilderness with his truffle foraging pig, called Pig. In the middle of the night, Pig is kidnapped and Rob decides to go to the nearest city, Portland, to find the person who kidnapped his beloved Pig. The film received critical acclaim, praising Cage's performance and the film's direction and themes, The film won Top Independent Film and Best Directional Debut (Michael Sarnoskit) in the National Board of Review and Cage received a nomination for Best Actor at the 27th Critics' Choice Awards. In an article by Vox, they hailed Pig as Cages' "career-best performance." Rolling Stone also published a review of the film and wrote, "The movie is both laudably earnest and, conversely, slightly hollow for feeling so overly limited to its strict plans, its deck of emotional cards splayed plainly before the viewer with a warrying sense of one-to-one screenplay interventions…"
Tell us what's wrong with this post? How could we improve it? :)
Let us improve this post!