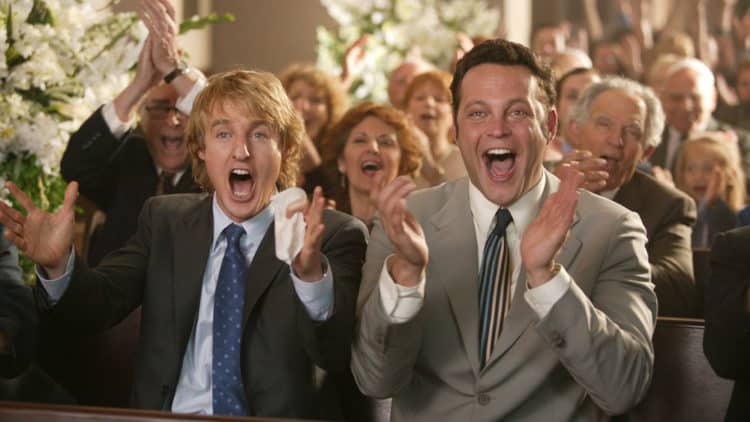 I'm a huge Disney fan. That includes the parks as well as their entertainment properties. This means, I'm a big fan of the Haunted Mansion ride at the parks. Again, this also has deeper implications. I know the 2003 iteration of Haunted Mansion is not a good movie, but I still love it. It's quite literally the definition of guilty pleasure films for me. Needless to say, I was BEYOND ecstatic to hear that Disney was doing a remake of this movie that is going to be in the same vein as Jungle Cruise, which I also enjoyed. Just when I think this news can't get any better, Owen Wilson joins the cast of the upcoming Haunted Mansion movie per The Hollywood Reporter.
Haunted Mansion already has confirmed LaKeith Stanfield and Tiffany Haddish for the remake, it also scored Justin Simien of Dear White People fame, as director. Stanfield is best known for his recent roles in the Atlanta TV show, portraying Lieutenant Elliot in Knives Out, and Demany in Uncut Gems. Haddish has big credits from being in Keanu as Hi-C, Mia Carter in Like a Boss, and Dina in Girls Trip. So, the three named actors all have some strong credits. Owen Wilson joining the cast really sets up Haunted Mansion to be a spooky comedy. He is a well known comedy actor with his big movies being Wedding Crashers, Starsky & Hutch, and The Internship.
Wilson has a pretty long-standing relationship with Disney as he is Lightning McQueen in the Cars franchise, had a great showing in Night at the Museum: Secret of the Tomb, and his most recent role as Morbius in Loki that was released on Disney+. All this is to say I am beyond excited for this upcoming installment in the Disney catalog.
Wilson-issance Coming?
We recently had the Keaton-issance with Michael Keaton making a big showing for popular, quality films. There was also the McConaug-ssance for Matthew McConaughey getting some love in quality movies after moving away from his typical rom-com roles. I'm going to make the wild claim that Marvel's Loki is the role that will really get people talking about Owen Wilson again. I'm not saying Wilson hasn't been working, he's been pretty busy actually. Just his roles were kind of lacking heart and a quality story to back his comedic styling. I think his 2016 role in The Internship was the last time I had really paid much attention to his work. Loki got people talking about Wilson again, but he also has some big things coming out. He has Bliss that has already had some award buzz for its production; there is also the upcoming film The French Dispatch that is a Wes Anderson project coming soon. On top of that, he has three other projects in the works to go alongside the new Haunted Mansion.
What Will the Haunted Mansion Be About
I had to get that little bit out of the way, but now let's get back on topic. The actual plot for Haunted Mansion is being kept up wraps right now. Pretty much all we know is that it will follow a family that moves into the titular mansion, and it'll start filming in October. Luckily, you have this here Disney nerd to tell you the crazy story options that could come from this little flick. I've written for a few Disney blogs/unofficial news sites before. One of the things I've written about had to do with a Disney Parks exclusive story. It's not in any movies or anything of the like but there is a running storyline concept throughout all the Disney parks for the Society of Explorers and Adventurers, or SEA. This group is exactly what it's described as, a group of people that explore the world and seek out adventure.
There is a running storyline that connects some rides throughout the world via the SEA. One such ride being Jungle Cruise. Another ride connected is the Tokyo version of Haunted Mansion. I'm not saying this is for sure happening, in fact I think it is extremely unlikely that they do this, but there is a very easy way for Disney to do a bunch of ride based movies and then connect them with a big movie or Disney+ series. It just doesn't seem likely that they would pull this off in the same way they did the Marvel movies. But I'll keep dreaming.
The more likely scenario is that they will loosely follow the ride storyline, which is the same in both Disneyland and Disney World. There's plenty of options to keep this fun though. The 2003 version of this movie was based around the story of Gracey Manor being haunted and trying to lure the wife of Eddie Murphy to get married to Master Gracey. This is one of the popular ghosts from the Haunted Mansion ride, but I think this version will focus on another ghost: Constance, the murdering bride. One downside that could come from this would be that it would kind of be similar to the Addams Family doing the "black widow" storyline where there is a woman that marries rich men then kills them to take their money.
The story I'm proposing, and what I think would form a much more entertaining storyline, is that the family that moves into the mansion is wealthy, so the ghost of Constance tries to kill the husband, only to be thwarted by the wife of the aforementioned family. But, with the casting of Owen Wilson, I wouldn't be surprised to get a rehashing of the 2003 storyline: the Ghost of Master Gracey wants to marry his lost love who looks exactly like the wife of the family that moves in. Honestly, there are 999 "happy haunts" that reside in the Haunted Mansion, so we will have to just see what's in store. Make sure to take care though, there are hitchhiking ghosts that may come along on this journey.LaKeith Stanfield