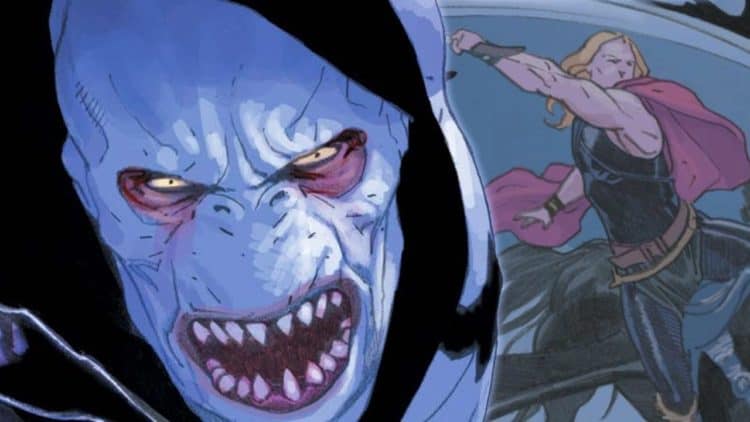 If you're wondering who Gorr the God Butcher is don't feel too bad since he was introduced a while back and he really only has that one goal in mind, killing gods. It has been established though that Christian Bale will be taking on this character for Thor: Love and Thunder, and it sounds as though he'll be a formidable enemy for the thunder god since anyone that can boast about killing gods isn't someone that's meant to be taken lightly, nor is he someone that a person would be wise to look past. But at this point, this is really one of the only things that we know about the next Thor movie, other than it appears to be coming in 2022, which means we're going to have to wait a bit longer. But it also sounds as though there might be the possibility of time travel in this movie as well, which is something that the MCU has been playing with for a little bit now and is likely to continue forward with so long as it's feasible since it could be that they're trying to figure out how to make it work as part of the franchise now that they're about to unveil the multiverse at one point. One could state that they've already hinted at it and showed glimpses of the multiverse in a way, but until it's explicitly stated that the multiverse is being displayed, y'know, like in Doctor Strange for brief moments, then it's likely that fans will argue that such a thing still hasn't happened.
But time travel, that's definitely a thing in the MCU, and if it happens in the next Thor movie people shouldn't be too surprised, but it should also be considered that it will eventually make a mess of things if it's used too often. But the whole idea of time travel in this coming movie has to do with Gorr since apparently, he has access to something that can allow him to mess with the timelines, and in the comics, he's already attempted to destroy all gods in one fell swoop. Of course, it took three versions of Thor to stop him, so if he's that tough it doe feel that having the Guardians on his side and perhaps even another bit of help might be necessary, hence the time travel and the ability to call upon different versions of Thor from different timelines. But if you're thinking that the time travel is going to get a bit kooky and out of control it does sound that way. Having some faith in those that are behind the MCU is important at this time, but keeping a close eye on what's going on and hoping that they'll be able to keep it all straight and not really muck things up is a concern that a lot of people have since the Marvel universe is expanding in a big way at this time and it's fair to say that it's going to be a lot to handle very soon if it's not already.
The thing about putting Christian Bale in a Thor movie is that first, it's kind of a cool idea since he gets to play a creature that will be completely aggressive and absolutely deadly, and second, it's likely that Gorr, who looks to be a pretty big creature, is going to be mostly CGI, as it was with Korg in Ragnarok. But this might even give Bale a little more freedom to be wild and crazy with his acting, or it could limit him a bit. For that part, we'll have to wait and see since the whole idea of CGI is one that does appear as though it might need to happen, but the acting portion of it feels as though it's going to be right up Bales' alley since he can get wild and crazy without fail and shouldn't have any issue in playing an over the top character that can hang in there with some of the more powerful characters in the MCU. It does feel as though bringing in other gods might be kind of interesting since the Marvel universe has featured other pantheons over the years. But it's easy to think that such an idea might be seen as kind of dangerous since it could be that there are copyright laws to worry about in the case of certain characters. But seeing Gorr and Thor hook it up, and possibly Lady Thor getting into the mix as we should expect could be worth the wait. Marvel is definitely pulling out a good number of new faces and old stories that are going to test the faith of the fans in the coming years, but so far it sounds as though people are excited to see what's coming.