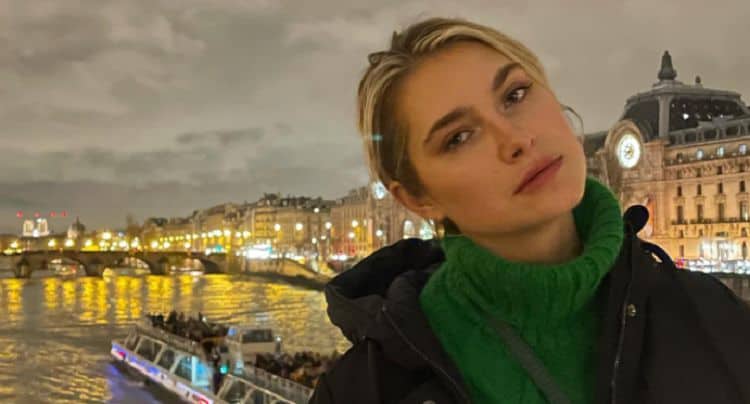 The question we find ourselves asking each time we get to know an Olympic athlete is whether they grew up knowing that this is what they'd do with their lives. Do athletes of this caliber know from the start they're going to the Olympics? Is it always the goal? Or, at some point along their journey of talented athletics, does the idea come to them by way of their own thoughts or someone else's opinion? Monica Aksamit is a talented athlete who represented the United States in the 2016 Summer Olympic Games, and she's also a reality star who was part of the cast of "Joe Millionaire," the second coming if you will. She is fascinating, and we want to know more about her.
1. She's a Fencer
While we can honestly assume that if you're not a fan and you're not a participant in this kind of sport, you might know exactly what it means, we can still be honest and say that it's a cool concept. She is a saber fencer, and she's good enough she was chosen to be part of the Olympic team – a dream that so many athletes will never realize because they aren't nearly talented enough.
2. She's Young
She's a 90s girl who is still quite young to us since the 90s were only a decade ago (right?). She was born on February 18, 1990, and we refuse to believe that means she's already going to turn 32 in 2022. She was born and raised in New York City, Brooklyn, and nearby areas of New Jersey.
3. She is Polish
Actually, Monica is American. However, her parents both came from Poland. They were born there. They were raised there, and her entire family lives there. With the exception of her mother, father, and her sister, her entire family still resides in Poland.
4. Her Parents Divorced
We imagine that being the child of divorced parents is difficult, but it must be so much more difficult when your parents divorce when you're old enough to understand what is going on yet still too young to understand what is going on. She was only nine when her parents made the choice to call it quits. She has no full siblings, but she does have a half-sister. We don't know if her half-sister is a result of her mother or her father's subsequent personal lives following divorce, however.
5. She Lived in Poland
Her parents had choices to make when she was a child, and one of the choices they made was to send their daughter to spend some time living in Poland with her grandparents. Monica was only one and a half when her parents made the choice to send her to live with her grandparents, and she spent a chunk of her childhood living there. She was there until it was time for her to begin elementary school, at which point she came back to the United States to be with her parents.
6. She Earned a Scholarship
Her fencing skills were good enough – if, by chance, knowing she was able to represent America in the Olympic games did not tip you off on that one – to earn a scholarship to college. She attended Pennsylvania State University. Sadly, she left college before she could graduate. Her story does have a happy ending though, because she did come back to finish her degree. She has a degree in kinesiology.
7. She Teaches
Following her college graduation, she became a teacher. She teaches fencing. She began teaching fencing at a local community college, but she moved on to teach at a high school in New Jersey. Coming from a community where fencing is not a sport that is offered, we are unsure what it takes and the skill level involved, but it does seem interesting and it is clearly something she has been able to make a life out of for herself.
8. She Was Hesitant to Appear on Reality Television
At the end of the day, however, she chose to accept the invitation to appear on the new Joe Millionaire show with two men – one of whom is worth an estimated $10 million. She wasn't finding that love, in reality, was working out for her, so why not do this on television?
9. She's a Model
She's a model, but she's a newly signed model. She signed a contract in 2022 with Ford Models. It's a new era in modeling considering she's been signed at the age of almost 32, and we are here for it. She's excited about her new opportunity, and she will go far.
10. She's Private
When she is not on reality television or sharing her modeling on social media, she is not sharing much else. She prefers to keep her private life private, and that is a situation we wholly agree with.
Tell us what's wrong with this post? How could we improve it? :)
Let us improve this post!