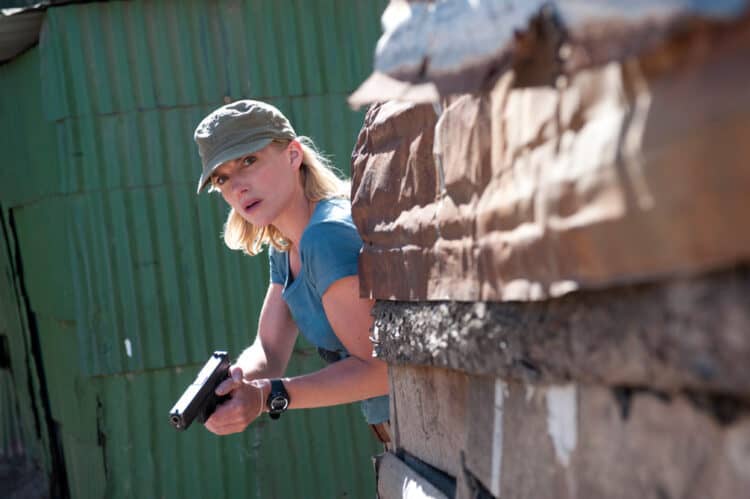 Born and raised in Ireland, Eva Birthistle's acting talents have allowed her to reach people all over the globe. Since starting her professional acting journey more than 25 years ago, she has continued to impress people with her ability to put on amazing shows. Whether she's making a minor guest appearance or has a starring role, Eva is the kind of actress who brings 100% to every project she's a part of. Now, she's ready to keep pushing forward. She has a role in an upcoming Apple TV+ black comedy series. Although there hasn't been much information released about the show, there are already lots of people who are really looking forward to it. Keep reading to learn 10 things you didn't know about Eva Birthistle.
1. She Didn't Always Plan on Becoming an Actress
There are lots of actors who have known they wanted to act since they were children. That, however, isn't the case for Eva. She considered lots of other career paths before deciding that acting was the right choice for her. I think we can all agree that she made the perfect decision.
2. She's a Writer and Director
Eva has spent the bulk of her career in front of the camera. However, some of her fans may not realize that she is equally as talented behind the scenes. In 2020, she made her debut as a writer and director with a short film called Kathleen Was Here. There's a very good chance we'll see her do more writing and directing in the years to come.
3. She's a Formally Trained Actress
Once Eva decided that acting was what she wanted to do, she didn't waste any time working on her skills. She attended the Gaiety School of Acting in Ireland where she studied acting. The school has a long list of noteworthy alumni including Colin Farrell, Stuart Townsend, and Olivia Wilde.
4. She Always Enjoys Working in Dublin
Although Eva isn't originally from Dublin, she did attend school there. Because of that, the area will always have a special place in her heart. According to an article from Goss, Eva said, "I love working in Dublin! It's been a few years actually and I'm always sort of looking for a reason to come back either just to see friends or family but when it' work I get to do both."
5. She's Not Really Into Social Media
Now that social media is a major part of lots of people's daily lives, having an active online presence has become somewhat of an expectation. However, Eva is the kind of person who doesn't like to spend a lot of time on the internet. Twitter is the only platform where she appears to have an account.
6. Fans Love Her Feet
If you thought Eva's acting talents were the only thing that people like about her, you might want to think again. Apparently, there are quite a few people who also have a thing for her feet. On WikiFeet, an online database that highlights photos of celebrities' feet, Eva's feet have earned just above a four-star rating.
7. She's a Wife and Mother
Not only has Eva found lots of success in her career, but she has also had lots of positive things happen in her personal life. She is married to an acupuncturist named Ross. The couple has two children together, including a daughter named Joni after the legendary musician Joni Mitchell.
8. She Enjoys Interacting With Her Fans
Eva may not spend a lot of time on social media, but when she does get online she likes to use it as an opportunity to connect with her fans. It's not unusual to see Eva responding to tweets from fans. It's clear that she really appreciates all of the love and support she's gotten over the years.
9. She's An Award Winner
No matter how talented or well-liked an actor is, the reality is that their careers are often measured by the number of awards they've won. That being said, Eva is already well on her way to cementing a solid legacy. She has won several awards over the years including the London Film Critics Circle British Actress of the Year Award in 2004.
10. She Leads a Fairly Private Life
One of the reasons Eva isn't really into social media is probably because she's a pretty private person. Throughout her career, she has been very selective with the information she's shared with the public. She seems to really enjoy living a very low-key lifestyle and she likes to keep that separate from her work.
Tell us what's wrong with this post? How could we improve it? :)
Let us improve this post!