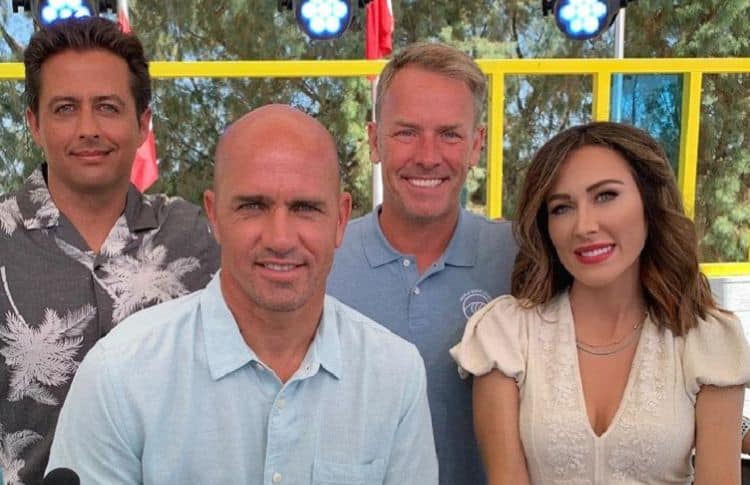 Erin Coscarelli has been working in the broadcasting world for many years as an anchor on the NFL Network. Recently, however, she decided to broaden her horizons with a new opportunity. She is the host of a new surfing competition show called The Ultimate Surfer, and she provides plenty of colorful commentary. Although this is a bit of a jump from what she normally does, Erin seems right at home in her new role and she appears to have been the perfect choice. Who knows, maybe her work on The Ultimate Surfer will lead to even more cool opportunities down the line. Keep reading for 10 things you didn't know about Erin Coscarelli.
1. She's A Los Angeles Native
Erin was born and raised in the Los Angeles area and she's really proud to be a California girl. She attended the University of Southern California where she earned a bachelor's degree in journalism and communication. From what we can tell, she still lives in Los Angeles.
2. She's Done Some Acting
Erin has spent the majority of her career in front of the camera, but most of her work has involved journalism. However, she has dipped her toe into the acting pond. She made her acting debut in 2018 with a role in the TV show Angie Tribeca. To date, that is her only acting credit. It's unclear if she plans to take on more acting opportunities.
3. She Started A YouTube Channel
Erin created a YouTube channel in August of 2021. So far, her only videos are uploads from her weekly Instagram show called #WCW. So far, she's been pretty consistent with her posts. At the moment, she only has three subscribers, but there's a good chance that number will grow once more people find out about her channel.
4. She's Passionate About Health And Wellness
Taking care of her physical and mental health are two things that are very important to Erin. She is serious about what she puts into her body and she likes to follow a healthy diet. She also likes to stay active and keep herself in good shape. Doing these things allows her to have a high quality of life and she loves sharing her journey with her followers on social media.
5. She Enjoys Interacting With Viewers
Erin is very thankful for all of the people who have shown her support over the years, and she looks forward to being able to interact with them as much as she can. She's active on Twitter and she enjoys responding to questions and comments from people who have been watching The Ultimate Surfer. As you can probably guess, they look forward to hearing from her.
6. She's A Pet Parent
As far as we know, Erin doesn't have any children, but she's still able to appreciate the joys of motherhood thanks to her fur babies. She is a proud pet parent to her dogs and she has an entire highlight section on her Instagram profile dedicated to adorable videos and pictures of them.
7. She Loves Home Design
Journalism isn't the only thing that Erin is passionate about, she's also a big fan of home decor and design and she loves doing renovation projects. Not only is home renovation a great way for her to express her creativity but it can also be a good way for her to relieve stress.
8. This Isn't Her First Hosting Gig
Even though Erin has been focused on broadcasting for the majority of her career, she has also ventured into other areas. Even before The Ultimate Surfer, Erin had done some hosting. She was the host of a TV show called My Campus which aired briefly in 2011. If The Ultimate Surfer turns out to be a huge success, it'll be interesting to see if she decides to take on more TV hosting opportunities.
9. She Loves Fashion
No matter what Erin is doing, you can bet that she's going to look good while doing it. She likes fashion and she has a great sense of style. She has a knack for putting outfits together and she knows how to dress for any occasion and she isn't afraid to try new things with her looks.
10. Family Is Important To Her
Erin has remained fairly private throughout her career, so there isn't a lot of information out there about her family. However, we do know that she comes from a close family and she really values those relationships. When she has free time, you can usually find her spending it with her family.
Tell us what's wrong with this post? How could we improve it? :)
Let us improve this post!