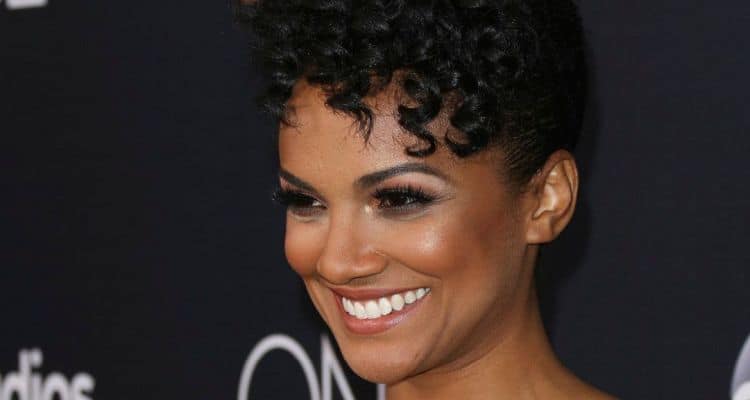 Mekia Cox is nothing but talent. She's a star, and every role she takes on is yet another that proves her talent. From her time on the reboot of 90210 to her time as a doctor on Chicago Med to every single role in between, she's a star. However, it's a potential new role that has her fans talking, and we can't help but wonder if it might be true. There are some rumors going around that the lovely actress is expecting her second child. While we can confirm that the actress is pregnant for a second time, we can also confirm that her current show, "The Rookie," will showcase her pregnancy there, too. Here's what we do know about the pregnant actress.
1. She is an 80s Baby
Shocking, we know, but she is. Not only is she an 80s baby, she's the kind of 80s baby who lived through the entire decade, for the most part. She was born in November of 1981, which also makes her 40 at the moment. She certainly doesn't look anywhere close to 40, so this is why it's shocking for fans to realize she'll be 41 in 2022.
2. She is from the Islands
She was born and raised for the first seven years of her life on the island of St. Croix. However, this island is still part of the United States. It's part of the US Virgin Islands. She probably has a few memories of living on the island as she was there until her family moved to the mainland when she was seven.
3. She Grew Up in Orlando
Following their departure from the islands, her family settled in Orlando, Florida, the tourist capital of, well, the world if you are a local and you ever have to drive through the city. She spent her entire childhood living there, and she even graduated high school in the city. She's a Dr. Philips graduate, and she is not the only famous student to call that school her graduating high school. Joey Fatone, DJ Khaled, Wayne Brady, and Luis Fonsi are just a few of the talented stars who graduated from the same school.
4. She Studied Dance
She was seven when she moved to Orlando, but she was already five years into studying dance in the islands. Her dance talent was the reason she was invited to take part in a Disney Christmas spectacular. That led to her being hired by Nickelodeon Studios as a child actor who took part in some of the most famous shows the network created.
5. She is Married
She is a woman who got married well into her 30s. She married a sports analyst by the name of Britt Leach. They were married in April of 2018, and they became parents for the first time in December of the same year. She's already a mother, and she is about to become a mother to two.
6. She is Pregnant
We mentioned it in the opening, but here we go again. She's pregnant, and she is over the moon about it. She announced it in January of 2022, and she is so excited. Her character on "The Rookie," will also be pregnant as the show is writing in her pregnancy – which is probably a helpful relief and an exciting moment for the star.
7. She Stayed True to Herself for Her Wedding
When she and her husband were married in Miami almost four years ago, she was adamant about staying true to her island roots. The Caribbean is a very important part of her life – and she wanted to be sure it was part of her wedding. She chose a simple Caribbean chic theme, and it worked well for her and her husband.
8. She is Private
Cox is not the type of woman to share every moment of her life with the world. She is happy to do what she does, she loves her fans, but she also appreciates the quiet of her life outside of work. She and her husband are both in the public eye all the time, and their home is not the kind of place they want to feel they are still in the public eye.
9. She is a Lover of Life
There are some people who say this is true, and then there are people who show this is true. There is nothing about Cox that leads us to believe she is not a lover of life. She says it, she shows it, and it's clear that her exuberance is something that shines from her – and shines back at her, too.
10. She Has a Large Following
If she decides that the acting world is not for her, she could turn to influencing. She's not too far from 100k followers on the Instagram platform, and that is a huge number. She's not sharing much of anything but her work, but her fans are always ready to see what she's happy to share.
Tell us what's wrong with this post? How could we improve it? :)
Let us improve this post!