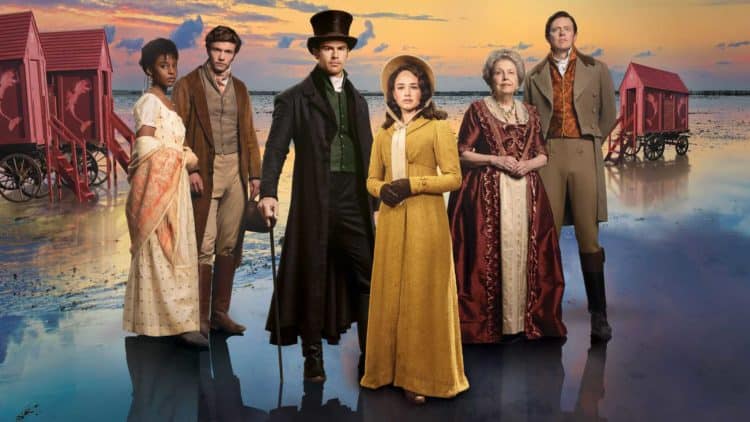 Set in the 1800s, Sanditon attracted a lot of viewers when it was released in 2019. The PBS show follows a young woman named Charlotte Heywood (Rose Williams) as she relocates to Sanditon and tries to adjust to life there. Of course, getting used to a new place is never easy, and Charlotte finds herself quickly finds out that things in Sanditon aren't as picture-perfect as they seem. Although the series is based on an unfinished manuscript by Jane Austen it took on a life of its own and Even if you're not a fan of period pieces, there's a timeless quality to Sanditon that will appeal to all kinds of people. As the series gears up for its second season, now is the perfect time to get acquainted with the very talented cast. Keep reading to learn more about the cast of Sanditon.
Rose Williams as Charlotte Heywood
For many actors, the journey to finding their big break means going through lots of small roles early in their careers. However, Rose Williams was fortunate to land a major opportunity as soon as she entered the industry. By the time she was cast in Sanditon, she already had a good amount of TV experience and a dedicated fan base. Being in Sanditon only made her popularity grow even more. Since the show's debut, she has made several other on-screen appearances and she also has a movie project in the works.
Theo James as Sidney Parker
Handsome and talented, it's no surprise that Theo James has become a star. He was born and raised in England, but he is now known to people all over the world. Although he had a good amount of experience before Sanditon, much of his work had been in movies. The show marked his first time with a lead role in a TV series. Sadly, he will not be reprising his role for the second season. Outside of acting, Theo is a proud husband and father of one.
Anne Reid as Lady Denham
Anne Reid has almost 65 years of on-screen experience under her belt, and she brings something special to each project she's a part of. Over the course of her career, she has played a wide variety of roles and her versatility is undeniable. Although she is now approaching her late 80s, Anne isn't showing signs of slowing down any time soon. As far as we know, she is set to return to Sanditon for season two although the second season isn't listed on her IMDB page.
Kris Marshall as Tom Parker
There are some actors who get pigeonholed into playing a certain type of character for their entire career, but that isn't the case for Kris Marshall. He has gotten the opportunity to play all kinds of characters and he brings them all to life in unforgettable ways. From TV to the big screen he can do it all and he's also had a successful theater career.
Jack Fox as Sir Edward Denham
With a father who is a successful actor, the apple certainly didn't fall from the tree when it came to Jack Fox. The British star has been in the entertainment industry for more than a decade and he has racked up nearly two dozen on-screen credits during that time. He hasn't made any on-screen appearances in 2021 and it's unclear if he will be in the second season of Sanditon, but we know we'll be seeing more of him soon.
Crystal Clarke as Georgiana Lambe
Crystal Clarke is one of the only cast members to be from the United States and she also portrays the only Black character to ever be written by Jane Austen. Although Crystal had been in the industry for a few years prior to Sanditon, the show was her big break and she certainly didn't let it go to waste.
Turlough Convery as Arthur Parker
Turlough Convery is originally from Ireland, but he has spent a good portion of his career in British productions. Prior to Sanditon, he was best known for his role in the TV series Poldark. Outside of acting, Turlough is a fairly private person who doesn't spend much time on social media or doing interviews.
Charlotte Spencer as Esther Denham
Charlotte Spencer has been acting professionally for almost 15 years. Although she was a part of some great projects before Sanditon, her portrayal of Esther Denham has opened up even more doors for her. Her most recent on-screen appearance was in the TV series Ted Lasso. On top of the live-action work she's done, Charlotte is also a very talented voice actress. Most notably, she was the voice of Angela Mousling in the TV series Angelina Ballerina: The Next Steps.
Kate Ashfield as Mary Parker
After entering the entertainment business in the early 1990s, Kate Ashfield gained lots of notoriety for her role in the 2004 movie Shaun of the Dead. Although she's spent a good chunk of her career doing movies, Kate is fully capable of lighting up the small screen as well. That was evident in her work in Sanditon as well as the other TV projects she's been a part of.
Leo Suter as James Stringer
Good looks, charm, and talent are three things Leo Suter has no shortage of. Even though he doesn't have the longest list of acting credits, Leo has already had some impressive roles and he's got plenty more where that came from. He will be in the TV series Vikings: Valhalla which is set to be released in 2022.
Alexandra Roach as Diana Parker
Alexandra Roach was just a teenager when she started her career, but she's managed to successfully transition into an adult star. Her resume now includes more than 40 credits. In addition to her work as an actress, Alexandra has also done some screenwriting.
Tell us what's wrong with this post? How could we improve it? :)
Let us improve this post!