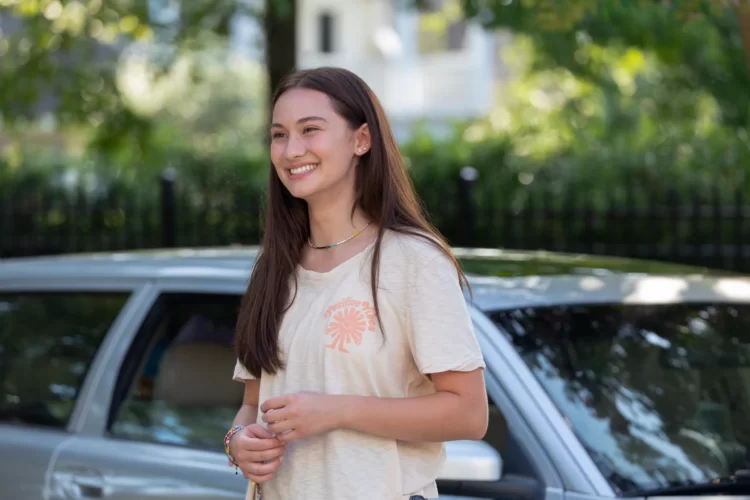 When "The Summer I Turned Pretty," began filming in Wilmington, North Carolina, a few new stars took to the set to do their thing. The lovely Lola Tung is one of them, and this might be the first time you're hearing her name. This is because she's never worked on television before, and now she's on an Amazon Prime Video series, and it's going to be huge.
1. She's Brand-New
This is her first-ever role, and that is a huge deal. She's making headlines as a brand-new actress, which many people do not get to say about their own careers. Many people need to take on a few roles and work hard for years before they are in the press, and here she is just doing her thing and people are taking notice.
2. She's a Teenager
She's only 19. Of course, she is so youthful in her appearance that this does not surprise us, but it is amazing to think of someone this age already doing so many things in their lives and being this successful. She might be new to this, but she is already a star.
3. She Went to College
She was cast in this role during her freshman year. She was enrolled in courses at the prestigious Carnegie Mellon, and that is a huge deal. She took on the role, and she took on the fame, and she did it while still working on her own education and trying to make sure she takes care of herself.
4. She is a Born and Raised New Yorker
She's familiar with the city considering she was born there. She grew up there. She even attended the same school in which so many famous stars graduated when they were in high school. She's a LaGuardia High School graduate. So are people such as Jennifer Aniston and so many more.
5. She's Always Loved Acting
She was in the fourth grade when she fell in love with the stage. It was all thanks to her part in a talent show. She was in the sixth grade when she took a part in a musical called The Wizard of Oz (perhaps you've heard of it?), and that was that for her. She knew then and there she would go on to become a famous actress, and she's doing it already.
6. She Took a Year Off
We want to clarify that she is still enrolled in college. She simply took a year off to film her new series, and that is a good thing for her. She did it with a lot of thought, and she did not close any doors for herself. She is working hard on her career, and there is nothing we love to hear more than she knows she has to have something to fall back on.
7. She is So Close to Her Mom
She's close enough to her mother that she even credits her mother for being there for her and allowing her to pursue her dreams. She knows that she couldn't have done it without her mother and the support she gave to her, and she loves her. She's back to living with her mom in New York City while she's filming, and she's loving that, too.
8. She Did This All Over Zoom
What is truly amazing to all of us is that her entire role, all of this, came from a Zoom call. It was a Zoom interview, audition, and a lot of calls, and she killed it. It's not like doing this in person the way it was done in the past. This is new and terrifying, and it's not always easy to be your best self when you are not in person, but she did it.
9. She Filming in North Carolina
The set of her new show takes place in a fictional town called Cousins Beach, and so the show was actually filmed in Wilmington, North Carolina. Wilmington is a beautiful location, and many people are fortunate enough to get to be there to work. She loved it, and she got to spend a lot of time in this adorable town doing local things, and she did appreciate that.
10. She's Private
She's still up and coming at the moment, so there isn't much to say about her. However, we do know that this is a young woman who is just so private, and she is just not willing to share her personal life with the world. It works out for her, though, because the world is going to pry the more famous she becomes.
Tell us what's wrong with this post? How could we improve it? :)
Let us improve this post!