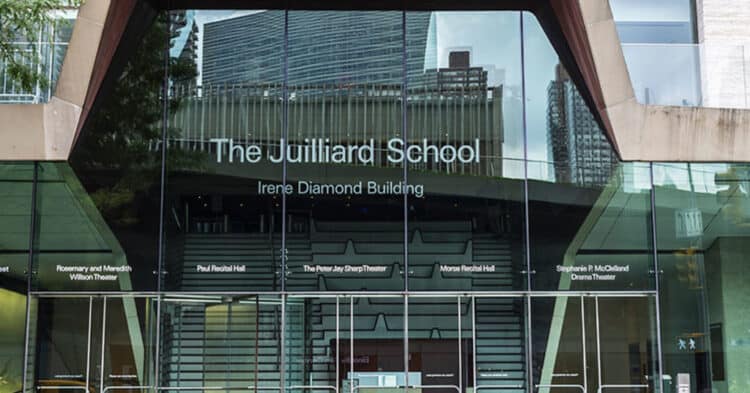 We often witness how the creative world offers us a breather from the stress and the hectic pace of the world around us. Whether it is a beautiful piano recital that drowns away the noise that fills up our daily lives, a touching visualization of kindness that instills in us the urge to live a life of kindness ourselves, or a photograph that tells us so much about the protagonists in it and of the unique talent the one who has clicked the image has, or even a movie that reveals to us a world we'd all like to relive or recreate, there are so many emotions and thoughts that a creative piece of work inspires in us. And nourishing these creative streaks in the luckiest among us and showing them the path to hone these talents are the many schools, colleges, and universities that offer the world's best programs, courses, and degrees. Here's a list of institutions that offer the best course to the talented ones among us!
Juilliard School – New York City
The Juilliard School in New York City is a private performing arts conservatory that, for more than a century now, has been inspiring and influencing talented individuals in dance, drama, and music. Considered one of the best schools in the world, the institution began its journey as one dedicated to music after a textile merchant named Augustus Juilliard left the school a huge sum as a donation, changing its name in 1968 to encompass its journey that had now moved on to cater to students from the acting and directing departments too. Today, gaining admission into the school is in itself a career highlight, while passing out from any of its courses gives its students wide-ranging experience and a repertoire of skills to take on the challenges of the entertainment world. Since its inception and its many progressive inclusions of various courses and programs over the decades, Juilliard School has proved to be a learning ground for a long list of talented and world-renowned musicians, playwrights, dancers, choreographers, actors as well as teachers.
National Institute of Dramatic Art – Sydney, Australia
The National Institute of Dramatic Art (NIDA) located in Kensington, Sydney, Australia is the most renowned institute down under for courses related to the performing arts, and in addition to students from the island nation, also attracts talented and creative minds from all across the globe, as students as well as faculty. The institute was founded in 1958 and offers a wide range of vocational courses, as well as bachelor's and master's degrees, in subjects ranging from directing and acting to cultural leadership and technical theatre. As the first-ever professional theatre training school in the country, you can visit the school on the grounds of the University of New South Wales and check out everything the world-renowned NIDA has on offer. However, securing a spot in any of its courses is another ballgame altogether. Gaining admission is an especially tough task here, with the admittance rate anywhere around 12% or even less for most courses. And if it's a course like the Bachelor of Fine Arts in Acting, you would need to be really talented or extremely lucky to make it into one of the only 24 seats on offer here, while competing with at least 1000 applicants who are sure to be as hopeful as you!
Royal Academy of Dramatic Art – London
The Royal Academy of Dramatic Art (RADA) in London is one of the oldest and finest institutions in the world when it comes to training in the dramatic arts and in addition to opening its doors to hundreds of students for full-time courses and degrees each year, the institute also offers several short-term courses for those who would like to test their skills and talents or would like to experience all that the school has on offer. Undergraduate courses include specialties such as Technical Theatre, Stage Management, and Acting, while postgraduate courses include Theatre Costume, Theatre Lab, and Text and Performance. Among the most popular short-term course are the Foundation Course in Acting, Shakespeare Awards Workshops, Contemporary Drama Summer School, Young Actors Summer School, Telling Tales, Spoken English for Actors, and more. With the patron of the school no less than Queen Elizabeth II herself, the campus of the institute has various highlights ranging from one of the richest libraries in the world to acting studios, theatres, and its very own cinema. From Anthony Hopkins among the veterans to Phoebe Waller-Bridge among the new generations, the Royal Academy of Dramatic Art has produced some of the greatest names in the performing arts world.
DePaul University – Chicago
The DePaul University in Chicago offers a variety of degrees, programs, and courses, and among this long lineup are a few that catch the attention of creative minds who wish to make it big in the world of entertainment, and these are the ones offered by DePaul's Theatre School and its School of Music. The School of Music is renowned as one of the few institutions that offer a wide variety of programs ranging from performing arts management and music composition to sound recording technology and music education, among others. With some members of the Chicago Symphony Orchestra and the Lyric Opera of Chicago taking on roles as the faculty, the corridors of the DePaul School of Music boasts of some great talents that have walked through them. The university's Theatre School is as popular. First known as the Goodman School of Drama at the Art Institute of Chicago, and then the Goodman School of Drama at DePaul University, before it finally took on its current name The Theatre School at DePaul University, the institute offers courses in Degree & Technology, Performance, and Theatre Studies, with both Bachelor's and Master's Degree on offer. The range is quite diverse too, with specializations including Scenic Design, Dramaturgy and Criticism, Stage Management, Playwriting, Fine Arts in Acting and Directing, Costume Design, Wig and Makeup Design, and more.
Carnegie Mellon University – Pittsburg
Carnegie Mellon University has a variety of colleges and schools under its banner but the one that interests us is its College of Fine Arts which helps students hone their talents in various disciplines such as architecture, art, design, drama, and music. All these different disciplines are taught under a separate set of branches such as Carnegie Mellon School of Music, Carnegie Mellon School of Arts, Carnegie Mellon School of Design, Carnegie Mellon School of Architecture, and Carnegie Mellon School of Drama, and as such, have proved to be renowned institutions in themselves when it comes to the creative arts. Carnegie Mellon School of Drama was founded in 1914 and has an impressive lineup of infrastructure ranging from sound and lighting labs to rehearsal, movement, and dance studios, and offers a host of graduate and undergraduate programs. Carnegie School of Music was founded in 1912 and is a haven for vocalists and instrumentalists alike, with courses that cover mastery of various instruments and conducting to opera singing and choirs. With names such as Matt Bomer, Josh Gad, Blair Underwood, Gabriel Matt, James Cromwell, Holly Hunter, Zachary Quinto, and others gracing the halls of Carnegie Mellon College of Fine Arts, this is one fine institution for the arts indeed.
California Institute of Arts
The California Institute of Arts (CalArts) is one of the most popular private art universities not just in the US but also across the globe when it comes to visual and performing arts and since the 1960s, has been a pioneering institution that has contributed to the creative world in several impactful ways. The different institutes under CalArts include the School of Art, School of Critical Studies, School of Film/Video, The Herb Alpert School of Music, School of Theater, and The Sharon Disney Lund School of Dance, with each institute covering an important aspect of entertainment and art. The school is also popular for its A113 classroom, the room in which the character animation program or the Disney animation program was first founded. The school, although there are many out there that offer equally great or even better courses and curriculums, is especially noted for its highly artistic environment, and has come to be one of the most student-friendly and art-friendly zones.
National School of Drama – New Delhi, India
The National School of Drama (NSD) in New Delhi, India, is one of the premier institutes in the country, and thanks to its artists also making an impact in internationally recognized works, is also a well-known name on the global level. The school has its origins in the 1950s and is a huge draw for talented artists from all over the country who wish to polish their dramatic skills in the only government-recognized drama school in the country. The month of January is a special one for the institute when its campus comes alive for the National Theatre Festival, or the Bharat Rang Mahotsav, the annual festival of the school. The largest festival in the continent of Asia that is dedicated to the theatre only, the festival has been held every year since 1999.
The Oxford School of Drama – Oxford
The Oxford School of Drama on the outskirts of Oxford is a vocational drama school that offers full-time acting courses, one that lasts three years and the other one, as well as foundation courses in acting that are held for a period of six months. In addition to these, the school also hosts short courses and open events. Located in a picturesque Oxfordshire landscape that will more than help in bringing out the artist in you, the school's courses are accredited by the famous Trinity College of London and have been responsible for giving the world some of its best artists in the form of directors, actors, filmmakers, and actors in film, television, and drama. The best part about the school is that it also offers support for funding, which means that talented students can find the financial resources they need to complete a course here if they prove to be worthy candidates.
Guildhall School of Music and Drama – London
A drama school and music school located in the heart of London, the Guildhall School of Music and Drama is among the topmost performing art names in the world and is known for its creativity-fueled professional courses that produce some of the most excellent artists. In addition to major courses in drama, music, the production arts, and doctoral research, the school also offers short courses and summer schools, welcoming both children and adults to be a part of its various programs. It is one of the few institutions on this list that also offers doctoral research as part of its main offerings, allowing those who are truly serious about the arts to contribute their own research to their chosen fields. True to its commitment to providing a wide range of courses, the institute offers a wide variety of options to its patrons, from short online courses that only last a few days to research that may take quite a few years. For an institution that is almost a century and a half old — it has its origins in the year 1880 — this is one name that, although deeply entrenched in transition, has sure strived to keep up with the times too!
Mountview Academy of Theatre Arts – London
The Mountview Academy of Theatre Arts is yet another school in London that is dedicated to courses related to the stage and the screen and has a wide variety of courses to choose from. Starting from boot camps and more during the summer and foundation courses, the school also has more detailed undergraduate and postgraduate courses for those who wish to make a career out of their talents. Courses range from creative producing, musical theatre, and stage management, to actor musicianship, musical direction, scenic art and prop making, and more. The school also conducts open days and tours and of course, you can always drop by and pay a visit to its hangouts like the Loading Bar, Westland Coffee and Wine, and Skylight Peckham, which is a crowd favorite for its views of London city. The school also puts up various shows for the public, with some of them drawing fans from all over the country and even across the globe.
About Time You Began Filling Out Those Applications?
They say there's a performer in all of us, and the way things have taken off on Instagram, Twitter, Snapchat, and the likes, it sure looks like we all have a hidden performer in us. Whether it is an actor, a model, a musician, a painter, a photographer, a videographer, an editor, or more, there seems to be something or the other that relates us to the arts. And a course in any of these schools we have mentioned above is sure to help you take this entertainer and performer in you to the next level! So if you feel inspired and wish to take the leap, remember, we all need some creative souls out there who will add some more beauty to the world. We all know the world needs more of it!
Tell us what's wrong with this post? How could we improve it? :)
Let us improve this post!