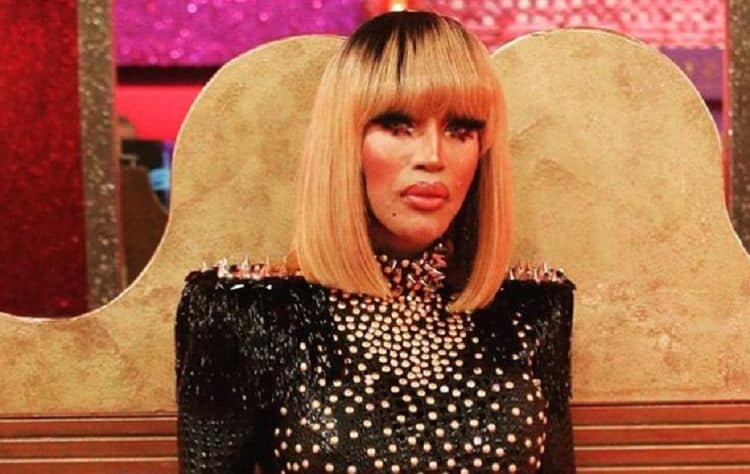 Trinity K. Bonet took the world by storm when she starred as a contestant on the sixth season of RuPaul's Drag Race. Although she didn't win, being on the show has opened up countless opportunities for Trinity, and she's become known to people all over the world. Her fun personality and stunning style have proven to be the perfect combination for stardom. Trinity's journey to where she is now hasn't always been easy, but no matter what obstacles she's faced, she's always find a way to keep pushing through. Her growing fan base is looking forward to seeing what Trinity has in store for the future. Continue reading for 10 things you didn't know about Trinity K. Bonet.
1. She Started Doing Drag As A Teenager
Adolencse is often considered a re-birth, so it's only right that Trinity was introduced to the world during her teenage years. During an interview with Hot Spot Magazine, Trinity said, "At 14 was my first experience around drag and I started doing it immediately. My mom TrinityKBonetpurchased the make-up for me."
2. She's A Big Fan Of The Kardashian Family
Long before Trinity became a reality TV star herself, she was a fan of reality TV. Trinity loves the Kardashians and is particularly fond of their style. From what we can tell, she hasn't gotten a chance to meet any of the Kardashians yet, but hopefully that time comes.
3. Her Faith Is Important To Her
Trinity hasn't gone into detail about her religious beliefs, but she's made it very clear that she is a Christian and her faith plays a major role in her life. For lots of people, their faith is what helps them get through challenging times and Trinity has leaned on her beliefs several times over the years.
4. She's A Musician
Having strong performance skills are at the core of being a good drag queen, and Trinity knows exactly how to put on a good show. In 2017, Trinity released her first single, "I'm A Drag Queen" as well as a video to go along with it. To date, the video has gotten 9,600 views on YouTube. It's unclear if she has plans to release more music.
5. She Is HIV Positive
During her time on Ru Paul's Drag Race, Trinity opened up about the fact that she is HIV positive. She has since shared that she hopes to use her platform to spread awareness about the realities of being HIV positive. Trinity told Let's Get Checked, "The only way we can erase the stigmas associated with HIV is to educate those that aren't aware of what HIV is, how to prevent it, and how to treat it."
6. She Wants To Become A Red Carpet Reporter
Trinity is thankful for all of the success she's had so far, but she also has her eyes on things she wants to do in the future. One of her ultimate goals is to do interviews on the red carpet at major events. So far, she's already gotten some interviews under her belt and she's close to making that dream come true.
7. Her Mom Inspired Her To Audition For Drag Race
There are lots of contestants on Ru Paul's Drag Race audition for the show several times before actually getting cast. However, that wasn't the case for Trinity. She earned a spot after her first audition and she credits her mom with inspiring her to go after the opportunity. Having supportive family members is something that Trinity will always be thankful for.
8. Her Name Was Inspired By The Matrix
Picking the perfect stage name is an important part of every drag queen's journey, and there's a pretty cool story behind Trinity's. While talking to Hot Spot Magazine, Trinity said, "I picked Trinity after the Matrix and my last from Jasmine Bonet, since I idolized her."
9. She Doesn't Have Any Insecurities
If you thought that insecurities were a part of everyone's life, you might want to think again. The level of confidence you see Trinity display on a regular basis isn't just an act, it's who she really is. During her conversaiton with Hot Spot Magazine, she shared that she doesn't have any insecurities.
10. She And Josh Don't Have Much In Common
Trinity K. Bonet was born Joshua Jones. There are a lot of people out there who have wondered if Josh and Trinity are anything alike, but the answer is no. Josh considers himself to be more of an urban person while Trinity is more flamboyant. When Trinity is in full effect, Josh's personality takes a backseat.
Tell us what's wrong with this post? How could we improve it? :)
Let us improve this post!