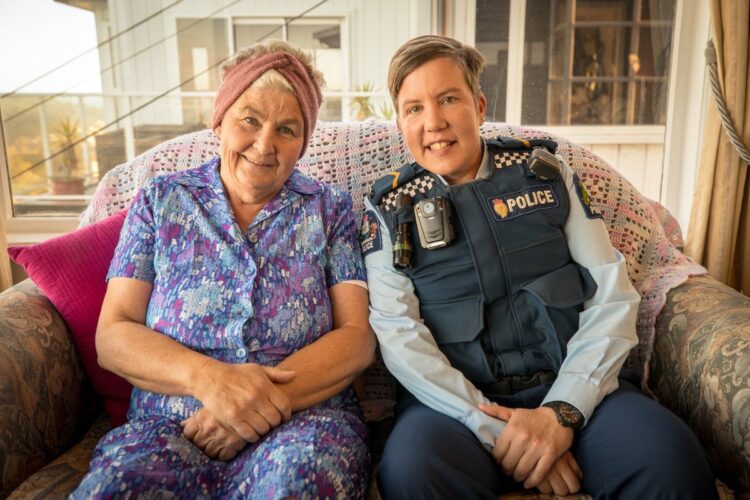 Karen O'Leary isn't your typical actress. She didn't grow up wanting to work in the entertainment industry and she doesn't seem to have much interest in becoming a huge star. Still, however, the acting bug found its way to Karen, and she has proven to be quite magical in front of the camera. She made her first on-screen appearance in 2014 in a movie called What We Do in the Shadows. Since then, most of her acting has been on the small screen. Karen is probably best known for her role as officer O'Learly in the TV series Wellington Paranormal. Although it doesn't look like Karen has any upcoming projects in the works, we hope to see a lot more of her in the future. Keep reading to learn 10 things you didn't know about Karen O'Leary.
1. She Really Does Live in Wellington
Karen's role in Wellington isn't just an act for her. She really is from the area and has lived there for her entire life. While lots of people can't wait to escape their hometown, Karen doesn't feel that way. She told Now to Love, "I totally admire those 'travelly' people, but I am entirely enamoured with Te Whanganui-a-Tara. It's a city that inspires creative, collaborative, open-minded, positive thinking – and the world needs as much of that as it can get."
2. She's a Screenwriter
Most of Karen's time in the entertainment industry has been focused on acting, but she has also done some work behind the scenes. She helped with writing on several episodes of Wellington Paranormal. It'll be interesting to see if she decides to do more screenwriting in the future.
3. She's a Proud Mom
In general, Karen has been pretty private when it comes to the details of her personal life. However, we do know that she is a devoted mother. She has one child and she occasionally shares photos of him on her Instagram profile. When she gets time away from work, you can bet that she's spending it with her son.
4. She's a Teacher
Remember when I said that Karen isn't your typical actress? That's partly because she's decided to keep her full-time job outside of the entertainment industry even though she has been acting pretty consistently for the last few years. While talking to Now to Love, Karen said, "I still work as team leader at the amazing community-based early childhood centre Adelaide ECC".
5. She Enjoys Being Outdoors
Some people are totally fine with being stuck inside all day, but that isn't really Karen's style. Karen loves to get outside and enjoy the beauty of nature. From things like going for walks to riding bikes, she always does her best to make the most of a beautiful day.
6. It's Unclear If She's Had Formal Acting Training
As mentioned earlier, Karen kind of fell into acting by accident. She auditioned for her first role after a parent at the school she works at suggested that she give acting a try. However, we weren't able to find any details on whether she's ever had any kind of acting training.
7. She Plays the Guitar
Acting isn't the only way that Karen loves to share her creative side. She is also a talented musician who plays the guitar. She is also in a band called Fun & Funner. We weren't able to find any details on whether the band has released any original music, but we do know that they often perform at local venues.
8. She Loves Cricket
Karen's Instagram bio notes that she is a "cricket player", but we weren't able to find any specific details on whether she plays competitively. One thing we know for sure, however, is that she is a big fan of the sport. She loves getting out to watch matches when she can.
9. She Loves the Movie Clue
Is there one movie that you could watch over and over? For Karen, that movie is the 1985 film, Clue. During her interview with Now to Love, Karen said, "Tim Curry is magnificent as the butler and I just love it. My sister Jo and I used to watch it all the time. I loved it so much I rented it from Amalgamated Video in Kilbirnie, then never took it back. It cost me at least $24 in fines. I don't advocate for that kind of dishonesty, but I do advocate for Clue."
10. She is a Feminist
Karen is someone who isn't afraid to stand up for what believes in. She is passionate about human rights as a whole and considers herself a feminist. She believes that it is important for women to be able to speak up for themselves and be assertive when necessary.
Tell us what's wrong with this post? How could we improve it? :)
Let us improve this post!