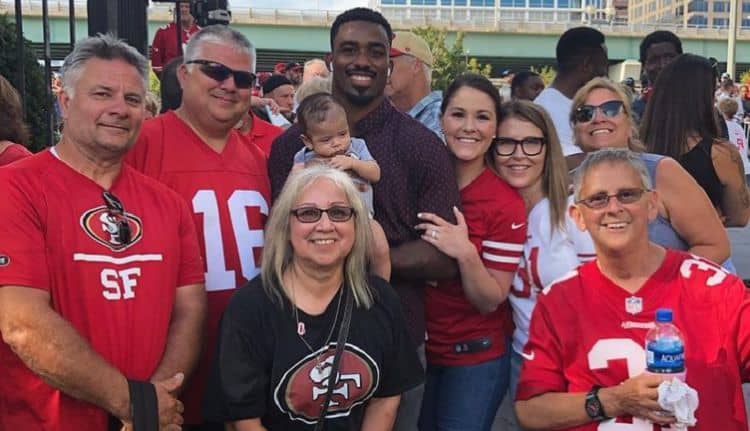 Dominique Raheem Mostert was born in the early 90s in Daytona Beach, Florida. As a child, he was always athletic. He knew that he would one day participate in sports in some professional capacity, but he had no idea growing up he'd play for the National Football League. It might have been his dream, but now it is his reality. Raheem Mostert is a player for the San Francisco 49ers who made headlines during game one of the 2021 season following a significant knee injury that has him out for the season. After fans made horrible comments about his injury and about his personal life, his wife began making headlines. Devon Mostert is not having it, and she's let the world know that her husband, her family, and their life are off-limits to fans who have nothing nice to say. Who is the football star's protective wife? Here's everything you need to know.
1. Her Husband is Her College Sweetheart
When Devon and Raheem were in college together at Purdue, they began dating. They met while he was playing football for the Boilermakers in 2012, and they have been together ever since. Their love story is a sweet one, and it's one that she treasures.
2. She Got Married in 2017
After five years of dating, an engagement, and all things wedding planning related, she and her husband finally got married. Their wedding date is March 3, 2017. The couple was surrounded by friends, family, and their closest loved ones on the day that means the most to them, as every couple should be on the day they choose to exchange vows in front of everyone.
3. She's Young
Devon is young. She's a 90s girl born on August 2, 1993. This means she's only just celebrated her 28th birthday in 2021, and 30 is still a couple of years off. She was born in Ohio, specifically in a town called Chardon. Her mother and father raised her in Ohio. She graduated high school in the community in which she was born.
4. She is an Athlete
Devon's husband is not the only athlete in the family. She is also an athlete who was recognized for her athletic prowess as a soccer player both in high school and college. She's earned recognitions such as being named the Two-Time Second Team All-Greater Cleveland area stand out and she is a four-time academic all-conference honoree. She's smart, athletic, and successful.
5. She is All About Being Fit
The former Purdue soccer player has not given up on her goals of staying fit and healthy since college. She's currently a black belt in the art of Taekwondo. She also practices pilates, and she even has some certifications in pilates. Being healthy and fit are two of the most important things she values in her everyday life, and that's something more people should follow suit on.
6. She is a Mom
Two-and-a-half years after she and her husband tied the knot, they welcomed their first baby. So far, they only have one child. Their son, Gunnar, was born on June 22, 2019. He is a darling little one whose parents adore showing him off on their social media. It's safe to say that both Devon and her husband are proud parents, as they should be.
7. She's Got Her Husband's Back
No matter the season they are going through together in life, she's there for her husband. When he was unsure about the future of his NFL career and he didn't know why teams were taking him, releasing him, and then they'd move every few months to a new city or a new state to work with a new team and repeat the cycle, she never wavered. She supported him, she was there for him, and she always let him know that she had his back. She was never upset or inconvenienced by his dream, and she always made sure he could focus on his football career while she focused on being the best sports wife she could be.
8. She is Not Happy with Fans
Following her husband's devastating injuries, Devon received numerous messages from fans who told her that her husband should just kill himself rather than deal with his season-ending knee injury, and she's done. She's not taking these comments lightly, and she's made it clear that the type of people who can say things like this are heartless, cruel, and awful.
9. She is Appreciative
On the flip side, she's also made it a point to notate that there were many more fans who reached out with love, support, and kind words following her injury than there were hateful ones. However, it seems that with almost anything and with almost anyone, the hurtful words are the ones that stick with you. We wish her family well in this difficult time.
10. She's Strong
It takes a strong woman to marry a man whose schedule is as hectic, crazy, and unpredictable as her own husband's. He trains often, he is not always home, she's left to handle the house and the baby for long days and evenings, and football season does require ample travel. She's a strong woman to take on this role, and she knows it, she's proud of it, and she wouldn't change it.
Tell us what's wrong with this post? How could we improve it? :)
Let us improve this post!