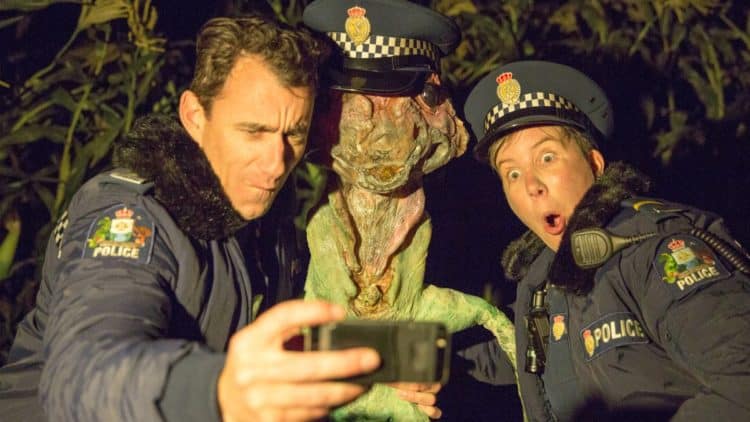 Science fiction and comedy aren't things that usually go hand in hand, but Wellington Paranormal has found a very interesting way to bring them together. Part paranormal activity and part hilarious, Wellington Paranormal is the kind of show you never knew you needed. The show follows three police officers in New Zealand who are tasked with investigated paranormal occurrences. More often than not, they find themselves in bizarre situations that they have no idea how to react to. If you're looking for something unique to watch this summer, this might be something you want to add to your list. Keep reading to learn 10 things you didn't know about Wellington Paranormal.
1. The Show Is A Spin-Off
Although Wellington Paranormal is new to American viewers, the show isn't actually new. It's a spin-off of a New Zealand movie called What We Do in the Shadows. The series actually debuted in New Zealand in 2018 but didn't make its way to the United States until 2021.
2. The Show Has A Superstar Kiwi Cast
Since the show was created and filmed in New Zealand, many Americans may not be familiar with the cast. However, the stars of the show main cast members, Mike Minogue, Karen O'Leary, and Maaka Pohatu have all made big names for themselves in their home country and they're very talented. Hopefully, being on the show will open up even more doors for them.
3. The Show Is A Mockumentary
Due to the way Wellington Paranormal is filmed, there are some people out there who may think some of it is real. It's important to note, however, that the series is a mockumentary. According to Dictionary.com, a mockumentary is "a movie or television show depicting fictional events but presented as a documentary."
4. The Show Will Likely Appeal To Reno 911 Fans
Everything isn't for everybody and that's certainly the cast with Wellington Paranormal. However, if you enjoy Reno 911 and other shows like it, you might be in for a treat. A review from Pajiba stated, "If you like Reno 911 or anything Taika Waititi's done, you'll like this. If his mockumentaries aren't your thing or you don't like lowbrow humor and deadpan delivery, you won't enjoy this."
5. The Show Doesn't Have Any Verified Social Media Profiles
Social media has become the first place a lot of people go when they find a show that they like. Following shows online can also be a great way to stay in the loop. Wellington Paranormal does have accounts on Instagram and Twitter, but neither of them is verified so it's difficult to tell if they're really affiliated with the show.
6. The Cast Has Really Gotten To Work With The Police
Wellington Paranormal may be made up of fake police officers, but the cast has actually gotten the chance to collaborate with real members of the department. In 2020, the cast of Wellington Paranormal did a series of public health announcements in conjunction with the New Zealand Police in response to COVID-19.
7. There Are Several Places You Can Watch
Now that Wellington Paranormal has officially made it to the United States, you may be wondering where you can watch. The good news is that you have a few options and they're all fairly easy to access (although not all of them are free). The show is available on The CW but it can also be streamed on Hulu and HBO Max.
8. The Show Hasn't Yet Been Renewed
So far, there have been three seasons of Wellington Paranormal, but there's no word on whether or not it'll be getting brought back for a fourth season. If the show is renewed, however, American viewers will likely have to wait until the new season airs in New Zealand before it makes its way here.
9. The Show Features A Wide Variety Of Paranormal Events
Lots of shows in the paranormal space tend to focus on just one kind of paranormal occurrence. However, that isn't the case with Wellington Paranormal. These cops will have to deal with a little bit of everything. There will be aliens, ghosts, and many other figures that are popular in the genre.
10. Wellington Is A Real Place
Most of the things about Wellington Paranormal are completely made up except for one important detail. Wellington is actually the capital of New Zealand and it has become a popular place for tourists. The city has lots of cool things to offer such as museums, sports, great restaurants, and lots of local events. Interestingly enough, there have been reports of paranormal activity at some locations throughout the city over the years.