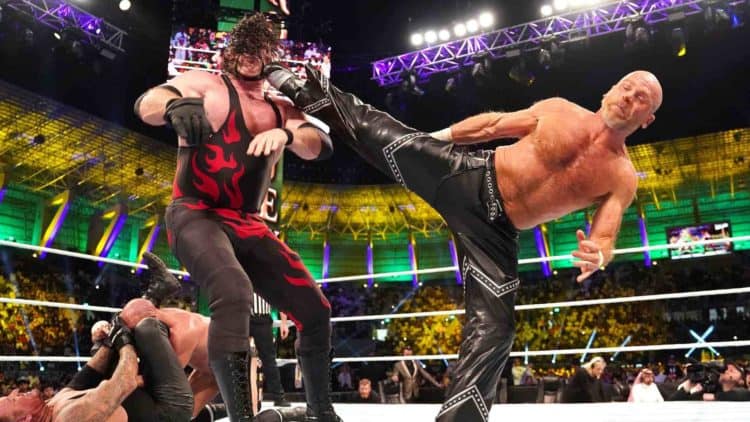 Triple H's failure to have NXT beat All Elite Wrestling in the Wednesday Night Wars Continues to see the company veer far away from the COO's vision. During a lengthy period of time, the independent scene was getting extremely hot, and it became noticeable that Triple H and Vince McMahon were scooping up the biggest names on the indie circuit. Aleister Black, Ricochet, Keith Lee, Adam Cole, Kyle O'Reilly, Bobby Fish, Kevin Owens, Sami Zayn, and Shinsuke Nakamura are just some of the names that were popular in NXT before making their transition over to WWE. Hell, the style of NXT was very similar to the independent wrestling that was very hot at the time. However, out of all of those names listed, only the last three have been treated favorably once they moved up to the main roster.
The independent style presented on the RAW and Smackdown brand wasn't presented. There was a moment where WWE was letting the cruiserweights do their fast-paced and modern trend of wrestling but that notably changed quickly, with the stars of 205 Live adapting into the WWE model. But the cruiserweight division is dead and gone. And most of the indie names have either been released or jumped ship to All Elite Wrestling. Recently, there's been a reported verdict that Vince McMahon no longer cared about taking independent talent. The Chairman reportedly feels that he can create homegrown talent from scratch and is now looking for college athletes to train and mold into the next big thing. To be fair, there's nothing wrong with this method.
Brian Pillman was a professional football player first, with him having a short-lived career in the Cincinnati Bengals and Buffalo Bills. The only reason Goldberg is in the business is due to the fact that his lower abdomen was torn off his pelvis. Previously, he played as a defensive tackle for the Rams, Falcon, Panthers. Dwayne "The Rock" Johnson, Roman Reigns, Ron Simmons, Lex Luger, Ronda Rousey, Matt Riddle, Shayna Baszler, the list of names that originally didn't start out in the wrestling world is pretty big and has resulted in the company shaping them into big stars. In fact, the company was notoriously hiring women who didn't have any wrestling experience whatsoever. So, it makes sense that WWE would give athletes outside of wrestling a chance because the formula has proven to work. However, ignoring independent talents is also a big mistake. Granted, the speculation never stated that Vince McMahon would never hire another indie star again, just the fact that he's not particularly scouting for them.
Here's the thing, as great as Triple H's version of NXT was, it never aligned with what Vince McMahon truly wanted. WWE is a company that cares more about characters and promos than the actual wrestling. It's a proven fact that it in order to get over in the business, you need to have strong charisma and character that audiences can get behind. Fans remember talents like Eddie Guerrero, The Rock, Stone Cold Steve Austin, or CM Punk because of their mic work and characters. It helps that they produced some excellent matches along the way. However, the key thing is that these men and women do need to be able to actually wrestle. If WWE wants a certain style of wrestling that's fine, but why shun most independent talents? They come with a vast amount of experience that saves them time from trying to mold them into a decent wrestler. Just because a guy is an indie name, doesn't mean that they're worthless and can't be the next big thing. CM Punk, Daniel Bryan, AJ Styles, Kevin Owens, Dean Ambrose (aka Jon Moxley), and Seth Rollins is just some of the bigger names who came from the independent scene. Have there been failures that have come from the indie scene? Definitely, but not every athlete who transitions over from another sport sees success. It's a narrow view on how to approach hiring especially since WWE is a professional wrestling company first and foremost. It'll take more time and money to try and get an athlete who has no wrestling background into the sport. Not everyone is Pat McAfee or Ronda Rousey, as some develop quickly more than others.
Plus, having experienced indie guys and girls can help with the development of talent in NXT. Two green wrestlers only result in disaster, whereas an experience grappler can hide the weakness of a rookie and carry them with ease inside of the ring. There's a reason why Bron Breakker has excelled so quickly because he's facing pros like Tommaso Ciampa and Santos Escobar. It's an important part of growing as a wrestler and Vince McMahon is taking that away by stacking up his roster with inexperience nobodies who didn't come from the independent scene. Hopefully the reported edict doesn't last long, though given that the upcoming WrestleMania tryouts will mostly focus on college athletes, that won't be anytime soon.