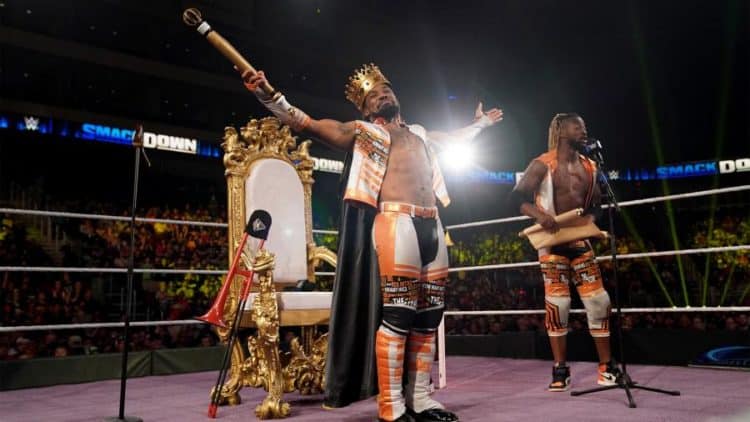 It's WrestleMania season again and this time of year usually starts with the annual Royal Rumble. The yearly pay-per-view features a huge battle royal for both men and women, with the respective genders taking part in a 30-person style over-the-top elimination until the last man or woman is standing. In previous years, the Royal Rumble has created huge stars, with Stone Cold Steve Austin, The Rock, Shawn Michaels, Bianca Belair, and Asuka to name a few. This year's event will take place on Saturday, January 29 at The Dome at America's Center in St. Louis, Missouri. This list will crackdown on five men who should go on to WrestleMania to challenge for the main title of their respective brands.
Damian Priest
The current United States Champion has had a mixed 2021. He got a chance to be in a star attraction match with Bad Bunny; however, Priest was never really given the spotlight during the build as it was more about the Puerto Rican rapper than the former NXT North American Champion. Given the fact that Bad Bunny is the big celebrity then that's no surprise, but Priest didn't get a long-term rub from his time as Bunny's sidekick. Still, Priest managed to impress throughout the year and it's clear that Vince McMahon and creative like the guy, despite the unnecessary need to add a cartoonish trait to his character. Priest has all the tools to be the main event star and it's time that he's given a test on whether he can hang with the big dogs. He doesn't necessarily have to win the title at WrestleMania, but if the company trusts him on the microphone and gives him a compelling story leading into the big match then he still walks out a big star as Priest has all the tools to have a show-stealing match with either Brock Lesnar or Roman Reigns.
Riddle
If Riddle can drop the goofy stoner gimmick and actually get his first name back, then making him into a main singles star isn't too much of an impossibility. The WWE RAW Tag Team Champion has managed to get over thanks to his undeniable charisma; however, his in-ring skills have shown that he can hang with the top main eventers. Plus, there's some history with Riddle and Brock Lesnar. Both are former UFC stars and the 35-year-old has consistently stated that he wanted to be the man to end Lesnar's career. The company can easily lean on those aspects and if Riddle becomes a bit more serious as a character, then fans could actually buy him as a top guy since he's a legit badass. It's time the company started taking more risks to create new stars and Riddle has all the qualities to be a main event talent.
Walter
Walter perfectly fits the mold of what Vince McMahon wants out of his main eventers and it helps that the former NXT UK Champion is one hell of a wrestler. Walter had a tremendous title reign down in the UK brand, but there's honestly no point in keeping him on the NXT show as he's essentially done everything that there is to do on NXT UK. Walter would be a fresh face for the main roster fans and the possibility of him either fighting Roma Reigns or Brock Lesnar will produce excitement for any fans familiar with his work. The company is making a big mistake by pushing Omos, who's clearly not ready to branch out as a singles star. Walter isn't as tall as Omos, but he meets the height require that Vince likes and can easily be the monster that the company so desperately wants Omos to be.
Bron Breakker
This choice is highly unlikely because Breakker just won the NXT Championship, but it's not too much of a bad idea to have a champion vs. champion match at WrestleMania. Breakker is still green, but unlike Omos, the second-generation star has managed to pick up the wrestling game pretty quickly and consistently puts on a great performance. The key thing is that Bron Breakker is young, and the company needs to start adding young guys like Breakker into the main event scene. The NXT Champion has all the tools to make him a top star for the company, and as previously stated with Riddle, it's time that Vince McMahon started taking a risk to create new main event talent.
King Woods
Xavier Woods isn't exactly on the top of anyone's list to win the 2022 Royal Rumble, but the former WWE Tag Team Champion has all the tools to be a great Daniel Bryan type of babyface. Woods is bursting with charisma and the Smackdown star can have great matches with anyone. Now, I understand that the company struggles to book guys like Woods. It would wise for WWE to get away from the mindset that fans will gravitate towards a character if they keep losing. This is wrong. Fans didn't love Stone Cold Steve Austin because he was a loser. They loved him because he was a badass with a great character. The same thing can be said about Daniel Bryan. Fans didn't grativate towards him because he was a loser. The former WWE star was entertaining to watch and a tremendous wrestler. Another reasoning for putting Woods on this list is that he has history with Roman Reigns and Brock Lesnar. Woods actually handed Reigns is only loss in 2021 – by Disqualification – and its easy to build off the Bloodline vs. New Day feud with Woods being the underdog. Lesnar is a man that's taken the WWE title from Kofi Kingston and Big E., so the storyline ties with that can have him enter as a massive underdog trying to avenge the losses of his brothers. Either way, WWE needs a new babyface, and Woods could easily fill that spot if booked correctly.
Tell us what's wrong with this post? How could we improve it? :)
Let us improve this post!