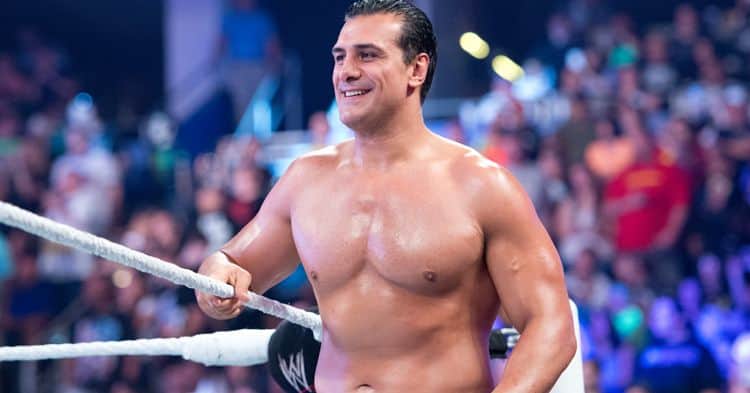 Alberto Del Rio is a former two-time WWE and World Heavyweight Champion. A 2011 Royal Rumble winner. And a 2011 Money in the Bank winner. Yet, once all is said and done, not many people remember the former WWE star's career very fondly. How can a guy who's accomplished so much within the biggest professional wrestling company mean so little in the eyes of most fans? Let's go back to the beginning. After being the main component for CMLL and Lucha Libre AAA Worldwide, Alberto Del Rio signed with the company back in 2009. Then, the independent scene wasn't as hot as it is now, so the former WWE Champion wasn't a well known name, even amongst the hardcore fans. It didn't help that Del Rio was mostly under a mask for early in his career. It didn't take long for Del Rio to make his WWE debut, with him getting a complete gimmick overhaul. Vince McMahon has been trying to target the Latino/Hispanic demographic for years, thus the reported reason the company came out and pushed the former CMLL World Heavyweight Champion so strong. Del Rio came into the company hot, with his heel rich aristocrat gimmick going over well with the masses and he was actually voted for best gimmick by the audience of the Wrestling Observer. There's no denying that Del Rio had a nice blend of charisma and wrestling ability. It also helped that the company actually treated Del Rio like a star and unlike Sin Cara, Del Rio was ready for the spotlight.
In a span of seven months, Del Rio won the biggest Royal Rumble in company history. He's a Money in the Bank winner that resulted in a successful cash-in. Del Rio had an amazing gimmick, but the problem was that the overexposure of his character saw the audience eventually grow tired of him in the main event scene. Since Del Rio never developed further as a character, his act grew stale and he desperately needed a big change. And he did. It just wasn't a welcome change. Unfortunately, WWE did one of their lazy face turns that fell flat on its face. At WWE TLC, Del Rio's face turn came when he saved Ricardo Rodriguez from the goofy Three Man Band heel faction. This guy has been an arrogant douchebag to fans for the past three years, yet WWE wanted fans to accept him as a babyface for fighting a group of jobbers? Del Rio needed character development because fans haven't gravitated towards the former WWE star at this point. The importance of slowly building up to that moment is necessary because audiences have been conditioned to hate this man for years. One moment of saving his fellow heel manager wasn't enough. Why should fans cheer Alberto Del Rio? That questions needed to be answered.
However, it never was. Del Rio struggled throughout his entire babyface run because the company never gave fans a compelling reason to cheer for the guy. Del Rio's turn felt forced and unnatural, and it didn't help that his stories weren't setting the world on fire. Fans cheered huge when Dolph Ziggler cashed in his Money in the Bank briefcase. The company was wise to do a double heel turn at Payback 2013, but it was too late at this point. Del Rio was back to his natural self, but the fatigue of him crowding the main event still lingered over most fans. Abruptly, Del Rio was released from the company in 2014 due to an unprofessional conduct of Del Rio striking an employee for a racist joke. Sadly, it only got worse from there.
The relationship of Paige and Alberto Del Rio became public in 2016 and it was a toxic whirlwind. Fans actually grew resentment against the former WWE Champion, even though Del Rio had been performing well on the independent scene. Del Rio made a surprise return to WWE in 2016, but to little fanfare. He was paired with Zeb Colter, and given the manager's controversial "real Americans" gimmick, the relationship made no sense and was confusing all around. They disbanded a short time later, but it only got worse for Del Rio. He joined one of the worse factions in recent memory, The League of Nations. This felt like a way to get Roman Reigns over as a babyface. The group was a mish mash of lackluster ideas and the chemistry between the men was non-existent. Del Rio's second run was a disaster and it didn't help that his relationship with Paige had turned a good portion of fans against him. This was the case of the company losing their way with Del Rio, along with the former WWE Champion getting on the bad side of most fans. Del Rio was a talented superstar with charisma to spare, but his second run heavily paled to his first. The full blame can't be placed on Vince McMahon as they did present Del Rio as a top guy. Fans just stopping caring about him as a character in general as well. Del Rio was a flash in the pan that couldn't find a suitable gimmick after his rich aristocrat one ran dry.Royal Rumble