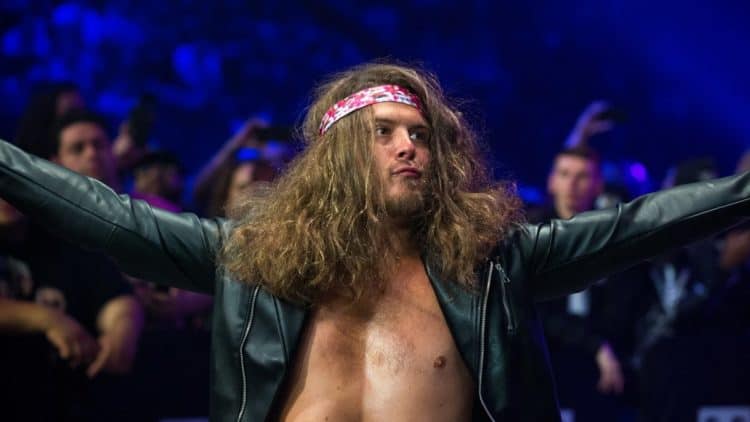 The Bad Boy is officially gone from All Elite Wrestling. Joey Janela was originally one of the names who started with the company from the very beginning, and that includes the All In show that helped propel the independent scene to greater heights. Janela impressed professional wrestling audiences in his match against Adam "Hangman" Page, and the sky seem to be the limit from there. Early in his AEW run, Janela was featured on television prominently, main eventing the first Fyter Fest against Jon Moxley in a Lights Out match and having bouts against big names such as Kenny Omega, Chris Jericho, and MJF; however, that swiftly changed in 2021.
Janela was put into a tag team with Sonny Kiss that didn't go anywhere, but more importantly, his career didn't reach many highs in All Elite Wrestling. His appearances on Dynamite became sparse, mostly working on AEW Dark, and eventually, Janela confirmed his release from the company in an interview with Denise Salcedo. Originally, Janela stated that he wanted to stay with the company, but the former AEW star revealed that Tony Khan went radio silent when it came down to the situation of his contract. Now, PWInsider reported that Janela was deemed unsafe inside of the ring, following an injury that Eddie Kingston sustained in a recent television match. Janela expressed that might've been the reason the company opted to not re-sign him, and sources reportedly know Joey is correct on that notion.
The Bad Boy is gone. First, it was completely immature by Tony Khan to simply ghost Janela in regard to the situation. He should've been upfront about Janela's status, as it's the proper business thing to do for an employee who's worked tirelessly to help make All Elite Wrestling grow. If it did come down to officials deeming him as an unsafe worker, then that's a perfectly good reason to release Janela from his contract. The health and safety of the performers should come first and foremost, and after the Matt Hardy debacle several years ago, AEW does need to be extra cautious when it comes to that aspect. Janela was a good worker and one of the better talents on the AEW roster. However, it was a combination of AEW not particularly booking him special and Joey not standing out from the crowd that has held his potential back. He was unnecessarily put in a tag team that didn't match the style of both Kiss and Janela. The vignettes on how the duo got together was pretty cool, but it never made sense ultimately. What's worse, their characters never got a chance to develop. At least not of Dynamite. Perhaps Kiss and Janela got a strong chance to display their chemistry and characters on AEW Dark, but the problem is that it's an online show that people don't particularly watch.
When AEW tried to pit a feud with Kip Sabian and Janela, it was a missed opportunity. This feud was based on the real-life break-up of Janela and Penelope Ford, and instead of tapping into that story deeply and getting fans invested in both men's characters it was treated as a nothing rivalry that ended on AEW Dark. Given the influx of talent entering into All Elite Wrestling, Joey Janela's position in the company was not going to get any better. He's not Jon Moxley. Or Chris Jericho. Or even MJF, Hangman Page, Sammy Guevara, Kenny Omega, CM Punk, Daniel Bryan, Adam Cole, or Keith Lee. With an overcrowded roster and little television time, Janela was never going to get any higher than lower mid-card. Perhaps a run here and there at the TNT Championship, but the chances of him actually winning the belt felt slim. For both sides, it was better that their relationship came to an end. While it didn't sound like The Bad Boy was the smoothest inside of a wrestling ring, he's far past the point of consistently being in developmental. One of the biggest problems AEW has right now is that their roster is overcrowded. Some names aren't likely to get resigned. Janala may be talented, but he hasn't made much for the company to keep him around. No offense to Mr. Janela. He'll surely thrive on the independent scene as his name has been boosted thanks to his time in All Elite Wrestling. However, the incredible depth of talent killed his AEW career and he won't be the last casualty because of the over abundance of names coming into the promotion.