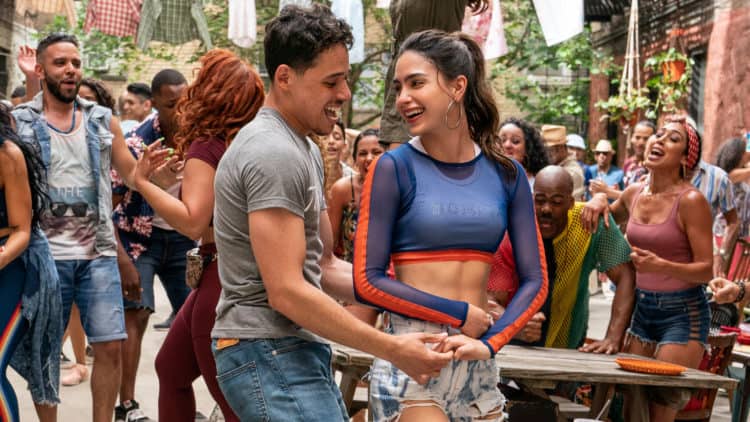 Love it or hate it, Hamilton helped bring musical theater back to the mainstream in ways few modern musicals can boast. For a Broadway play featuring a mostly non-white cast to penetrate the cultural lexicon the way that Hamilton did is no small feat. Yes, there are many valid criticisms about its casting and conceit. Yes, Lin-Manuel Miranda's meteoric rise as America's favorite theater kid can be a little much. However, taking out the grander social messaging and Miranda's stranglehold on society at large, Hamilton's as a play cannot go understated.
As a forward-thinking theater-lover who saw the play at The Orpheum in San Francisco and had tickets to do so again before society forced a prolonged intermission, the Disney Plus release was a godsend after years of listening to the soundtrack and listening to familiar voices deliver the songs that, while amazing in person, came from different places. The man who played Hamilton could actually sing and rap, the Thomas Jefferson, while great, lacked Daveed Diggs' effortless poise, and the rest of the performers were a mix of improvements and downgrades. It was a lovely experience that I'll always cherish. Still, I wanted to see the original cast performing in their natural environment, and while Disney made some minor tweaks, the show I saw was well in-tune with the touring troupe I saw months earlier.
What made Hamilton so special was that it embraced the theatricality and didn't try to hide it. Seeing beads of spit pour out of Jonathan Groff's mouth and watching Leslie Odom Jr. convey emotion we never quite see on the soundtrack was exactly what I needed from the long-rumored recording. Watching it four years after it was filmed, we see why Miranda, Odom, Diggs, Philippa Soo, Jasmine Cephas-Jones, and Broadway legend Renee Elise Goldsberry, and even Groff moved on to bigger and better things after their final curtain call on stage.
Hamilton was the most heavily-produced recording of a real stage production that I've ever seen. Yes, NBC did a wonderful job with their John Legend-led Jesus Christ Superstar. Other shows like Pippin exist mostly through 40-year-old recordings that, while revolutionary, opt for minimalism in the post-production. Hamilton was the perfect way to let both people who saw it in person and those who never got the chance to fulfill their wish. After all, it's shockingly rare for a production's original cast to appear on recordings such as this. For that alone, it should be lauded.
I've already written about my wonderful experience at In the Heights, but after a second watch at home, I realized why it hit me less than Miranda's work on Hamilton. The movie takes full advantage of its place as cinema to offer the types of musical set-pieces that used to be more common in the 1960s and 1970s. Some of these were quite spectacular, while others seemed like the film's producers trying way too hard to show the budget on the screen. In the Heights was a decent, unspectacular experience for any fan of musicals in an age where they are frustratingly rare. What it really made me want to do, however, was see the play on stage.
Hamilton worked because it preserved the natural staginess of its setting. Everything from the rotating floor beneath the cast to the stairwells surrounding the stage serves multiple purposes throughout the play. One moment it might be a battlefield, and the next, it might be a secret meeting with Thomas Jefferson. The set both seems like a modern city backlot and a stylized version of the 18th century. Most context is in the lyrics and performances, with the bulk of the set remaining as-is.
It's the type of play that will be hard to recreate on any stage that can't afford the spectacle, and that's what makes the cast recording so memorable. When In the Heights came around, Warner Brothers lost that magic. Anthony Ramos, who appears in Hamilton as John Laurens and Alexander's son, Phillip, is a better singer, rapper, and performer than Miranda. Seeing him in the role that first put Miranda on the map shows the benefit of having a more apt performer in the part.
While some theatricality remains, however, In the Heights suffers from what many musicals suffer from. It tries too hard to be a blockbuster movie at the expense of the stagey brilliance. While some critique the trend of stage-to-screen adaptations feeling too theatrical, it's a vital cog in doing so. Theater does not operate with film's rules. While The Sound of Music and West Side Story are classics, in part, because they successfully maneuvered between these two, In the Height's theatricality is cheapened by its massive budget.
While classic movie musicals like Fiddler on the Roof blurred the line between theatricality and moviemaking, they preserved the magic behind performances. Dance numbers are not cut like a Bourne movie, and while they're clearly on a movie set, it's one of those old-timey sets that still feels like a stage when you are looking at it. Theater is one of the oldest modes of entertainment, in part because we all love watching talented people perform. They don't get trick photography or second takes. They get five acts on stage in front of audiences, big and small. The best plays use the stage, dancers, and the audience itself as part of the show.
When a movie loses that level of theatricality, we lose what made the source material so ripe for big-screen fun. I've never seen In the Heights on stage. However, the movie's biggest moments were rarely in the visuals, although few exceptions. Instead, it hit me the same that Hamilton's soundtrack did and made me want to see it all on stage.
Most people will never see the stage production of these plays. As such, successfully migrating the theater experience to the big-and-small-screen takes some reverence to the theatre roots. John M. Chu is a talented director whose Crazy Rich Asians used a massive budget and the story's opulence in service of its overall message. That is gone here, and instead of getting a movie that feels like a stage adaptation, In the Heights feels like an original project that doesn't want its audience to know the roots of where it all came from.
Hamilton showed the power of letting stage performers use the stage while fans at home can watch it on the screen. They didn't change much past saltier language. As such, it felt true to Miranda's vision. Here, we get a movie that wants to sell itself on being from the Hamilton creator's mind without remembering the importance of the other factors that made his dream a reality.
Hopefully, we get a real stage recording at some point. Otherwise, In the Heights will remain a lavish, forgettable picture of how stage-to-screen can lose some of its magic when they let its natural habitat go to waste.
Tell us what's wrong with this post? How could we improve it? :)
Let us improve this post!