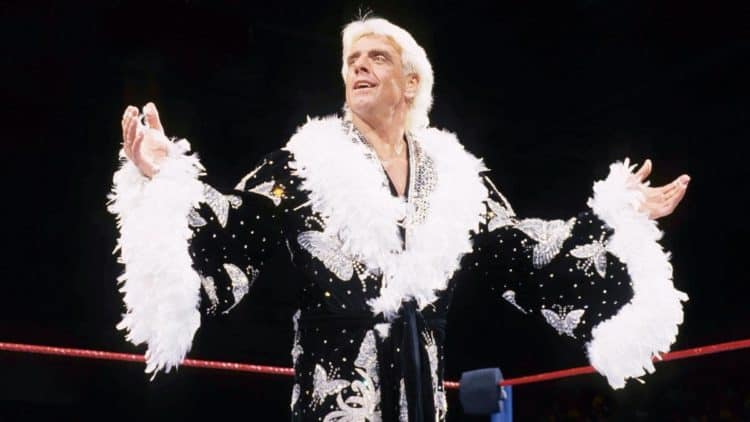 In the history of wrestling there have been absolute legends that have come and gone and been among the best in the business for various reasons. Ric Flair is one of those that has made a career out of being loved and hated equally since a lot of times he's been an absolute heel and nailed it unlike many. But he's also been a legend since he has sweat and bled wrestling for so long. He's not a perfect human being but he has been a character that people absolutely loved. In the biopic Nature Boy it seems that casting for his character would need to be done with a great deal of respect as well as accuracy to his character, which would be kind of difficult since when you think about it his character has been so unique throughout the years that it's possible to think that nailing it down perfectly might not be possible.
Here are a few actors that might have a chance at nailing the character of Ric Flair.
5. Tom Hiddleston
Tom Hiddleston is known for playing cultured and usually very sly characters that are able to either charm their way through the movie. But it does seem as though he has the kind of charisma that could allow him to play this role and nail it just perfectly. He might have to bulk up and possibly take on a much more wild appearance since Flair is known for being out of control from time to time. But considering that Hiddleston is the kind of actor that can take on just about any role and make it his own, it would be interesting to see just what might come of this casting if it ever happened.
4. Jamie Bell
It kind of comes down to looks for this one since finding someone that looks like Flair is kind of tough since he has a very distinct profile that's hard to replicate. But Jamie Bell is the kind of guy that can act and can take on the look of someone that might not be fully recognized in each film. He can definitely bulk up and can even play a character that seems much tougher than he looks at times. But there's also the idea that he can go crazy when he needs to, as he did in Jumper. Jamie would have to take it to another level no doubt but there's a lot of confidence that he could do this without too many issues.
3. Zac Efron
Efron can go crazy when he needs to and this has been made evident in some of his more recent movies like Neighbors and Baywatch. But at the same time he might not look quite like Flair, but there are such things as prostheses and makeup that can help out with this. He does have the kind of physique that could help him out initially and he can act in a very over the top way that wrestlers are known for. The wide eyes, the flaring nostrils, and the ability to spout nonsense is something that many wrestlers have to perfect for their in-ring persona, and it would seem that Efron could take on such a project and make it work.
2. Liam Hemsworth
Given that Chris Hemsworth is going to be playing Hulk Hogan it does seem as though Liam could shave, since Flair has almost always been clean-shaven, and take on the role of the Nature Boy in a way that could be just as outlandish as Chris' performance is bound to be. One thing people need to understand about Ric Flair is that he's always, on screen, been someone that's larger than life and in some cases absolutely unbalanced. Watching his many matches and his interviews would be necessary to make it work, and Liam, despite being unappreciated for what he's done, is still a good enough actor to mimic someone like Flair.
1. Mike "The Miz" Mizanin
Why not? Why not take a man that knows wrestling in and out and has even had dealings with Flair in the pat and can act completely unbalanced when he wants to? The Miz has been a heel for a great deal of his time in the WWE and that works to his benefit since, like Flair, he's been seen as a rather egotistical and maniacal character for a number of years. He's taken a great deal of credit for the things he does even when others help out, and his character has been someone that people love to boo and watch all at the same time. In other words, he's absolutely perfect for the role and would no doubt be the best candidate out of those listed.
It's hard to really capture the magic of a character like Ric Flair, but there a few guys that can do it.
Tell us what's wrong with this post? How could we improve it? :)
Let us improve this post!