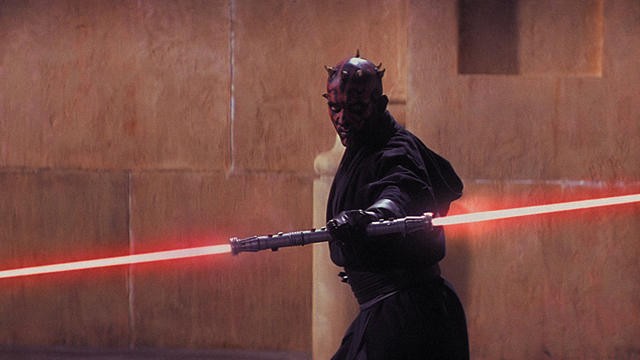 Movies often provide us with the chance to escape reality for a couple of hours, so in a violent movie, normal, regular weapons won't always do. To take on imaginary armies and beasts, you're going to need imaginary weapons. Fictional movie weapons may be alien in origin or just plain overpowering, but for whatever the reason, they tend to be pretty awesome. I didn't include some very famous movie weapons in this article – such as Indy's whip or Ash's chainsaw – for the very simple reason that whips are chainsaws aren't fictional.
For the purposes of this article, I'm talking about weapons that don't exist in the first place. Which is unfortunate – I'd do anything to walk down the street with Predator's wrist blades. Here are, in no particular order, ten of the baddest fictional movie weapons:
The Big Baby – Hellboy II: The Golden Army
Hellboy's Big Baby is a six-barreled monstrosity that fires off small rockets. The powerful, heavy gun packs a ton of punch and causes serious damage on its targets. You do not want to wake the Baby.
https://www.youtube.com/watch?v=lN7dkSIgYgE
Lightsaber – Star Wars Movies
The lightsaber is one of the most famous fictional weapons of all time. They come in a variety of colors and styles, but every lightsaber is in and of itself an incredibly powerful weapon. Lightsabers can cut through just about anything, can block lasers, and make some of the coolest sounds you'll ever hear. If I was lucky enough to get my hands on one of these bad boys, I'd be constantly turning it on and off, just for that sweet, energetic hum.
Ol' Painless – Predator
Cumbersome? Yes. Impractical? Definitely. Totally devastating? Absolutely. Blaine's ridiculous minigun in Predator sprays lead at an insurmountable rate, mowing down adversaries by the dozens. Miniguns aren't fictional, but Ol' Painless definitely is: the gun, which is normally mounted on the side of a helicopter, had to undergo numerous modifications to transform it into a personal killing machine.
Smart Disc – Predator 2
It's tough to pick just one weapon from the Predator's impressive arsenal, but the smart disc is perhaps the most lethal. The bladed disc can easily cut through layers of meat and bone, and conveniently returns to its owner after being hurled at an enemy. The disc doesn't have to be thrown, though – it can serve as a very effective weapon for close range combat as well. In summary: I want one.
https://www.youtube.com/watch?v=ZDJaBHxt-E0
The Glaive – Krull
In Krull, Prince Colwyn must locate the ancient, magical weapon known at the Glaive. He uses the Glaive, a sort of five-pointed bladed boomerang, to destroy the Beast. The Glaive's range is impressive, and its spinning blades can easily eviscerate the largest of foes.
Cobra Assault Cannon – Robocop
The Cobra Assault Cannon is a high-powered gun that you really only need to fire once. The Cobra can destroy a car and even an ED-209 with just one shot, making it one of the most powerful personal firearms around. It's like having your very own missile launcher.
The Crotch Gun – From Dusk Till Dawn
As seen in From Dusk Till Dawn and briefly in Desperado, no words can adequately describe the awesomeness that is the Crotch Gun. Quite simply, it's the Best. Weapon. Ever. One must feel like such a man after firing this weapon.
Proton Pack – Ghostbusters
Also known as a positron collider, the proton pack is the weapon of choice for the Ghostbusters. Designed by Dr. Egon Spengler, the proton pack is used to incapacitate ghosts, holding them in place long enough to be captured by a ghost trap. Wielding these powerful weapons is risky, as the last thing you want to do is cross the streams: "Try to imagine all life as you know it stopping instantaneously and every molecule in your body exploding at the speed of light."
Phaser – Star Trek Movies
The phaser is to Star Trek what the lightsaber is to Star Wars. They come in a variety of sizes, but we're most used to seeing the handheld version, as seen above. The phaser, a directed-energy weapon, can be set to two settings: stun and kill. Seems simple enough. Now where can I get one?
Wolverine's Claws – X-Men Movies
Wolverine's healing factor made him the prime candidate for a procedure that involved grafting adamantium to his skeleton and implanting retractable adamantium claws. Capable of cutting through anything, Wolvie's claws can make mincemeat out of an enemy in just a matter of seconds. Snikt!