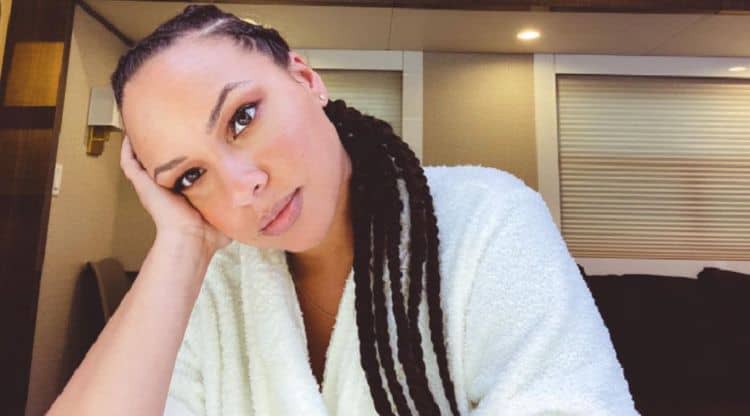 Jasmine Cephas Jones is the type of performer who was born to be a star. She has the natural ability to draw people in, and that has led to a very successful career in the entertainment industry. Since making her on-screen debut in 2013, she has continued to rise through the ranks. She is currently best known for her role in series like #Freerayshawn and Mrs. Fletcher. The amount of talent and professionalism she brings to every project she works on certainly hasn't gone unnoticed. Her growing fan base is looking forward to seeing all of the great things she's going to do in the future. Keep reading to learn 10 things you didn't know about Jasmine Cephas Jones.
1. Her Father Is A Successful Actor
If the name Cephas Jones sounds familiar to you, it's probably because your familiar with Jasmine's father, Ron Cephas Jones. Ron is a very talented actor who has been a part of several successful projects. Recently, he became widely known for his portrayal of William in This Is Us. In 2020, Jasmine and Ron made history when they became the first father/daughter duo to win Emmy Awards in the same year.
2. She Is A Brooklyn Native
Jasmine was born and raised in Brooklyn and, like many New Yorkers, she's very proud of where she comes from. Unlike many other people in the entertainment industry, she has resisted the temptation to move to Los Angeles and she still resides in Brooklyn.
3. She Is In A Relationship
Finding something to love in life is something to be grateful for, but it's even better when you can find someone you love to go along with it. Jasmine is blessed to have found both. Jasmine is engaged to fellow actor, Anthony Ramos and the couple appears to be going strong. Ramos is best known for his role in the Broadway production of Hamilton. Like Jasmine, Anthony is also from Brooklyn.
4. She Is A Producer
Acting has been Jasmine's primary focus over the years, but now she is also interested in getting on the other side of the camera. She made her debut as a producer in 2021 when she produced an episode of the TV series Blindspotting which she also had an acting role in.
5. She Has Been On Broadway
It's no secret that Jasmine has what it takes to light up any screen she shows her face on, but she also has that same ability when she steps on the stage. She was a cast member in the original Broadway production of Hamilton – which is also how she and Anthony met.
6. She Loves Spending Time Outdoors
The bright lights of the entertainment industry can be beautiful and alluring, but they can also quickly become overwhelming. So it's easy to see why Jasmine would prefer to spend her free time doing things that allow her to relax. She loves spending time outdoors and enjoys doing things like boating and hiking.
7. She Loves Poetry
As a creative person herself, acting is one of Jasmine's favorite ways to express herself. As a fan of the arts, however, Jasmine also enjoys other mediums. Jasmine appears to be a big fan of poetry. Every once in a while she will share the words to some of her favorite poems on Instagram.
8. She Is A Musician
Although most people are aware of Jasmine's success as an actress, many people may not realize that she is also a very talented musician. Of course, people heard her sing in Hamilton, but her work as a musician goes beyond that. She released her debut EP, Blue Bird, in 2020 and it proved to be the perfect musical introduction. We weren't able to find any information on whether she plans to release a full-length album at some point.
9. She Was In An Episode Of Blue Bloods
From the start of her career, it was clear that Jasmine was ready to take the world by storm. Jasmine's second TV appearance came in an episode of Blue Bloods in 2013. Getting the chance to be part of such a successful and long-running show was probably a very exciting moment for Jasmine so early in her career.
10. She Studied At Berklee
With a father as talented as Ron Cephas Jones, there's no doubt that acting is something that runs through Jasmine's veins. However, she has also put in lots of work to reach her full potential. Jasmine Berklee College of Music in Boston and she went on to continue her studies at Neighborhood Playhouse School of the Theatre in New York City.