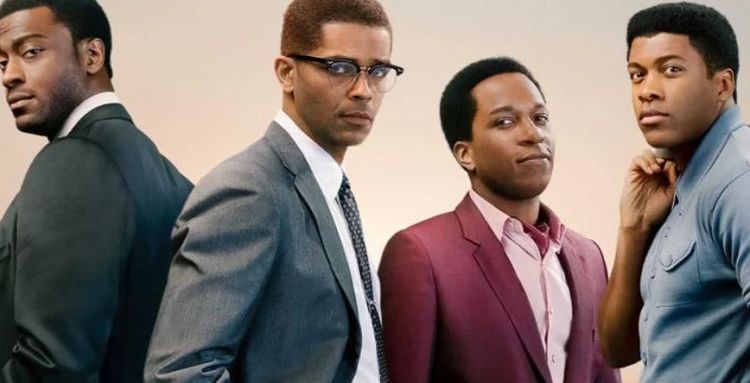 From a cultural viewpoint, it's a hope that a lot of people don't get to thinking that One Night in Miami is a true story since it's already been stated that it's a fictionalized tale that brings such important characters as Sam Cooke, Muhammad Ali, Jim Brown, and Malcolm X together for a movie that will surely care a great deal of cultural significance that people are going to want to see. As Regina King's directorial debut it's likely going to be something that will be seen as largely important but also somewhat divisive since one can only imagine that there will be plenty of people ready and willing to say 'things didn't happen this way' no matter that history is easy enough to look up considering that each one of these men contributed more than a little to the world in their time. Without a doubt, two of the more abrasive characters in this production are Malcolm X and Muhammad Ali since they were among the most vocal individuals in their time when it came to the struggle of people of color in America, and yet both of them started out being entirely divisive, but in time became advocates for something more than rhetoric they started out with. Many people are still willing to say that people of color don't have power in America and desire it in a big way, but the unfortunate truth there is that many people of color have risen to positions of power, authority, and importance in America over the last several decades, even if the opinion of some is that a few of them have been far too divisive to have kept that influence for so long.
The truth of it is that if one delves into the past of each man they become less likely role models and more akin to cautionary tales since the crimes that each individual was said to commit were quite serious in some cases and in a lot of instances they were either dropped, dismissed, or otherwise explained away much as many people with influence and money might be able to do. It's very true that back in the time of the Civil Rights Movement that people of color had things extremely rough and that people of color today don't know the same struggles, but this effort by King appears to be a fanciful tale of what might have happened had four of the most powerful men of color had come together back in the day.
There's no doubt that many people might remember that even mentioning that someone was connected to Malcolm X at one time was enough for many people to think the worst of anyone since Malcolm was, at one time, a very devout member of the Nation of Islam and couldn't be told one way or another that Islam carried any faults. Once he broke with the Nation though, his life became an uncertainty that lasted until the day of his assassination since there was a target on his back for all to see. Muhammad Ali struggled with the US government over his refusal to serve in the military, and while he was eventually allowed to go back to the ring where he earned his living, he too was seen as a polarizing figure for a long time. The same can be said of Cooke and Brown, who both have a long history that people can read for themselves. The decisions they make as to whether either man was really that great as a human being back in the day is a matter of personal opinion, but the reality is that all four men did great things in their lives, but they all did horrible things as well. There's no need to try and make them look bad, but the hope is that King will make it clear that as great as each man was, they were troubled in their own ways and had their own failings as well.
In this current era the need for people to see strong men and women of color in positions of power is confusing since men and women of color have been in these positions for some time now, longer than many people want to admit, which makes movies such as this important but also equally confounding since the whole idea of 'black power' is one that can become quite divisive if taken in a certain direction. The stories that these men are associated with are usually quite uplifting and fun to watch since they all lived very interesting and fulfilling lives, as Jim Brown can probably attest to since he's still around. But if we're going to be honest about this, let's hope to see a balanced story that doesn't paint them as sinners or saints, but human beings that are fallible and capable of great things at the same time.