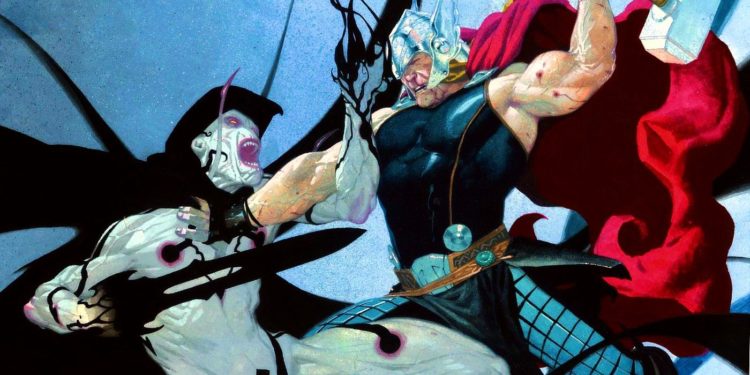 Thanks to the lockdown of everything last year, including Hollywood, we've been waiting for the newest Thor movie for almost two years now since it was announced at Comic-Con in 2019. We know Chris Hemsworth will be back for it, of course. Taika Waititi, who directed "Thor: Ragnarok" is going to be back for it also, and he did such a great job with that one that we can't wait to see what he does here. Even Natalie Portman is coming back as Dr. Jane Foster (she actually becomes Thor in the movie). But we're really excited about the new guy – Christian Bale – who made the switch from the DC to the Marvel Universe for this movie. He'll be playing the villain, Gorr the God Butcher. He seems perfectly suited to be a Marvel villain, although he usually takes very serious roles. Those people are usually the most fun when they do something completely different, and he feels like someone who would have a blast getting to be the bad guy. We just got a sneak peek of his character, so here are five predictions we're making about his role in the new "Thor" movie.
1. He'll be unrecognizable
Christian Bale is already known for being practically a shape-shifter when it comes to his acting roles and this one is no different. Although it looks like the studio is trying to keep his character under wraps for now, the Daily Mail got a few shots of him shooting scenes for the movie in Malibu this week:
The first look at Christian Bale as Gorr the God Butcher in Thor: Love and Thunder!

Filming has resumed in Malibu

(via Daily Mail) pic.twitter.com/2RHo4zG1VJ

— Thor: Love and Thunder News (@lovethundernews) August 4, 2021
He was surrounded by crew members and it looks like they're trying to avoid showing his costume just yet. If you can't wait, however, you can see a few more Daily Mail shots here. This isn't the first time Christian Bale has looked completely different for a movie. Remember when he played Dick Cheney in "Vice"? It's almost impossible to look at him and believe it's the same person.
But he was changing before that, too. In "The Machinist" he lost 60 pounds to play an anorexic man struggling with insomnia who begins to question reality.
He bulked up and worked out for "American Psycho" because his character was obsessed with maintaining the perfect physique. He even got dental work done to fix a gap in his teeth because he said his character was narcissistic and would have insisted on perfect teeth. Over the years, he's done a lot of losing and gaining weight depending on the body type of the character he was playing. When he played Irving Rosenfeld in "American Hustle", a con artist with a gut, he gained 43 pounds and gave himself a herniated disc because he sat with such bad posture for the role. His biggest weight gain seems to have been right after "The Machinist," when he learned he landed the role of Batman and had to start filming around six months later. He gained about 100 pounds to play the lean, lithe caped crusader.
2. He'll have a good story
Christian Bale is known for his serious roles, and even when he plays a superhero he makes critically acclaimed movies (the Batman trilogy he was in was well-received and both reviewers and fans thought he was excellent). We already know that the God Butcher (as you may have guessed from his name) has a gripe with the gods. He's an alien from another planet that was devastated by some sort of environmental catastrophe. After his parents and his pregnant wife all die and his prayers go unanswered, Gorr turns against the gods. He and his allies form a plan to destroy all the Norse gods in revenge.
3. The movie he's in will be over the top
The director, Taika Waititi, said in an interview last month with Empire Online that "it's the craziest film I've ever done," which is saying something after the wacky madness that was "Thor: Ragnarok." He went on to say, "If you wrote down all the elements of this film, it shouldn't make sense. It's almost like it shouldn't be made. If you walked into a room and said, 'I want this and this and this.' Who's in it? These people. What are you going to call it? Love And Thunder. I mean, you'd never work again. Maybe I won't after this." Except we're guessing he will work plenty if he wants to. Sometimes you just gotta pull out all the stops and go for it.
4. He'll have some great company
Like we mentioned, Chris Hemsworth will of course be back as Thor. Natalie Portman will reprise her role as Dr. Jane Foster. There will also be some other great cameos, though. A lot of the Guardians of the Galaxy cast will show up, including Star-Lord Chris Pratt, Dave Bautista as Drax, Karen Gillan (who plays Nebula), and possibly Groot and Rocket. Also, Russell Crowe has said he'll be playing Zeus in the movie.
5. He'll be part of a huge Marvel Universe
The MCU (Marvel Cinematic Universe) is continually expanding, with what feels like new movies and TV almost every day. Between now and when "Thor: Love and Thunder" is set to be released in May of 2022, you can also get your Marvel fix by watching new episodes of "Loki" on Disney+, "Black Widow" in theaters this summer, the animated series "What If…" which comes to Disney+ this month, "Shang-Chi and the Legend of the Ten Rings" coming to theaters in September, and a new Hawkeye series and Spider-Man movie that are scheduled to be released before the end of the year. Of course, you can also go back and watch one – or all – of the Marvel movies that have already been released. If you want to watch them in order, Tech Radar has a guide to get you caught up before the next movie comes out.
Tell us what's wrong with this post? How could we improve it? :)
Let us improve this post!