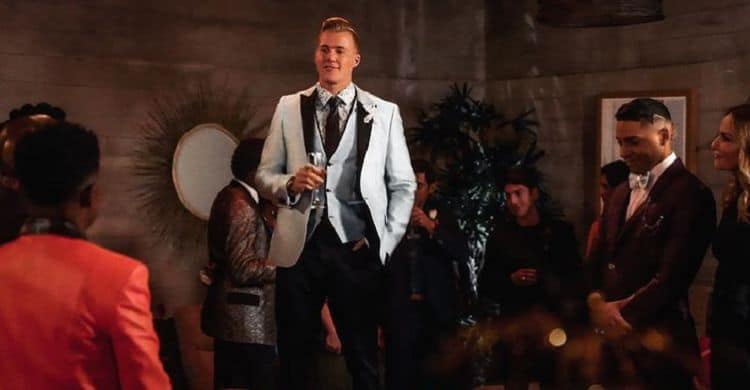 Hunter Clowdus' acting journey may not look like lots of other people's, but he has still found his way to the spotlight. He made his first on-screen appearance in 2012 with a small role in the MTV series Teen Wolf. He continued to play a variety of small roles before getting his big break in 2018 when he was cast as JJ Parker in All American. Although his character embodies many of the stereotypes of the 'dumb jock', that isn't who Hunter is at all. The talented actor has lots of things to offer the industry and he hopes that he gets plenty of opportunities to show the world what he can do. Keep reading to learn 10 things you didn't know about Hunter Clowdus.
1. He's From Tennessee
Hunter was born and raised in Chattanooga, TN. This is a very sharp contrast from his character in All American who hails from Beverly Hills, CA. Hunter is very proud of where he's from and Tennessee will always have a special place in his heart. He is currently based in the Los Angeles area.
2. He Was a College Athlete
If there's one thing that Hunter and JJ have in common, it's their love for sports. Hunter spent much of his life being a competitive athlete. After a successful high school baseball career, he earned a scholarship to play at the University of Alabama where he was a shortstop.
3. He's Done Stunt Work
Since being in the entertainment industry, Hunter has been primarily focused on acting. However, he has also dabbled in other areas of the process. In 2014, he was a stunt double for Jack Reynor in the movie Transformers: Age of Extinction. To date, this is his only stunt credit.
4. He Planned On Becoming A Dentist
Becoming an actor wasn't always something that Hunter planned for himself. Instead, he was on track to become a dentist. During an interview with Poptized, Hunter said, "I went to the University of Alabama, thought I was going to be a pediatric dentist; I was training and working out hard, and I think that opened doors for me in the modeling realm, which was the first time I had really been in front of the camera and that ultimately led me to landing a background job in MTV's Teen Wolf. That took me to Atlanta, and once that happened, I felt I could do this. I saved up money, lived in Atlanta for a couple of years and then moved to LA, went to NY Film Academy, studied acting for film and stuck around here and been grinding ever since."
5. He Earned the Role in All American on the Day of His Grandmother's Funeral
Being cast in All American was just as meaningful to Hunter on a personal level as it was on a professional one. He told Glitter Magazine, "My personal journey on the show is one that means more to me than any other role I've gotten. I auditioned for this pilot with a heavy heart as my nana passed away that morning. I auditioned at noon, and after the audition, I flew home. I actually got the news I booked the role the day of her funeral, so it was something that brought some joy to my family in a really difficult time."
6. He Hopes to Play a Variety of Roles
At the moment, playing JJ is the biggest role but he hopes that won't always be the case. As his career continues, he hopes to get the chance to play all kinds of characters across multiple genres. Doing an action project is at the top of the list and he would also love to do a superhero project.
7. He's Passionate About Working Out
Hunter's days as a competitive athlete might be over, but that doesn't mean he's stopped training. Staying in great shape is one of his top priorities and he spends a lot of time working out. While talking to The Gate, Hunter said, "I say this as humbly as possible… I am one of the top 50 best built actors in Hollywood."
8. He Has A YouTube Channel
Those who are fans of Hunter's work will be happy to know that seeing him on All American isn't the only time they can catch him on their screens. Hunter also has a YouTube channel where he posts a variety of content. Most of his videos are focused on sharing positivity.
9. He Isn't Actually a Teenager
In All American, Hunter's character is a teenager who recently graduated from high school and is getting ready for college. In real life, however, Hunter's teenage years are a thing of the past. Hunter was actually born in the fall of 1991 which means that he will be turning 31 this year.
10. He Streams on Twitch
Hunter loves his job, but just like anyone else he needs time to decompress. One of his favorite ways to do that is by gaming and streaming on Twitch. His Twitch channel has more than 8,000 followers. He also uses his channel as a place to market his merchandise.