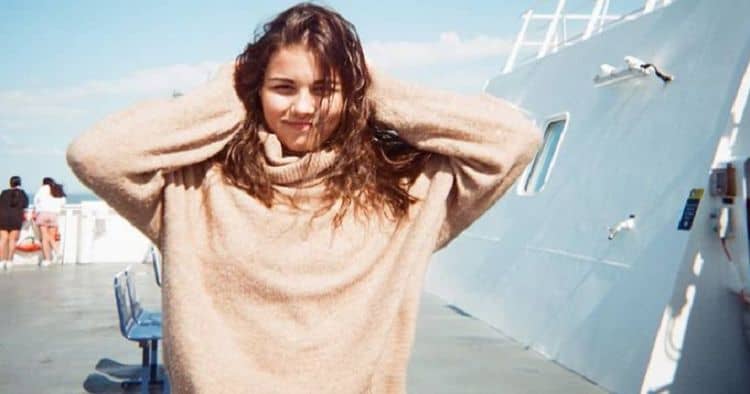 The last few years have probably been very exciting for Kaylayla Raine. The talented young actress has gotten her foot in the door of the entertainment industry and she plans on sticking around for as long as she can. She got a big break in 2021 when she was cast in the TV series Resident Alien. The show, which debuted in January of that year, has already been renewed for a second season and fans couldn't be any more excited. The second season is set to premiere in February of 2022 but it's unclear what kind of role — if any — Kaylayla will play. Either way, her growing fan base is looking forward to seeing what she does next, and we feel confident we'll be seeing a lot more of her in the future. Keep reading to learn 10 things you didn't know Kaylayla Raine.
1. She Comes from a Diverse Background
At the moment, Kaylayla hasn't shared any information about her family or her upbringing. However, her Instagram bio offers some insight into her background. Her bio states that she has both Scottish and Squamish roots. The Squamish is a group of indigenous people from the pacific northwest.
2. She Is An Activist
Kaylayla may be new to the entertainment industry, but she's already made it clear that she intends to use her platform for the greater good. She is passionate about several human rights causes – especially those pertaining to the indigenous population. Not only does she post about these things on social media, but she also takes action in real life.
3. She Loves Spending Time Outdoors
The beauty of nature is something that nothing can compare to and it's also something that Kaylayla doesn't take for granted. She enjoys being outside as much as she can and she always takes the time to appreciate what nature has to offer. Some of her favorite outdoor activities include swimming and going for walks.
4. She's A Very Private Person
There are many people in the spotlight who enjoy letting the world in on their personal lives. However, that doesn't seem to be true for Kaylayla. At this point in her career, she has chosen to be very private and there is very little known about her personally or professionally. It'll be interesting to see if she decides to open up more as she continues her career.
5. She Doesn't Have Much Acting Experience
If the name Kaylayla Raine is unfamiliar to you, that's because there's a good chance you've never seen it before. Kaylayla made her TV debut in 2019. As of now, she only has four on-screen credits which include a short film she was a part of in 2017. Despite her lack of on-screen experience, viewers would never be able to tell.
6. It's Unclear If She Has Formal Acting Training
Since very little is known about Kaylayla, we weren't able to find any information on whether she has undergone any kind of acting training. However, whether or not she has taken acting classes doesn't negate the fact that she is clearly working with lots of natural talent.
7. She Enjoys Taking Pictures
Being in front of the camera is how Kaylayla has been making a name for herself, but in her free time, she also likes to see things from the other side. Her Instagram profile reveals that she enjoys taking pictures and she also has a great eye for knowing exactly how to capture great moments.
8. She Loves Animals
In addition to her love for nature, Kaylayla also loves animals. From what we can tell, she has a cat of her own, but she also loves dogs. All of the pet people out there will probably agree that there's always something a little heartwarming about finding out that a person loves animals.
9. She Loves Music
There's no information to suggest that Kaylayla is a musician, but we do know that she is a big music fan and she seems to enjoy several genres. Like movies and TV shows, music has the power to bring people together regardless of where they've been in life or where they're going.
10. She's A Screenwriter
Acting might be Kaylaya's primary focus now, but there may be a time when she decides that she would rather tell stories from behind the scenes. In a post on her Instagram story, Kaylayla shared that she has been working on a script for a movie. Unfortunately, there is no additional information on the project. Hopefully, however, we'll actually get the chance to see the movie one day.