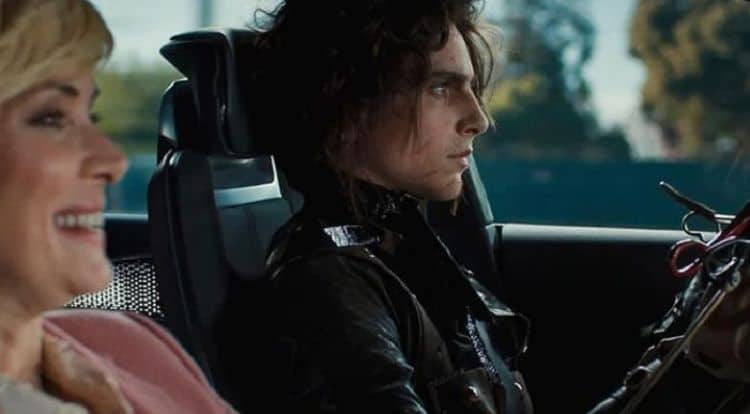 The number of aspiring actors trying to make it in the entertainment industry is mind blowing. Majority of the people you bump into in Los Angeles has probably gone to an audition or casting call at one point in their life. It takes more than talent and good looks to make enter the golden gates of Hollywood. Personality, charisma, and a whole lot of luck comes into play. One name that has been making the headlines recently is Timothée Chalamet. The young actor has proven time and again that he is much more than a pretty face. His career trajectory has been remarkable, as he is able to work with the most lauded directors and land major film roles in a short span of time. Make way for Hollywood's Golden Boy, as he gives life to more and more iconic characters, while making women's hearts flutter along the way.
Who is Timothée Chalamet?
Chalamet started out his acting career in short films and commercials before starring as a supporting cast member in the hit television series, Homeland. The role introduced him to audience members and pushed the door wide open for bigger and better opportunities to come right in. By 2014, Chalamet already had his feature film debut alongside major movie stars, such as Rosemarie DeWitt (Rachel Getting Married), Jennifer Garner (Yes Day), Judy Greer (13 Going on 30), Adam Sandler (Murder Mystery), and Dean Norris (Breaking Bad) in the comedy drama, Men, Women & Children. This commenced the beginning of a flourishing film career that just seems to get better as the years go by. His story is not one of overnight success. It was a combination of perfect timing, and meeting the right kinds of people along the way.
The breakthrough role that made Chalamet a worldwide sensation came in 2017, as he portrayed the character of Elio in the film adaptation of the bestselling coming-of-age novel, Call Me by Your Name. The film went on to dominate the awards season, and even took home an Academy Award for Best Adapted Screenplay. Chalamet's stellar performance in the film did not go unnoticed, as well, as it even earned him an Academy Award nomination for Best Actor, making him the third-youngest nominee in the category at such a young age of 22 years old. This was such a huge achievement for a promising new actor like Chalamet, and the effects it had on his career were tremendous. Chalamet was first noticed for his dashing looks, paired with most beautiful and piercing of eyes. His heartthrob status took on an even better turn when his acting prowess proved to be praiseworthy, as well. He became a household name in no time. There was simply no more turning back.
The Rise to Fame
Chalamet went on to be casted in major films spanning a variety of genres. The King and Little Women were powerful period dramas, while his upcoming films, such as the epic science fiction film, Dune, and the comedy drama anthology film directed by Wes Anderson, The French Dispatch, have already been celebrated by critics and early viewers alike. The back-to-back successes are far from over. It feels as if Chalamet might have done something right to be on Lady Luck's good graces. He is about to blow viewers away with his other upcoming flick, Don't Look Up, which is composed of a powerhouse ensemble unlike any other. He has also been cast to play the classic role of Willy Wonka in the film titled, Wonka, which is set to be the prequel to the famed novel by Roald Dahl, Charlie and the Chocolate Factory. Photos of Chalamet's full on transformation to the iconic candy man have been released, and the internet has since been abuzz with thoughts and opinions. It's safe to declare that the film will be one of the anticipated ones when it finally premieres in 2023.
Hard work pays off. The simplicity of this statement couldn't have been truer when applied to Chalamet and his career. The fact that he has this many major productions under his belt speaks volumes on the effort he puts to his growth as an actor. The fact that Time magazine has named him as one of the "Next Generation Leaders" is already proof that the young actor has made it. The influence he has on others is a league of its own. He possesses a charm that is reminiscent of old Hollywood, has a quirky personality that is endearing above anything else, and has been choosing the right roles to add to his expanding repertoire. The movie industry has found a gem in Chalamet. His future is at the brightest it has ever been. May his light continue to shine even brighter in the decades to come. We've already got our sunglasses ready.Homeland