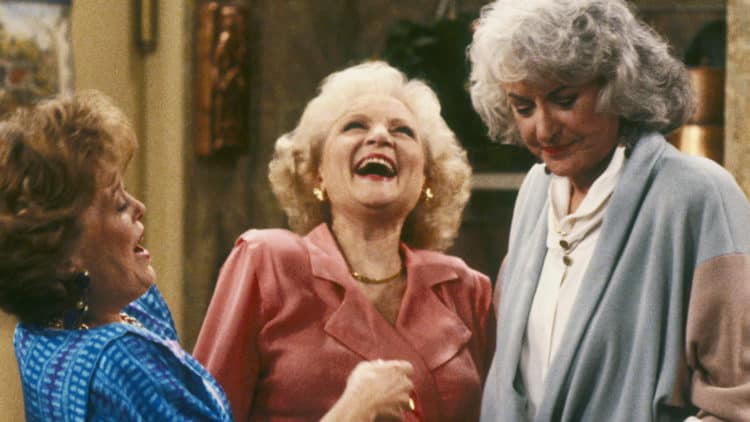 Betty White is turning 100 in January, and we are all invited to her party. The actress has more than nine decades of experience in entertainment, starting out when she was 8 years old working on radio. Today, she continues to entertain fans of all generations. Some were introduced to her from the Mary Tyler Moore Show and Golden Girls, while others, younger fans saw her from TV hits like Hot In Cleveland and Community. White is also perhaps best known for being one of the longest-living, continuously active entertainers in Hollywood. Only a few like her remain active in front of the screen, including Mel Brookes and Dick Van Dyke. Talking about her longevity with People, White said she can attribute her long life to her sense of humor. "Again, having a sense of humor," she says. "Just looking at the positive side and not dwelling on the downside. Takes up too much energy being negative. Also having a good agent who keeps me busy all the time." On January 17, Betty White is going to be celebrating her 100th birthday, and it's going to be an all-out affair, with everyone from Hollywood celebrating. Here's everything we know about Betty White's upcoming 100th birthday party celebration.
The party will honor her various achievements
Betty White is a trailblazer, and everything she has accomplished in Hollywood will be commemorated at her 100th birthday party. The party will definitely take note of one of her greatest achievements in entertainment, being the first woman to produce a national TV show. Betty produced Life with Elizabeth, a sitcom starring her and another legendary comedian, Del Moore. The show aired for two years, from 1953 to 1955. For playing the lead role in the sitcom, Betty White won her very first Primetime Emmy Award. According to CNN, the party will also likely celebrate Betty White becoming the first woman to receive an Emmy nomination. Aside from these achievements, the party will also commemorate her being the oldest performer to host Saturday Night Live. White was 88 years old when she hosted in 2010. According to Entertainment Weekly, the veteran actress actually experienced stage flight during her time on the sketch comedy show, but she said she used it to fuel her performance. "It's a lifesaver because the panic that sets in, you have to [counteract] and you have to get a handle on it in order to do what you're doing," White says. "So the stage fright is what puts the edge, I think, on a performance."
The party will have A-list guests
It's no surprise that Betty White's party will host a venerable list of who's-who in Hollywood. One celebrity expected to grace her party is Ryan Reynolds, who worked with Betty White in the movie The Proposal. Earlier this year, in celebration of White's 99th birthday, Reynolds uploaded a behind-the-scenes clip from The Proposal showing a hilarious "feud" between him and White. White's party will also include Tina Fey, whom she worked with on Saturday Night Live and an episode of 30 Rock. Others who are expected to join the party are Robert Redford, Lin Manuel-Miranda, Clint Eastwood, Morgan Freeman, Jay Leno, Carol Burnett, Craig Ferguson, Jimmy Kimmel, Valerie Bertinelli, James Corden, Wendy Malick, and Jennifer Love Hewitt.
The party will feature archival footage of her work
Having spent much of her life in entertainment, Betty White has a treasure trove of archival footage that will likely be featured o her 100th birthday party. We should expect to see footage from her greatest works. Hollywood On Television, one of her earliest works, might be featured at the party. The show aired in 1949 and was Betty White's first on-screen gig where she was a co-host. The party is also expected to heavily feature footage from two of her most prominent TV projects, The Golden Girls and Mary Tyler Moore Show. A recent article by the BBC talked about the legacy of The Golden Girls, especially to younger people, writing: "While there's a glut of nostalgia about other retro sitcoms, nothing comes close to the emotional punch of The Golden Girls, right from its unmistakably heart-stirring intro theme, Thank You for Being a Friend (originally a 1978 single by US singer Andrew Gold; covered for the sitcom by Cynthia Fee). When I approached young adulthood in the mid-'90s, smash hit shows like Friends were much closer to 'my generation', but while I certainly requested a 'Rachel' (Jennifer Aniston) cut at the hairdressers back then, I never warmed to its NYC twentysomethings in the same way that I still do to Dorothy, Rose, Blanche and Sophia." As for the Mary Tyler Moore Show, Teen Vogue described it as having a "feminist legacy," writing: "Back in 1970, a female television protagonist who could "take care of herself" was not all that common. In addition to the feminist premise of the show – a working woman who was totally independent – the series tackled a lot of issues pertaining to women's rights. There were episodes that showed Mary fighting for equal pay, navigating a work/life balance, and even embracing her sexual confidence. (These are all issues we're still navigating today.)"
And then there's Hot In Cleveland, one of Betty White's more recent projects. The party is also expected to feature the show since she was a main character in the sitcom. A known animal lover, Betty White will also likely be portrayed as an animal advocate at her 100th party. In 2015, she helmed a show titled Betty White's Smartest Animals in America, where she goes around the country to show appreciation to intelligent animals. A lifelong animal rights advocate, White has been repeatedly interviewed talking about her love for different kinds of fauna, especially dogs. When asked by the Smithsonian Magazine which animal has the best sense of humor, White had the following to say: "Not so much the great apes, but monkeys. Elephants have a lovely sense of humor too. The Los Angeles Zoo had three tiger cubs that I followed for their whole first year. There is a pool in their habitat. They stalk each other. One would come very quietly and all of a sudden push his brother into the water. That was funny. That would make me laugh every time."
Tell us what's wrong with this post? How could we improve it? :)
Let us improve this post!