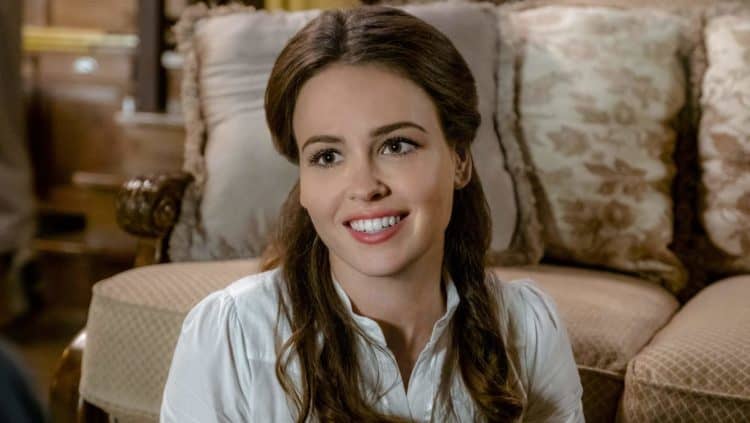 Canada is home to lots Hollywood stars including Ryan Reynolds, Leslie Hope and Gloria Reuben among others. However, there is a new girl to watch out for by the name Jocelyn Hudon. Jocelyn was born in Canada on 18 November 1994 and has managed to keep most of her family details out of the media. Even in interviews, she does not divulge which courses she did for both her undergraduate and postgraduate studies. Still, there is enough to let you know more about her as detailed below.
1. Her boyfriend
Relationships nowadays are tricky; one minute, you are married the next you are divorced. Jocelyn and her boyfriend, Jake Manley, may want to avoid such an incident by dating for years. The couple has been dating for more than three years, and they are yet to get engaged, prompting the gossip mill to spread the rumors of their breakup. However, the two are going strong and maybe Jocelyn's acting in "From Friend to Fiancé" might encourage Jake to pop the question.
2. Her debut in the acting profession
Jocelyn began acting in 2015, and her first professional on-screen credit as she recalls is "Lost Girl." It was not a pleasant experience because she had no idea what she was doing on set. According to her, actors are taught how to get on set but not what to do. She, however, has made the set her home now leading her to become a sought-after actress hence her success. Although Jocelyn is yet to win or get nominated for any awards, her future looks bright.
3. She was a ballerina
Ballerinas have a certain graceful aura around them, and maybe that is what Jocelyn was hoping to attain by becoming one. At only three, she was already performing on stage because her love for making people laugh also motivated her. With her passion for ballet, Jocelyn joined National Ballet School of Canada where she stayed until she was 17. The school offers a wholesome education for grades 6 to grade 12, and since it follows the Ontario Ministry of Education prescribed curriculum, upon completion, students graduate with an Ontario Secondary School Diploma. Although the name of the school has most people thinking that it offers Ballet classes only, it also has courses to prepare students for careers beyond dancing.
4. Her work before becoming an actor
Most teenagers cannot wait to start life on their own, especially if they have been living with strict parents. However, starting your own life is not a smooth ride as Jocelyn found out. At 16, she felt bold enough to venture out on her own. Jocelyn, therefore, went to Quebec, perhaps hoping to get a well-paying job since she had already graduated. Unfortunately, the only job she could find was sweeping the city's sidewalks. At 17, she got a better job at Algonquin Park where Jocelyn taught rock climbing.
5. She was rumored to be bisexual
For most actors, the roles they play can affect their real life. For instance, we got used to Robert Knepper playing the blood-thirsty criminal and pedophile in "Prison Break." It is thus hard to take him seriously when he lands a good guy character. Jocelyn, on the other hand, had people speculating that she was bisexual after playing a lesbian in "Below Her Mouth." However, she is straight proven by her dating life.
6. Her net worth
Jocelyn is mainly known for her acting career, but she also is a Youtuber. Most of her money has been obtained from her acting profession. However, she is quite an ambitious girl determined to live the best life possible. Therefore from her YouTube channel, she earns some money with each promotional post raking in between $165.75 to $276.25. For her efforts, the net worth is now at $500,000, but since she shows no signs of slowing down, the amount might double in the next few years.
7. She always wanted to be an actor
Everyone has a calling; hence, we are always told to follow our hearts. Jocelyn's was acting, and as a child, she always knew that is where she would end up. Therefore even though she attended ballerina school and did other courses unrelated to drama, she was still performing. According to her interview with My Devotional Thoughts, it is not until Jocelyn finished the postgraduate studies that she finally gathered up the courage to pursue her passion.
8. She is a certified scuba diver
Most actors usually have their preference of what to do upon getting away from the glare of the paparazzi cameras; some have chosen scuba diving. You probably did not know that celebrities like Jessica Alba, Katie Holmes, Salma Hayek and Pierce Brosnan among many more are avid scuba divers. Unlike some like Woody Harrelson who had to learn how to dive on the set of "After Sunset," Jocelyn has been in love with the ocean for long. She is, therefore, a certified scuba diver who has dived all over the world. Matter of fact is she was certified before she even got her driving license.
9. She is a dog lover
While most people will introduce themselves as parents to several children, Jocelyn considers herself a dog mom according to her interview with Moments with Mercy. Jocelyn's love for the canines is evident even in her social media. Unlike the rest of us who will post pictures of ourselves kissing our significant others, Jocelyn posted a photo of herself and her boyfriend kissing their dog. She considers her dog as part of their small family. Since it was Jake's birthday, Jocelyn captioned the photo that they, referring to herself and the dog, love and miss Jake.
10. How she spent her summers as a child
Most parents cannot wait for summer so that their children can finally get a job and start pulling their weight around the house. Others will use the holiday to teach the defiant kids some discipline through summer camps. Jocelyn fell in neither of these categories because summers were all spent enjoying the sea breeze. According to Just Jared, Jocelyn's parents had a sailboat where she would spend the entire holidays sailing through Georgian Bay.