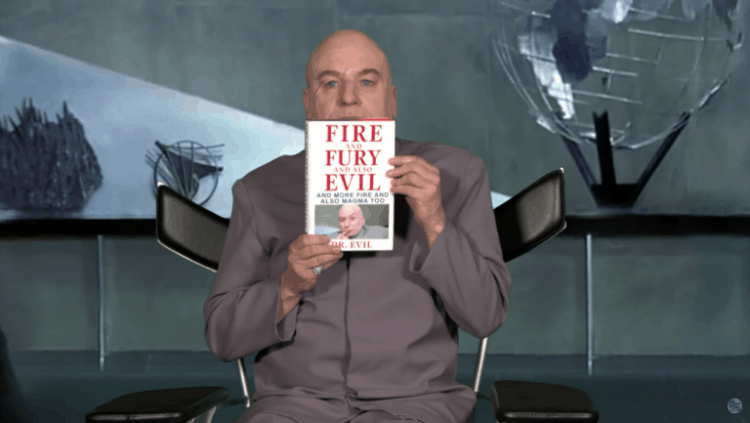 It's not every day that someone actually takes on a comedic scene from a movie to reenact as a dramatic monologue, but Lisa Gilroy made it happen by taking Dr. Evil's words from Austin Powers: Man of Mystery, and turning it into a very serious-sounding audition that actually sounds a bit different when presented in this manner. The clip below, taken from Twitter, is something that could easily be placed into a dramatic movie and be recognized as something that might be kind of heart-rending from the way she's speaking, at least until one really listens to the words and figures out that they know where they're from. It might be hard to see the words as anything but funny for some people since the idea of anyone claiming to have invented the question mark is kind of silly, since if anyone takes a simple look on a Google search they'll see that a lot of people happen to believe the precursor to the question mark was devised back in the Middle Ages. But in any case, Lisa does a good job of taking on Dr. Evil's monologue thanks to the fact that her teacher left her assignment open for students to pick out whichever character they wanted to copy in their own voice. It is kind of nice that she didn't attempt a Dr. Evil voice and took a different direction with it since in that manner it kind of made the act hers, even if the lines belong to Michael Myers as far as fans are concerned. As far as her dramatic take on this, it does feel that she might still have a ways to go in terms of acting, but it was a good delivery to be certain, so it's fair to say that she might be on her way. Of course Lisa has already made her way into the acting world, but when it comes to being entirely effective on the drama scene and being known to a wider fanbase, it's fair to state that she still has some ground to cover.
My acting teacher told us to perform a dramatic monologue from any movie and I did mine from Austin Powers and no one noticed. pic.twitter.com/1ZZtIsJdvE

— Lisa Gilroy (@TheLisaGilroy) October 19, 2020
Maybe she's just a big Austin Powers fan, which could be why she chose this line, or maybe she figured it would be interesting to speak these lines in a different and more dramatic manner. Whatever the thought process was, it worked well enough to get her a good deal of attention since over five million people have viewed the video and it's likely that many more will take a look at it now that the video is being given more publicity online by several sites that are finding this to be of some interest. That's the goal of any actor after all, to find something they can do that people will like and that will get them to pay attention for a while. Once technology made it possible for people to be seen around the world in a matter of minutes and sometimes seconds it wasn't bound to take long for people to cash in on that kind of potential fame in a manner that would keep them in front of the camera on a regular basis. For some, the fame comes and it goes just as quickly, but for others such as Lisa the attention has continued to come and at this moment she's still working on keeping her career moving in an upward fashion as she seeks to continue doing what she wants.
As far as the statement that no one noticed that she was using Dr. Evil's monologue this feels kind of inaccurate since, if one has watched the movie, it's not too hard to decipher just where the monologue comes from, especially given that it's a little nonsensical despite the deadpan manner that it was delivered in during the movie. It's easy to think that almost any line from the movie could be taken and turned into something dramatic, unless of course we're talking about some of the craziest lines that Myers could think of, since some of them really don't work for anything but comedy given that they're a little outlandish and would be a little difficult to convert to anything dramatic. Some actors might want to say that anything is possible, and it's true for the most part, but there are some lines within the movie that might be kind of hard to really transfer from comedy to drama simply because the manner in which some lines would be delivered would alter the words almost entirely.
One has to wonder just how many other students decided to go this route, or if any have thought in the same manner that Lisa did. It's definitely worth giving her points for creativity since if anyone did manage to miss just where the monologue came from then they might have seen the movie.