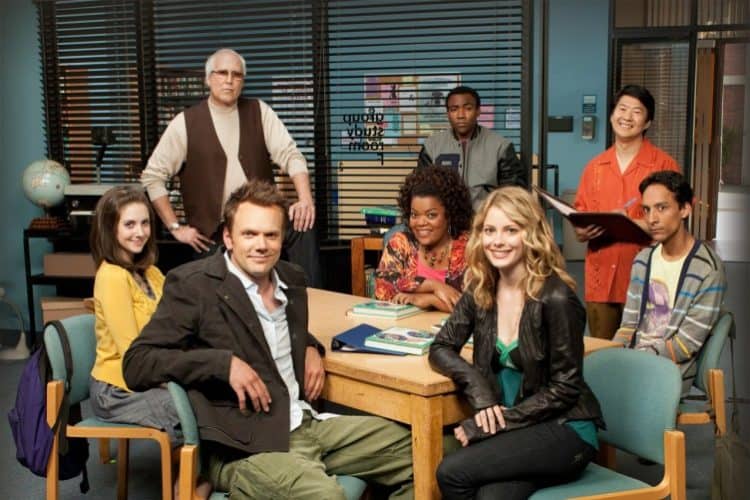 Community aired for five seasons on NBC, with its sixth season airing on Yahoo! Screen. Frequently on the brink of cancellation, Community was underappreciated during its time but has since developed a cult following for its brilliant writing and creative storylines. Created by Dan Harmon, who also created Rick and Morty, Community stars Joel McHale as Jeff Winger, a disgraced, disbarred lawyer who's taking a bachelor's degree at an underperforming community college to be able to return to his law practice. The show also features Ken Jeong, Chevy Chase, Donald Glover, Danny Pudi, Alison Brie, Gillian Jacobs, Yvette Nicole Brown, and Jim Rash, all playing students and teachers of Greendale Community College. The show revived the career of Chevy Chase, who had been fairly inactive prior to joining the cast. Community also catapulted the careers of Alison Brie, Gillian Jacobs, and Donald Glover, who would later on become a musician named Childish Gambino. With Community becoming more popular years after its finale, rumors of a revival or even a movie have continually circulated the internet. Dan Harmon addressed calls for a Community movie on Vulture's Good One podcast, admitting that "creative" problems are what's blocking him from totally committing to a full-fledged Community movie. "There is, like … a thing is happening. Logistically, the locks are coming away. And the only problems are becoming the creative ones, which is great, because I love those problems. I love having these conversations, and they're being had. That's a scoop you get, because I had a little Ketel One with my LaCroix." When a Community movie does come, producers would have to be prepared to spend big to encourage former cast members, most of whom have become very financially successful from other projects, to come back. Here are the three richest former cast members of Community.
Ken Jeong ($14 million)
Ken Jeong played the psychopathic Spanish teacher Senor Chang on Community. While a cast member of Community, Jeong was concurrently portraying Leslie Chow on the Hangover series. According to Celebrity Net Worth, Ken Jeong has a net worth of $14 million. While it's not exactly known how much he was paid in Community, it's been revealed that he was paid a whopping $5 million for the last installment of Hangover. It's nowhere near what Ed Helms, Zack Galifianakis, and Bradley Cooper made, but it's a handsome salary all the same. After Community, he created and starred in his own sitcom, Dr. Ken, which is loosely based on his life as an actual physician. He currently serves as a judge on The Masked Singer and appeared in blockbuster films like Tom & Jerry and Boss Level. In 2016, Ken Jeong reportedly purchased a $3.9 million estate in Calabasas, California. If ever a Community movie happens, we can expect Ken Jeong to reprise his role. In an interview with Variety during the TV show's last season, Jeong declared his loyalty to the show, admitting that he became a better actor because of it. "I'll never leave "Community," no matter what. You're either a lifer or you're not. I've just learned so much. If we come back, I've got so much to learn. This show has been a huge influence on me and what I've done in my other projects. On set on the second "Hangover" movie, Todd Phillips looked at me and said, "I don't know what happened between the first two 'Hangover' movies, but you've just gotten better. You were kind of a newbie and you're a pro now." I've had no formal training in acting. This has been my school."
Donald Glover ($40 million)
Donald Glover played ex-jock Troy Barnes for five seasons of Community. Before he was cast in the sitcom, he was a writer and occasional actor for 30 Rock. Donald Glover enjoyed playing his character in Community, so much so that he returned for a table read in 2020. However, he admitted to New Yorker that a certain cast member made things difficult for him on set. "I just saw Chevy as fighting time—a true artist has to be O.K. with his reign being over. I can't help him if he's thrashing in the water. But I know there's a human in there somewhere—he's almost too human," Glover told New Yorker. According to Celebrity Net Worth, Donald Glover has a net worth of $35 million. Much of his wealth was earned after he left Community when he decided to focus on his music career as Childish Gambino and created the hit TV series Atlanta. In 2018, he released a single titled "This Is America" which reached No. 1 on the Hot 100. He also voiced Simba in the 2019 remake of The Lion King. According to Celebrity Net Worth, Donald Glover was, at one point, one of the highest-paid entertainers from 2018 to 2019. He is also known to be very private with his personal life. Not much is known about his personal and real estate properties.
Chevy Chase ($50 million)
It's no surprise that Chevy Chase is the richest ex-Community actor, with a reported net worth of $50 million, according to Celebrity Net Worth. Chase was already a legendary comedian before Community, having been one of the first cast members of Saturday Night Live. He was also the pioneer of Weekend Update, a popular news satire segment on SNL that eventually made the careers of Tina Fey, Amy Poehler, Seth Meyers, and many other Saturday Night Live cast members. He also starred in the Vacation movie franchise as Clark W. Griswold and as Irwin "Fletch Fletcher in the Fletch movies. He's had leading roles in Caddyshack, Modern Problems, Spies Like Us, Three Amigos, and Man of the House. Chevy Chase's spat with Community creator Dan Harmon is no secret. The two allegedly didn't have a harmonious working relationship and often got into fights with each other. Chase was also reportedly antagonistic towards other cast members. It isn't exactly out of character, as Chase has a long history of being notoriously difficult on set, according to Gawker. Chevy Chase left Community on Season 5. While Chase is no longer as active on screen, he still enjoys a relatively comfortable life as a comedian. According to Celebrity Net Worth, he and his wife, Jayni Chase, live in upstate New York. They used to live in a 5-acre property in LA's Pacific Palisades neighborhood but sold it in 2005 for an undisclosed amount.