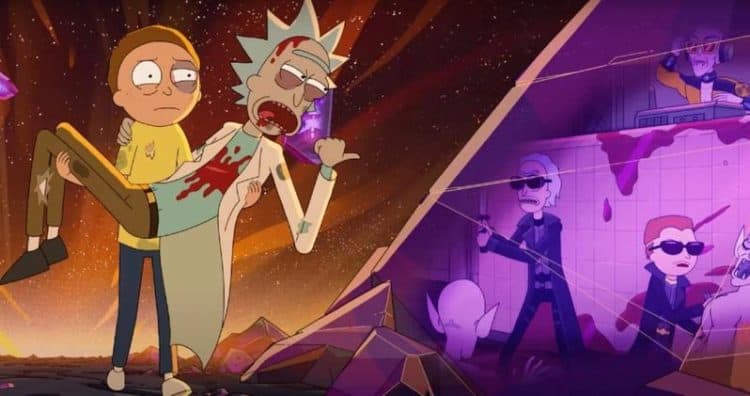 It feels like crazy never left but then crazy's back and it's looking like it's going to be an all-out war as Rick and Morty season 5 appears to be all about anyone and everyone coming after Rick in an attempt to, well, kill him of course. But after seeing how long this show has been around, which is a lot longer than some folks believed it would be, it's not difficult in any stretch of the imagination to think that Rick has royally pissed off just about everyone that he probably should have left alone or made an ally out of at one point or another. But it does appear in the trailer that if Rick isn't desperately trying to find his way past one hard situation or another that he's in dire straits and might even be in a spot of trouble this time around, which is kind of par for the course since there are so many Ricks that have shown up over the course of the show. Seriously, there are so many Ricks and so many Mortys that it feels as though the show could go on for quite a while before anyone grew tired of watching them somehow surviving everything that's thrown at them. In this coming season, it looks as though the number of pop culture references has grown quite a bit and Rick and Morty will be taking on a lot of different looks as the action ramps up.
Somehow this show has managed to get crazier with each season as the creators have come up with new material each and every time and have played to the fans in a manner that has been widely appreciated and definitely followed without any hesitation since people have continued to support and ask for more as the show has continued to push forward. Some of us might have been wondering just how crazy this thing could get, and that must have sounded like a challenge since the show has only become more and more insane since robots, aliens, interdimensional travel, and space travel, and oh my it just doesn't appear to stop since infinite realities must exist just to be tapped again and again as ripples from one timeline and reality keep reaching out to affect one after the other in this wild ride that doesn't want to end apparently. Yeah, that was a mouthful, but it's par for the course when thinking about how to describe Rick and Morty since trying to even go through one trailer without noticing about a dozen different things that are worth commenting on in the first ten seconds or so is kind of tough.
One has to think that one of these days that Rick and Morty might actually have to call it good or find something else to do to keep the show going since as of now it kind of feels as though it's headed towards a very big culmination that might give fans a brief view of an ending that might come into sight sooner or later. Honestly, it will be later as some folks already know since Rick and Morty has been approved for quite a bit more and it's something that many fans have likely been rejoicing for a while since it means that their favorite crazy scientist is going to be kicking around for a lot longer and the craziness is only going to increase no doubt. But one thing to worry about after all this passes and the next season is busy being anticipated is whether or not there will be any fatigue that will come on to ruin the whole thing, or at the very least cause fans to wonder if it will keep going or end at some point simply because the creators might not have figured on what sustaining this series will really be like. The big hope of course is that things will continue to change in the same way they have been for a while, meaning that the story will continue to get even nuttier and find ways to continue to be out of control in the way that the fans appreciate.
The question of what's next should be the overall mantra of this show since that would appear to be the best way to approach it considering all that's bound to happen at any given time. This coming season is already looking like it's going to be completely out of control and it's easy to think that people are already waiting anxiously for it since the time between seasons has been notoriously long, leaving everyone to wait and wonder just what's going to happen and how it will change things yet again while keeping some things the same, more or less. It's never a dull moment, that's for certain.