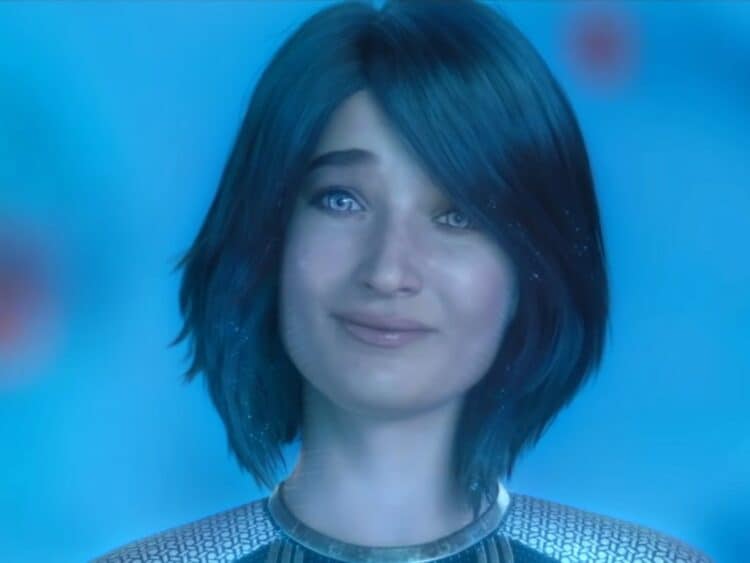 It would be easy to understand how some folks might get a little confused at first when watching episode 3 of Halo on Paramount+, but thankfully things get sorted out quickly as the scene on Oban, a garbage colony that also appears to be a type of prison for those that are under the careful watch of the guards. When Makee and a young boy are found by the guards they take off running, making it clear that they don't want to be apprehended. Unfortunately, the guards do catch up to them and beat the boy to death, and are about to do the same to Makee when Covenant soldiers are seen to make landfall, and begin to attack the humans as they appear to be looking for something. When they come upon the guards that are threatening Makee they kill them, and then come to realize that she is the individual they are seeking. Things move back to the current era then, showing Makee making preparations to leave the Covenant to find the device that was recovered by Master Chief in the first episode. Not only that, but she promises her superiors to bring the head of the 'demon' that has the same abilities she does, meaning she's fully intent on taking down Master Chief.
The third episode slows down quite a bit considering that there's more exposition to be seen than action as Dr. Halsey speaks briefly with her clone before retrieving what's she need to enact the bond between Cortana and John. In the previous episode, it was established that Cortana would be used to keep John under UNSC control, but as the episode moves along it becomes kind of obvious that John is bound to resist as much as possible. Even with Cortana's programming being inserted into his brain so that he can access her help at any time, he's not exactly thrilled to realize that she can self-activate, or that she's more than willing to exert herself to help as much as possible. In a big way, Cortana comes off as a Siri-like AI that is a little too presumptuous but is still helpful.
Things continue to progress as Dr. Halsey makes it clear to Cortana, who appears to be by the book and not entirely approving of John's behavior or the corners that are being cut upon their pairing, that she needs to gain John's confidence and is better off not haggling over whatever rules she feels might be broken. When aiding John in finding a capsule that's been placed in his body to deaden his emotional input and output, it becomes obvious that the Spartans are being kept as controlled as possible, as Soren-066 alluded to in the previous episode. There's a great deal to absorb, especially for those that have never played the games or read the books, since the fact is that once he removes the capsule, John finds that he's able to experience a much deeper emotional connection to the world around him. While his exploration feels a little cringe-worthy considering that he appears to be a novice to emotions, it's still a little uplifting since it becomes a pivotal moment in which Master Chief realizes that he's been missing out on life.
In the meantime, Makee makes contact with a UNSC ship and pretends to be a survivor that's been left aboard a Covenant ship. When the UNSC ship finds out that it's a trap it's too late as Makee and dozens of worm-like creatures board the ship, the latter killing the crew as Makee leaves a mocking message to the USNC as she then heads to Madrigal to view the excavation site where John and the other Spartans found the artifact that he's now attempting to figure out. What is discovered as John touches the artifact again is that memories of his younger years come flooding back, and he recalls burying something against his will with his father. The realization that John had drawn pictures of a second device in which the initial one was supposed to fit alerts him to the idea that the second device could be what was buried. After determining that the site where his memories took place was a quarantined planet named Eridanus II, John, Cortana, and Dr. Halsey head out to discover the truth of what's going on.
At this time it feels as though the show has divided fans and casual observers in a few ways that don't feel too important, but are still noticeable. Many have already deduced that it doesn't matter quite as much since the story that's being told is engaging enough and uses the source material to a great enough extent that trying to nitpick the show to death isn't necessary. But it is a big hope that things pick up again, if only because the initial appearance of the Spartans heralded an impressive burst of action.