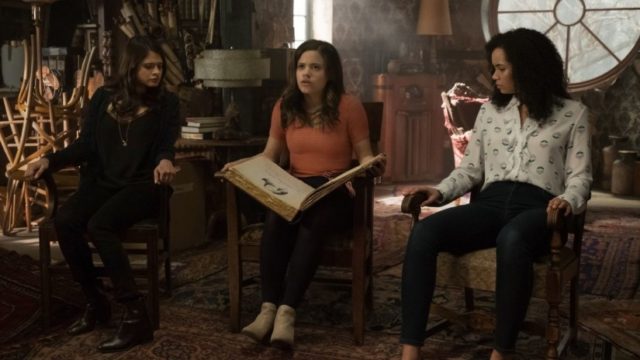 Television is getting more and more competitive these days. With so many options available for watching shows these days, producers have to keep up with the demand. While that may be so, there's still no guarantee that a show may last beyond the first season. A new show has to have the perfect combination of the right elements: good characters, a good plot, and a few other points. There were plenty of advertising for new shows coming this Fall of 2018, and some of it were more exciting than others. Here are five new shows that are coming this Fall that we're truly looking forward to watching.
Charmed
Fans of the old show can rejoice with the coming reboot of the 2000s drama, Charmed. The witch storyline can never get old, and this show was actually one of the more successful ones that brought the topic to the mainstream. Charmed was a beloved series that lasted for 8 seasons despite of casting and shooting issues. It had a unique storyline that made it more relatable to a wider audience, not just fantasy fans. The Charmed reboot will star Madeleine Mantock, Melonie Diaz, and Sarah Jeffery as three sisters Macy, Mel, and Maggie respectively. From the basis of characters alone, we already know that it'll probably be a different story than the original. Still, it's exciting just to imagine what they can do with the show today.
Whiskey Cavalier
Coming off of a good run with the hit show Scandal, Scott Foley is getting a starring role with Whiskey Cavalier. Foley will play FBI agent Will Chase, whose code name is Whiskey Cavalier. He is teaming up with a CIA operative Frankie Trowbridge (Lauren Cohan) to tackle problems. Along the way, they develop a professional relationship, a friendship, and a romance that will probably help Chase forget about his emotional breakup. We can't wait to see Foley in action again, this time being true action as an FBI agent. While the story might be unclear at this point, we expect a lot from this show given that the trailer looks pretty good so far.
Magnum, P.I.
We can't help but be excited about another reboot. The classic 1980s series that made Tom Selleck a household name is getting another chance for a younger audience. We can only imagine what modern filming techniques will do for this reboot, and we can already picture Magnum doing jobs that no one else would take on. We're also quite excited about the cast with Jay Hernandez taking on the lead role. The last time we saw Hernandez in action were in films such as Netflix's Bright and Suicide Squad. Alongside Hernandez, we're also getting Perdita Weeks (Ready Player One), Zachary Knighton (Happy Endings), and Stephen Hill (Law and Order). What we'll probably miss the most in the show is the mustache. It's unknown at this point whether Hernadez will rock a 'stache for the show. Time will tell.
https://www.youtube.com/watch?v=LGn8mkOgLwI
All American
Inspired by Spencer Paysinger's life, this new sports drama has one great thing already going for it before it even starts: it's got Taye Diggs. Diggs is an acting force to be reckoned with, and we know he wouldn't take a project unless it's good. Spencer Paysinger is an NFL player, and the show will circle around his high school days when he was recruited from South L.A. to play for the more luxurious Beverly Hills High School. It's a show that will highlight the different worlds of the affluent from those who aren't.
A Million Little Things
We're ready for another drama that has the magnitude that Grey's Anatomy has. Set in the east coast, A Million Little Things is mostly about friendship and the complications and wonders that go along with it. This group of friends will see their bond solidify after one of them dies unexpectedly. The rest of the group then finds that they have to live life to the fullest because you never what life will bring. The cast will include David Giuntoli (Grimm), Ron Livingston (Office Space), Romany Malco (The 40-Year-Old Virgin), James Roday (Psych), Allison Miller (17 Again), Christina Moses (The Originals), Christina Ochoa (Valor), and Stephanie Szostak (R.I.P.D.).