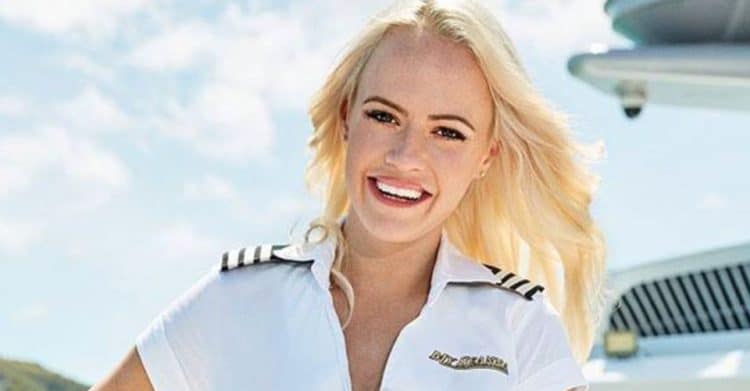 Below Deck is one of those shows that people tune into time and time again for no other reason than the yacht life is fascinating. Everything about it is fascinating, from the people who work aboard a yacht to the people who travel on yachts this size – it's all interesting. Heather Chase is one of the new girls on the new season of Below Deck, and fans are just as excited to meet her and see who she is on the show as they are any other new person. Leave it to us to do the hard work for you. We've learned everything there is to know about the brand new stewardess.
1. She Has High Standards
If there is one thing that fans need to know about Heather Chase, she has high standards for herself and those around her. She brings her A game each time she works, and she expects that everyone around her does the same. She doesn't find it amusing when people are not doing their best and giving their bests, and that's how she works.
2. She Isn't Afraid of Hard Work
Another thing worth knowing about this young woman is that she's willing to do the work. Even when the job is not hers to do, she will pick up the slack because someone else is not doing the best they can. She is not afraid to stop what she is doing and do the dirty work that many might find beneath them.
3. She Puts Guests First
Chase is always working to make sure her guests have the best time. She wants them to make the best memories, to have the most amazing time, and to always be able to have their needs met. She puts the guest first, and she is not afraid to do anything it takes to ensure they are having the best time.
4. She is Very Likable
There's one thing about Heather Chase that really stands out – she's very likable. Even when she's making sure things are done well, putting people in their place when they aren't doing their jobs correctly, and when she's reprimanding those around her, she's still exceptionally likable. People just gravitate to her personality, and she is already a fan favorite.
5. Kate Chastain is a Huge Fan
Longtime fans of the show know that no one will ever replace Kate Chastain, but she has given her stamp of approval for the new head stew. She loves her, cannot wait to see her on the show, and has a feeling that she's in this for the long haul. We cannot wait to see if she is right.
6. She Doesn't Think Disney is the Happiest Place on Earth
First and foremost, she's not wrong (and I love Disney, I've lived near Disney my entire life, and I've been a Disney passholder for well over a decade). The happiest place on earth is not a dry theme park slam packed with millions of people and kids constantly stopping in front of you and not watching where they are going in the blistering Florida sunshine. Disney is amazing, but Heather Chase feels Napali Coast is the happiest place on earth.
7. She's Happiest by the Sea
If she's on the water, she is happy. She's every one of us all rolled into one person. She loves to be on the water whether she's working or playing, and you will not find her in a happier place than when she is on the water.
8. She Loves to Travel
Her Instagram feed is filled with lovely photos of her all over the world, mostly on the beaches, and she's clearly living her very best life. She has a lot going on in her life, and she is happy to share the most beautiful moments of what she is up to and what she is doing with those around her.
9. She Loves Her Life
Heather Chase has worked long, hard hours to get where she is right now, and she is proud of herself. She takes a great deal of pride in her life, and she continues to work hard, to do her best, and to pursue her dreams. She is very proud of the work she's done and how far she's come, and she loves her life.
10. She Takes Care of Herself
From the inside out, she is someone who likes to take care of herself. She likes to work out. She meditates. She likes to make sure she is giving her body what it needs and what it deserves, and she is proud of the person she's become.
Tell us what's wrong with this post? How could we improve it? :)
Let us improve this post!