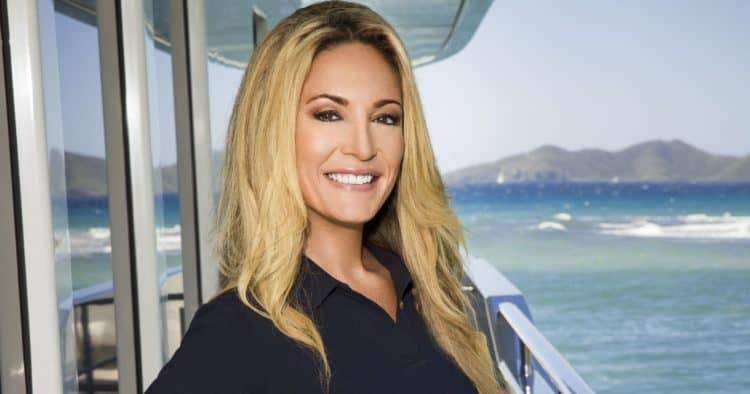 Throughout TV history, we have seen many actors and actresses make their mark on the world through both film and other shows. Reality shows have especially made their mark on the industry, letting us into the glamorous and not so glamorous lives of individuals all across the globe. One such show on television today is that of 'Below Deck', which airs on the Bravo network. The shows allows us the inside scoop of what's it is really like to work the life of luxury yachts and other fancy endeavors on the water. On the show, we meet Kate Chastain, who is the Chief Stewardess aboard the ship. In this article, we are going to reveal to you ten things that you may not know about the reality social lite and the life she leads. Let's get started.
1. Not Her First Choice
Chastain actually began her career over ten years ago, and was just planning to take a gap year between her college graduation and finding her first job with her degree. However, she found herself smitten with the life and the water and the excitement that being a stewardess had to offer, and she's been aboard the ships ever since.
2. Much Time Abroad
It is clear to see that working aboard a yacht and other ships will often take you abroad, and the same goes for the career of Chastain. Throughout her time working as a stewardess, she has found herself in several different areas of the world, including New England, the Mediterranean, The Carribean, and other parts of Central America (just to name a few).
3. Author Status
Her career thus far has also led her to collect an enormous amount of stories from all of her travels on the water. This led to her book, 'Lucky Charming', which was released in 2016. The book also made the Amazon #1 Best Seller List.
4. Charitable Career
In 2017, Kate Chastain began a new business venture that she tends to focus on during the off season for yachting. Genesis Boutique is a non profit high end resale shop that she owns and operates, and all of the proceeds that she makes in the boutique go to support Genesis House. For those who don't know, Genesis House works to help homeless women and children to find transitional or temporary housing while they get back on their feet.
5. Yachting Slow Down
As her career in yachting has reached its twelve year mark, Chastain has found that she is starting to be ready to find a more domestic land lifestyle. You can still find her taking up a yachting job here or there, and of course, we still see her on 'Below Deck', but she definitely has other endeavors on the mind.
6. Party Planner Extravaganza
Chastain is definitely most well known by her guests and her staff as planning some of the most luxurious and well thought out events for everyone's entertaining pleasure. Her parties have been known to entertain some of the best in royalty and celebrity status in our culture today.
7. Altercations
Chastain (as well as the majority of the cast on 'Below Deck') are known to have quite a few confrontations while on board. However, Chastain has gotten herself into a bit of trouble a few years back which actually led to her arrest for domestic assault against her former girlfriend, Rocio Hernandez. She was eventually released on $5000 bond, and ended up only being charged for a misdemeanor.
8. Single Life
Since that altercation that occurred back in 2016, Chastain has still remained single and very cautious about love. Because of her time in the spotlight, she finds that it can be exceptionally difficult to find true love with people having different opinions about her life and lifestyle. Chastain also considers herself to be a bisexual woman.
9. Florida Beach Babe
When on her off season from the yachting life, Chastain resides in Melbourne, Florida. That is also the location of the Genesis Boutique, which we discussed earlier in the article.
10. Net Worth
It is reported that Kate Chastain's net worth is approximately around $300,000. Throughout said report, it is also stated that she typically will average about $75,000 per year.
Although she tends to show a great deal of her life in the spotlight, Chastain has worked hard in recent years to really admire her privacy that she can have. We hope to continue to see the reality starlet aboard the beautiful yachts on 'Below Deck', which you can watch on Bravo.